A baby shower is a delightful time for celebration and love, and you're going to want a perfect theme to go with it. A motif that is both precious and whimsical is a "Love You to the Moon and Back" baby shower, and it will truly make your event something memorable. Nothing is more innocent and dreamy than the visions of stars and moons, so nothing goes better with the joy of an upcoming newborn. Get those illuminating, beyond adorable invitations out in the mail ASAP, because you have an unforgettable baby shower to plan!
Have classic lullabies playing throughout the party, or even something a little more upbeat and fun, such as the Fantasia movie playing in the background. You can't have enough twinkling warm fairy lights strung around the event, so get your hands on as many as you can find! Likewise, soft neon lights of a crescent moon, stars, and a full moon, too, can be individually placed on tables or on walls. Easy removeable glow in the dark star and moon stickers of all sizes can be put—well, everywhere! Ceilings, walls, doorways, chairs, tables—you name it!
Just like the fairy lights, you simply cannot overdo it on these fun stickers that are small, but add such a big pop of brightness to the party. Speaking of creativity with lights and brightness, change lightbulbs with something mellow, instilling a truly dreamy ambience for the space. Hang up garlands of paper moons and baby onesies with cute little miniature night sky artwork on them.
Take your décor a step further with centerpieces of moon flowers, with their signature bright white blooms perfect for the celebration. Bring guests into a group activity with Love You to the Moon ad libs, and coloring games that the mama to be can have as keepsakes. For guest favors, load up a cute burlap bag with gourmet treats and moon keychains, and tie it up with pastel ribbons. For the food table, impress guests with a moon and baby shaped sheet cake, along with tons of moon and star sugar cookies, moon face cakepops, glitter candies, and sparkly servingware to dish it all up make for a beautiful array of Love You to the Moon treats. Don't forget a signature beverage, too, complete with a sparkling moon straw!
Love You to the Moon and Back Games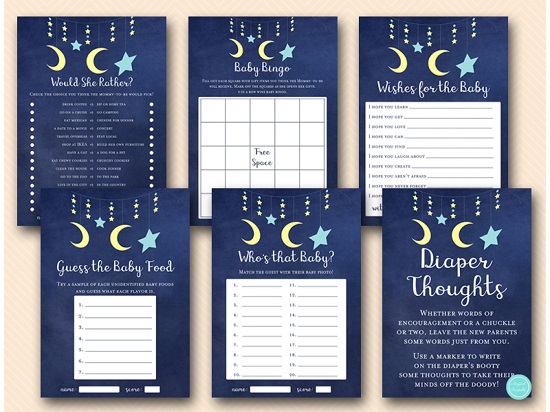 Love You to the Moon and Back Collection