Coed Baby Shower Ideas
A baby shower is an amazing way to celebrate such an exciting time in two parents-to-be's life, and while you hear a lot about all-female baby shower events for the mother, have you heard of a co-ed party? It's becoming more and more common for both parents to ditch the exclusivity and both have their loved ones together to celebrate each of them at the same time with the same baby shower extravaganza. This unique event is an unforgettable one, and it allows the mom and dad to be the ability to share even more 'baby love' together. Since it's a bigger party than usual, you'll have to ensure that you have plenty of games for guests to enjoy as well!
Ensure that Dad-to-Be is completely up for the Shower and that his guy friends and relatives will willingly attend your event. Invitations have to be clear that your Baby Shower will be a couples baby shower and that boys and girls are invited!
When will you be holding your Baby Shower?
The season of the year may impact on whether you will hold your Shower outside in the sunshine or in your cozy home warm against the snow or cold weather. If your Shower will be held outside, you have lots of opportunities to get the BBQ grill out and Dad-to-Be will be happy to be in charge of that side of the catering arrangements. Of course, you can include fresh fruit, salads and pink fizz for your female friends – just add a variety of beers that guys may not have tasted before and will have something to discuss between themselves as there may be some embarrassment if discussions focus mostly on the intimacies of labor and diapers!
The whole idea of a Baby Shower or Celebration is for guests to bring gifts for baby when he or she arrives. Guy friends and relatives may prefer to shower you with a more practical baby shower gifts – say gift tokens for food delivery which could prove to be a life-saver during the first few months with your new addition. When sending your thanks for the gift, make sure both Dad and Mom-to-Be sign your acceptance note. You will also have to consider making your favors suitable for both guys and girls of all ages – chocolate is probably the most gender-neutral solution and there are so many great ideas to have your favors personalized with the names of Dad and Mom-to-Be plus the Stork!
Coed Baby Shower Games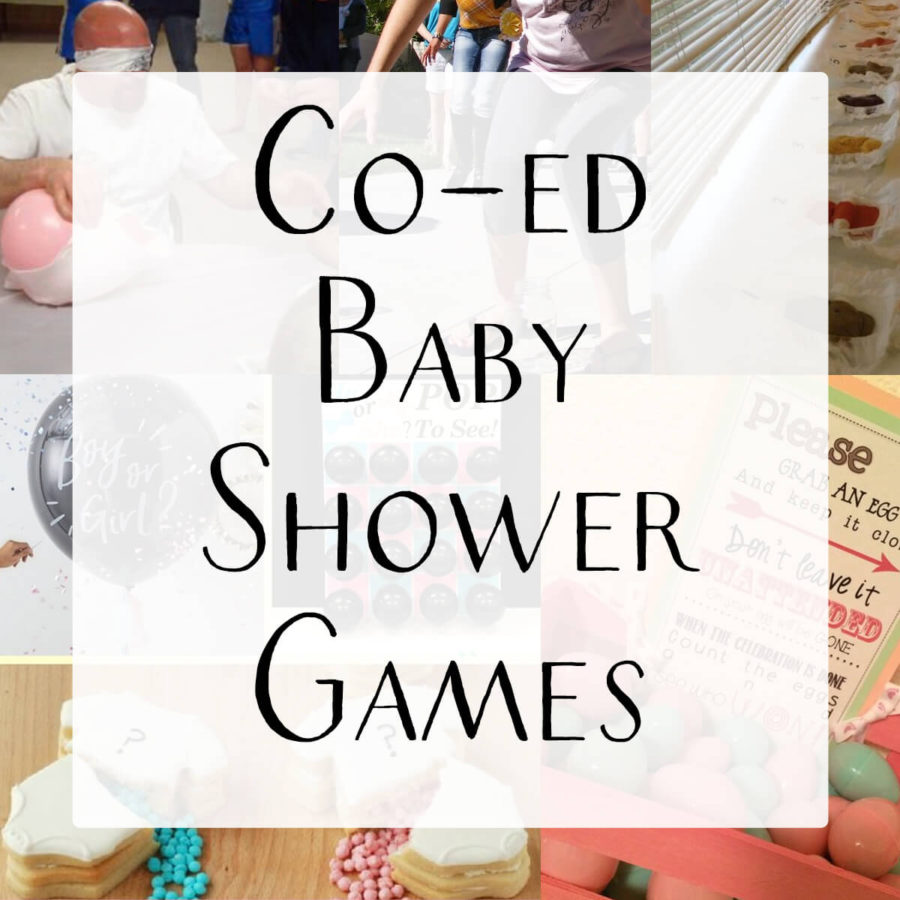 You may have to give a little more thought to the games that you are planning. If you and your friends have known each other since school, you will know how much they will or will not join in so plan your games schedule to include their participation levels to make your Baby Shower a memorable and happy event. If you are inviting friends and relatives who may not know each other very well, then ask each of them to write a short happy or funny story from their childhood which they must give to you either before they arrive or as they arrive. Shuffle the stories and give each story to your invitees – this is a great ice-breaker at the start of your event, and you ask each invitee to read out the story they have been given and everyone at the Baby Shower has to guess who wrote the story. The conversation will flow really easily; friends will be made, and you and your partner will be considered fabulous and caring hosts.
Some other great baby shower games that you can start almost instantly as the baby shower event gets going include balloon games, gender reveal activities, or baby word scrambler games.
Famous Baby Name Game
With a guessing activity, each guest has a famous baby name taped to their back and for the first bit of the party, they have to go around talking to other guests trying to guess what name is on his/her back. This is a particularly wonderful icebreaker baby shower activity for when guests initially arrive.
Tinkle in the Pot Balloon Game
A most popular and extremely interactive and entertaining balloon themed game is the Tinkle in the Pot game. This is a game that won't require mommy to be's participation. She can sit in a comfy chair and enjoy the entertainment. Here, all guests are split into teams (men versus women is extremely entertaining if you can manage to do it) and everyone gets their own balloon. Each team member has to blow up their balloon and put it under their shirt. The first player must waddle down the row whilst holding a coin (or ping pong ball as an alternative). The goal is to drop their coin into a pot! The next player follows, and so on. Whichever team finishes all this first wins!
The Diaper Balloon Game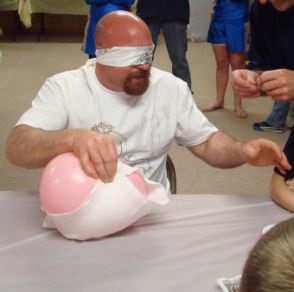 This game will show who can diaper ca baby with their eyes closed! Blindfold each player and then place a blown up balloon, a diaper and pins in front of them. On the count of three, have the players diaper the balloon to the best of their ability and without popping the balloon with the pins!
Dirty Diaper – Name that Poo Game
You would need diapers and chocolate bars of different brands or sorts with different fillings such as creamy, nutty, sultana, caramel-filled chocolate bars. Melt or squeeze each chocolate bars (you can use microwave) on a diaper and get the guests to guess which chocolate brand or sort it is by sniffing, touching and tasting the gooey poo!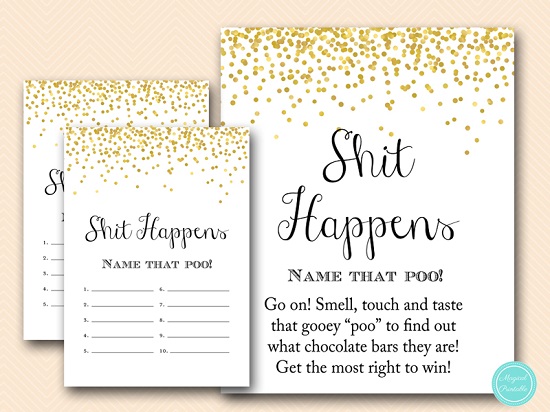 Baby Word Scramble
Baby word scramble is also a fast-paced and fun activity that gets every guest in on the action. Baby related words are scrambled up on pieces of paper and guests have to be quick to unscramble as many words as possible.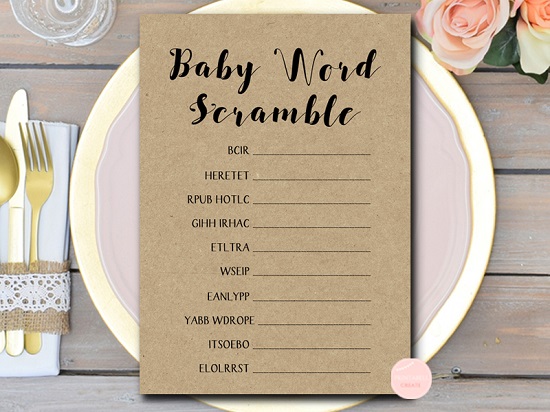 Gender Reveal
Gender reveal is also a fantastic way to get everyone excited and involved. The mother and father to be can do this by filling balloons with pink or blue confetti and popping the balloons for guests to see, or a cake can be cut and given to every guest for him or her to be able to see the actual inside which would be dyed blue or pink.
Grab an Egg Game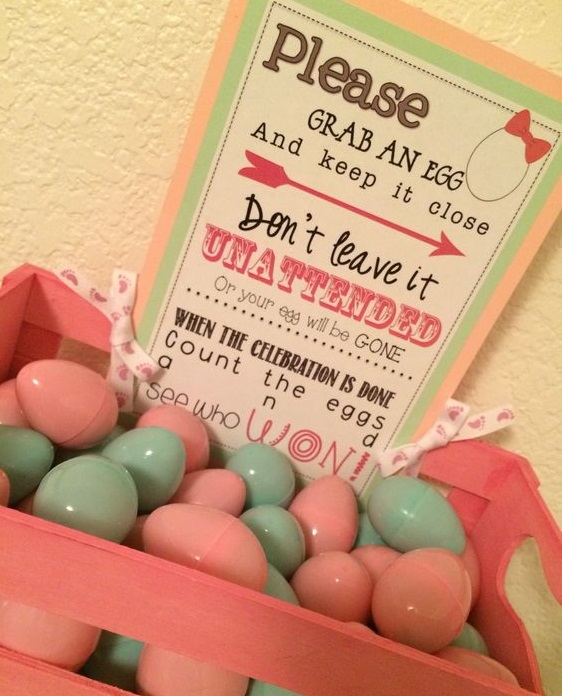 Another favorite activity that lasts the entire baby shower event is the Egg game. As each guest arrives, he or she receives their very own egg and are not allowed to be without this little egg for the entire party. So what's the catch? Whoever has the most eggs at the end of the day wins, as most guests are sure to drop, break, or just forget about their egg all together! Another idea for a silly activity that keeps guests both busy and laughing is a particularly unique drawing game. Each guest gets a plate or canvas to place on top of their head as they attempt to draw a baby in this position. Every player is timed and when that time is up, the best, worst, and most hilarious drawings can be winners.
Baby Shower Trivia
Trivia games are also a big hit at a co-ed baby shower. For parents and non-parents alike, a parenting trivia game is especially fun, and lots of giggles ensue as each player answers "What would you do?" parenting questions. It's also remarkably fascinating to see just how different answers vary based on gender!
Guess the Baby Food & Whodunit
Perhaps the most entertaining games of all include Guess the Baby food and Whodunit. Guess the Baby food is pretty self-explanatory—guests taste mystery baby food and have to guess what flavor it is. For Whodunit, this gets guests to know the new parents even better. Both the mom and dad to be will post up ten or so facts about themselves as children and guests have to guess who did or said each fact.
Regardless if your co-ed baby shower event is full of tons of games or just a couple special ones, this is a party that will be remembered for years to come—especially by the two lovebirds themselves.