Baby Shower for Couples or Not?
Increasingly, new dads are becoming included in celebrating the arrival of their baby. Instead of just holding a guy-thing in a bar somewhere, Dads and Moms-to-be are sharing their Baby Shower.  That means the theme and plans for a baby shower are likely to be less girly and more uni-sex embracing new changes to the traditional baby shower. And since it may end up being a bigger party than usual, you'll have to ensure that you have plenty of games for guests to enjoy as well!
One of the most important considerations is to ensure that Dad-to-be is completely up for the Shower and that his guy friends and relatives will willingly attend your event.  Invitations have to be clear that the Baby Shower will include male friends and relatives so if you are inviting single female friends and relatives, they will be comfortable that they will be attending a Shower that is going to be different.
Where to Hold the Baby Shower
The season of the year may impact on whether the event will be held outside in the sunshine or in your cozy home warm against the snow or cold weather. If the  Shower is to be held outside, you have lots of opportunities to get the BBQ grill out and Dad-to-be may be happy to be in charge of that side of the catering arrangements. Of course, you can include fresh fruit, salads, and pink fizz for your female friends – just add a variety of beers that guys may not have tasted before and will have something to discuss between themselves as there may be some embarrassment if discussions focus mostly on the intimacies of labor and diapers!
Co-ed Baby Shower Games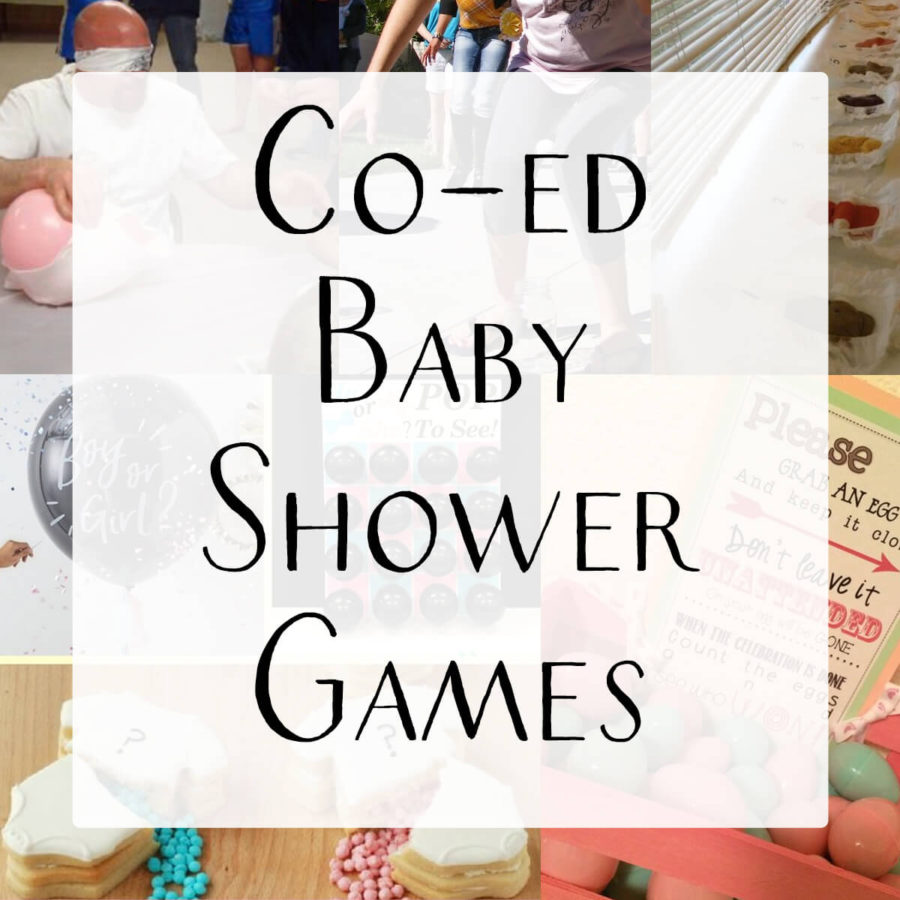 You may have to give a little more thought to the games that you are planning. If the parents-to-be and their friends have known each other since school, they will know how much they will or will not join in so plan your games schedule to include their participation levels to make the Baby Shower a memorable and happy event.
What if Guests Don't Know Each Other
If the guests being invited don't know each other well, plan for some ice breaker games. Here is one of my favorite:
Ask the guests to write a short happy or funny story from their childhood which they must give to you either before they arrive or as they arrive. Shuffle the stories and give each story to the invitees – this is a great ice-breaker at the start of your event, and you ask each invitee to read out the story they have been given and everyone has to guess who wrote the story. The conversation will flow really easily and everyone will have a great time.
Famous Baby Name Game
With a guessing activity, each guest has a famous baby name taped to their back and for the first bit of the party, they have to go around talking to other guests trying to guess what name is on his/her back. This is a particularly wonderful icebreaker baby shower activity for when guests initially arrive.
Tinkle in the Pot Balloon Game
Some other great co-ed baby shower games that you can start almost instantly as the baby shower event gets going include balloon games, and here is one great example!
A most popular and extremely interactive and entertaining balloon-themed game is the Tinkle in the Pot game. This is a game that won't require mommy to be's participation. She can sit in a comfy chair and enjoy the entertainment.
All the guests are split into teams (men versus women is extremely entertaining if you can manage to do it) and everyone gets their own balloon. Each team member has to blow up their balloon and put it under their shirt. The first player must waddle down the row whilst holding a coin (or ping pong ball as an alternative).  The goal is to drop their coin into a pot! The next player follows, and so on. Whichever team finishes all this first wins!
The Diaper Balloon Game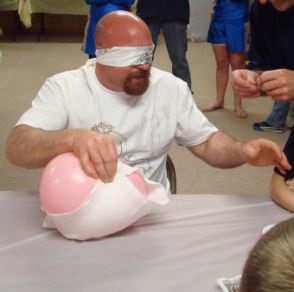 This balloon game will show who can diaper a baby with their eyes closed! Blindfold each player and then place a blown-up balloon, a diaper and pins in front of them. On the count of three, have the players diaper the balloon to the best of their ability and without popping the balloon with the pins!
Dirty Diaper – Name that Poo Game
You would need diapers and chocolate bars of different brands or sorts with different fillings such as creamy, nutty, sultana, caramel-filled chocolate bars. Melt or squeeze each chocolate bars (you can use microwave) on a diaper and get the guests to guess which chocolate brand or sort it is by sniffing, touching and tasting the gooey poo!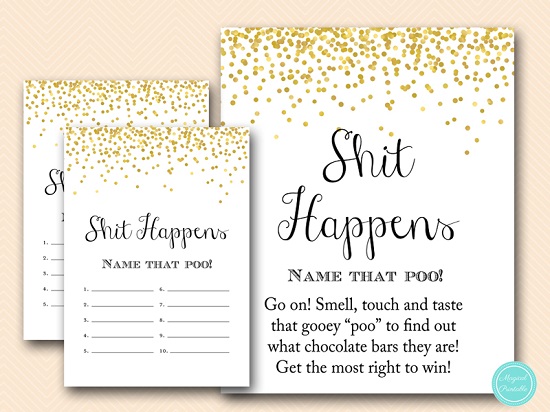 Pacifier Games
Items you will need are: straws pacifiers with handles on them.
The guest separates into groups of four, and they take turns passing pacifiers on straw in the mouth all the way down each team of four. They can use no hands and no contacts!
Diaper Games
What you need for this fun filled games are: Blindfold, life-size baby dolls, diapers.
Have guests dived up into teams and they all take turns changing the baby. The goal is which team can change the diaper faster.
Baby Gear Games
Items needed: 14 pair of baby socks.
Pile the socks in the middle of the floor. Each party guest takes turns matching the socks. The person who matches the socks the fastest is the w inner.
Mommy-to-Be Quiz Games
Paper and pins is all you be needed for this game!
The host of the party finds out as much as she can about the mother to be when she was a child. The host writes the questions down and the answers. Then the guest try to find out all the answers. Whoever gets the most questions answered correctly is the winner.
There are so many ideas when it comes to a baby shower. It is up to each person as to what they want to do at the baby shower.
Baby Word Scramble
Baby word scramble is also a fast-paced and fun activity that gets every guest in on the action. Baby related words are scrambled up on pieces of paper and guests have to be quick to unscramble as many words as possible.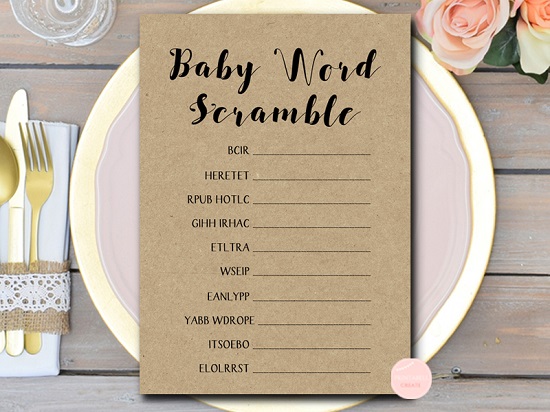 Co-ed Gender Reveal Games 
Gender reveal is also a fantastic way to get everyone excited and involved. The mother and father to be can do this by filling balloons with pink or blue confetti and popping the balloons for guests to see, or a cake can be cut and given to every guest for him or her to be able to see the actual inside which would be dyed blue or pink.
Grab an Egg Game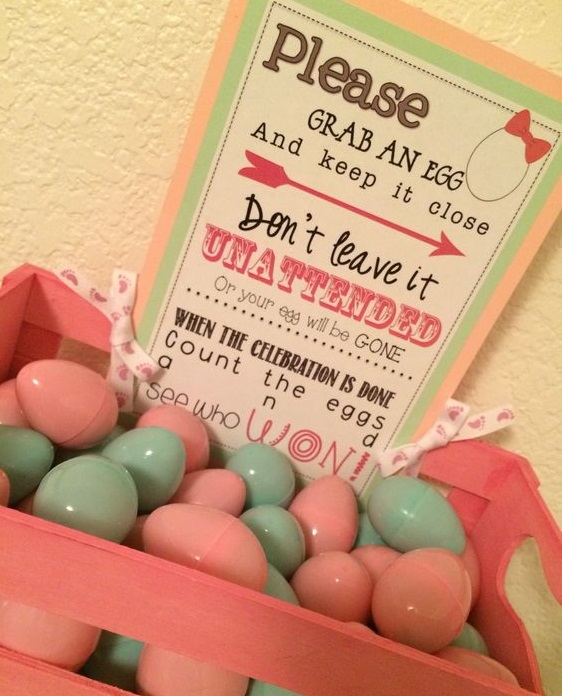 Another favorite activity that lasts the entire baby shower event is the Egg game. As each guest arrives, he or she receives their very own egg and is not allowed to be without this little egg for the entire party. So what's the catch? Whoever has the most eggs at the end of the day wins, as most guests are sure to drop, break, or just forget about their egg altogether!
Baby Shower Trivia
Trivia games are also a big hit at a co-ed baby shower. For parents and non-parents alike, a parenting trivia game is especially fun, and lots of giggles ensue as each player answers "What would you do?" parenting questions. It's also remarkably fascinating to see just how different answers vary based on gender!
Draw, Baby!
For guaranteed hilarity, the Draw, baby! game is the way to go.
Start by handing out well-made paper plates to all of your guests. (You know, the type that won't bend easily.) Tell them their task is to draw a picture of a baby. Sounds simple, right? But there's a small catch! The paper plate has to be placed on his or her head while drawing.
Watching each other create masterpieces from such an unnatural angle is funny enough, but when everybody's drawings are revealed to group, that's when the real laughter begins.
Reward the flexible artist with a gift of your choice. They've earned it.
Drink Up!
Having something to drink at any event is pretty much a routine thing to do. So why not capitalize on people's need for refreshment by turning it into a cruel, yet amusing game.
Drink Up involves filling several baby bottles with a liquid of choice. Whether you want to go with apple juice or beer is completely up to you. Guests then have to race to see who can finish their tipple the fastest.
Eat Up!
Raising children is messy. That's just the way it is. So why not play on this theme for one of your baby shower games? Split everybody up into pairs and hand each pair a bib, two spoons and a small tub of applesauce. Oh, and a blindfold.
Each pair takes it in turns to feed the other blindfolded. The fastest pair to finish their applesauce is, of course, the winner. Though the real winner here is you. Watching your friends and family covered in baby food is something you won't forget in a hurry.
Baby Cakes
While technically not a game as such, Baby Cakes offers a more relaxed way for you and friends to have fun. A batch of delicious cupcakes are baked before everyone arrives, only none of them have any frosting. Oh, and one has a mini toy baby inside.
After bringing them out, and getting guests to frost their own, let them know about the toy baby inside one of the cupcakes. This works a little like throwing the bouquet at a wedding. Whoever's lucky enough to find the toy baby will be next up for a baby shower. At least in theory!
Everybody else? Well they get tasty cupcakes.
Guess the Baby Food & Whodunit
Perhaps the most entertaining games of all include Guess the Baby food and Whodunit. Guess the Baby food is pretty self-explanatory—guests taste mystery baby food and have to guess what flavor it is. For Whodunit, this gets guests to know the new parents even better. Both the mom and dad-to-be will post up ten or so facts about themselves as children and guests have to guess who did or said each fact.
Regardless if your co-ed baby shower event is full of tons of games or just a couple special ones, this is a party that will be remembered for years to come—especially by the two lovebirds themselves.
Coed Baby Shower Themes
Beside the traditionally popular baby shower themes, here are some great options for co-ed baby shower:
Go Green or Eco-friendly Theme
Green or Eco-friendly themes for couples are popular these days. Your garden, a beautiful park or you can decorate the house with green plants are some of the best way to have an eco-friendly baby shower.
When it comes to baby shower invitation ideas, you can email or send a group chat invite it to save on the paper or use PCW recycled paper which are processed without chlorine.
It is best to make use of plates and silverware, tablecloths and cloth napkins. You can ask your guests to have their gifts wrapped creatively with the use of recycled cloth or newspapers, or simply request for 'No Wrap Shower' which is becoming a new trend in this ever changing world. The request can be made in a form of a note at bottom of the invitation or as an insert that you can add to the mailed invitation. For favors, you can give locally made soaps, plantable seed cards, or fair-trade teas!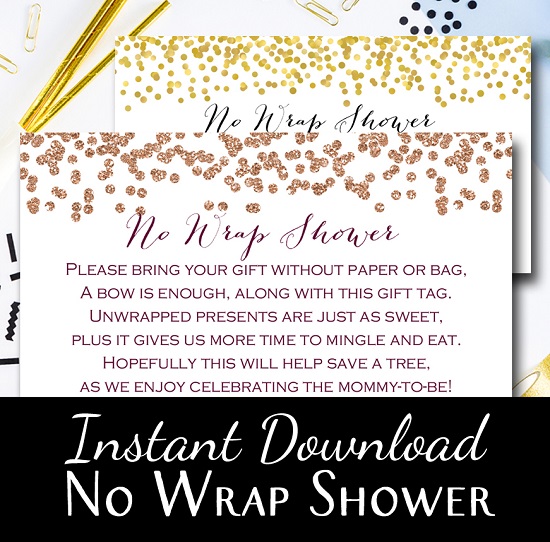 Polka Dot
Polka dot theme party is easy and fun to organize for either a baby girl or baby boy. Order a two layer round cake at stores that offer baby shower cake ideas and frost at any color that you prefer. Make use of white frosting and food coloring to create the polka dots. You can make this design with cupcakes also. It is best to have the shower party outside to make bubbles float using a bubble machine. Design with clusters of balloons and offer ginger ale with pink or baby blue. Cut small finger sandwiches in a circle, pastel m and m, serve skittles or anything delicious that is round in shape.
Diapers and Dinners
This is a great idea for a parents-to-be who has children already and has already baby gear stocked. Guests can bring a meal for the family which can be frozen and a bag of diapers. This provides the family dinner for a week and diapers for the newborn.
What Gifts to Give
The whole idea of a Baby Shower or Celebration is for guests to bring gifts for baby when he or she arrives.  Guy friends and relatives may prefer to shower you with gifts that are more practical – say gift tokens for food delivery which could prove to be a life-saver during the first few months with your new addition.  When sending your thanks for the gift, make sure both Dad and Mom-to-Be sign your acceptance note.  You will also have to consider making your favors suitable for both guys and girls of all ages – chocolate is probably the most gender-neutral solution and there are so many great ideas to have your favors personalized with the names of Dad and Mom-to-Be plus the Stork!
Happy Celebrations!