Gender reveal parties for babies to be are all the rage right now, and future parents really let their imaginations soar when it comes to creating new ways to reveal the sex of their upcoming bundle of joy to all their loved ones. Whether you opt for a big production with the popping of giant balloons filled with either blue or pink confetti, or if you go a subtler, sweeter route with little cookie onesies bursting with blue or pink sprinkles, creativity knows no bounds, and you can certainly cater to your own personality!
Have a funnier, messier idea in mind? The gender reveal volcano is fun, loud, and edible—and it's quite a show, too! With a sugar concoction in a girl or boy color, the "lava" is bright and sweet!
Top 12 Gender Reveal Ideas
Egg Roulette Gender Reveal
The Egg Roulette gender reveal idea is just about one of the most creative things you can do, and everyone will be on the edge of their seats waiting to find out which egg in the 12-pack (pink and blue assortments!) will crack on the head of mommy or daddy! Watch this video below by Dallen Reber.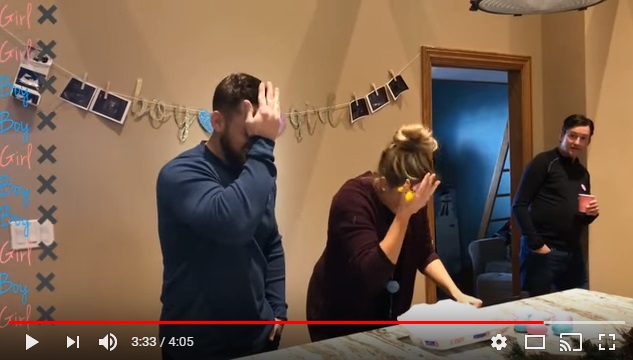 He or She POP the Balloons to See
Super fun and full of suspense! Fill up the balloons and throw darts to pop the balloons! Once you pop 3 pink or 3 blues, you'll reveal the gender of the baby!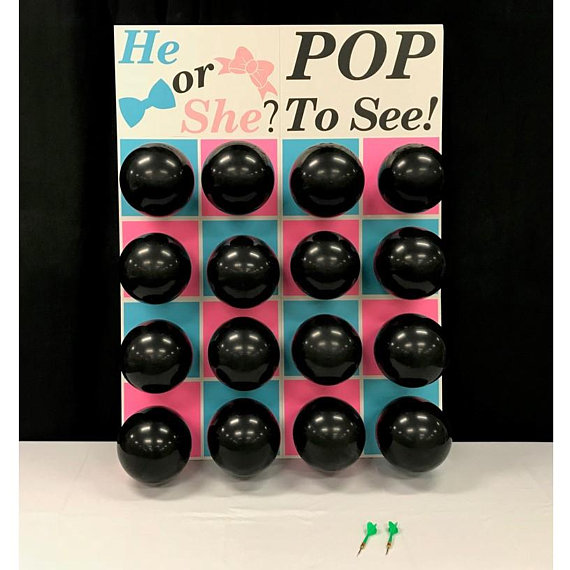 Roulette Powder Cannons
This gender reveal Roulette Powder Cannons is a great way to get everyone involved! You'll receive 1 blue/pink cannon as well as 11 white cannons. The parents-to-be will roll the dice and the number that is rolled will indicate which person will shoot off their cannon! If it's white, repeat the process until the gender is revealed!
Football Reveal Ball
An amazing experience for football lovers to reveal the gender! Prepare for a big kick, away from guests and pets as the football releases pink or blue powder and confetti! This is recommened for outdoor.
Gender Reveal Balloon Box
Prepare a box filled with pink or blue helium balloons! Add this super cute "It's a"chalkboard sign!
What's the Scoop Cake
Cutting the cake is one of the most traditional way to reveal the baby's gender but keep everyone's suspense with this adorable "What's the Scoop" Cake! Fill the inside of the cake with blue or pink candies and reveal the gender as Mommy-to-be takes a scoop of the cake!
Boy or Girl Gender Reveal Cookies
Pin and Pop the Balloon
This giant gender reveal balloon comes with pink or blue confetti. Reveal the gender of the baby with a "Pop" of the balloon as it bursts in pink or blue confetti!
Bows or Bowties Confetti Cannon
The Canoon will be filled with pink or blue confetti and is perfect for outdoor gender reveals! Confetti cannons will 'POP!' with confettis creating a picture perfect moment!
Mystery Volcano Reveal
If you're into fizzing experiements, you may enjoy this Volcanic explosion to reveal the gender of the baby. Visit Preschool Powol Packets to find out the perfect ingredients to make this happen!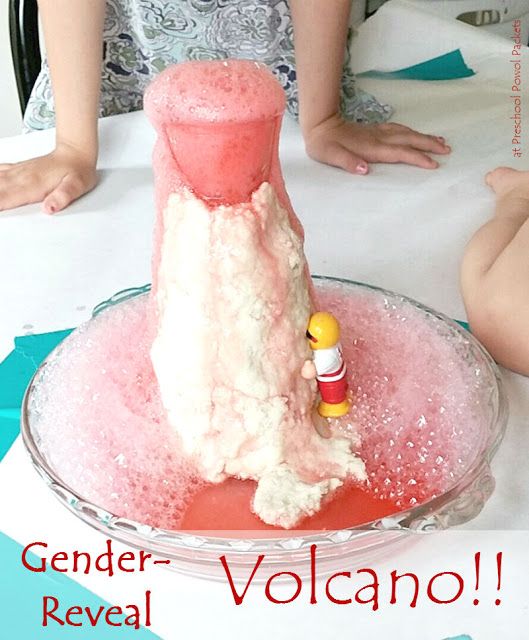 Little Miss or Little Man Reveal Fizz
All you need to do is drop the fizz into a clear bowl of warm water and have all your friends and family watch together in anticipation as the water turns pink or blue revealing the baby's gender!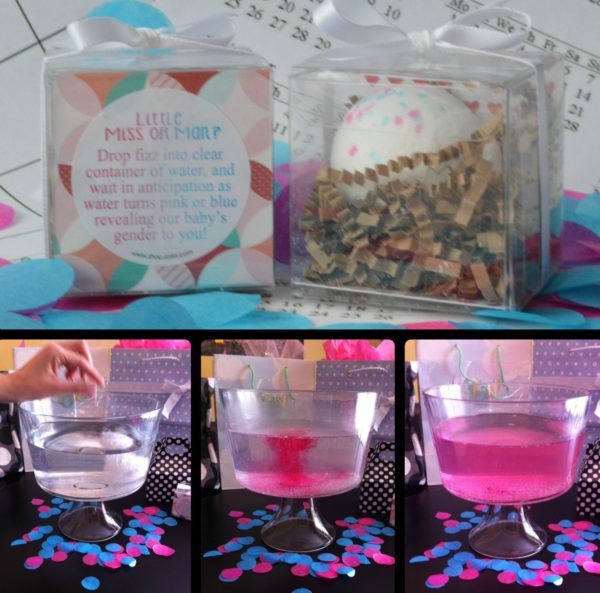 Gender Reveal Maze Game
Like the Maze we all know, ask the guests to start and reach the other end. Except with this gender reveal maze, it will take them to either 'It's a Boy or 'It's a Girl! Printable by Printabell-Express.
Gender Reveal Scratch Off
This is a perfect solution for any last minute gender reveal planning. It is an online scratch off to reveal the gender of the baby, so if you are having a Virtual baby shower, this is an excellent option. Your families and friends from near and far won't miss out on the big surprise reveal!
Confetti Cascarones Eggs
Get the kids, aunts and uncles, even great-grandparents involved with these confetti eggs! Crack the eggs one at a time until the color of the gender is revealed!
Gender Reveal Star Pinata
This is a perfect game if children are attending the party! Fill with pink or blue baby decorations or candy for an amazing gender reveal. Pinata can be purcchased as a traditional hit with a stick Pinata or Pull Strings Pinata.