ABC Baby Shower by Amanda of Ashley Baber Weddings
Amanda did a lovely job on this ABC NYC baby shower event. For this party the request was for a non-traditional, non-pastel early May shower.  Right from the start the theme was introduced as the guests walked up the entry sidewalk with welcoming A, B, C signs.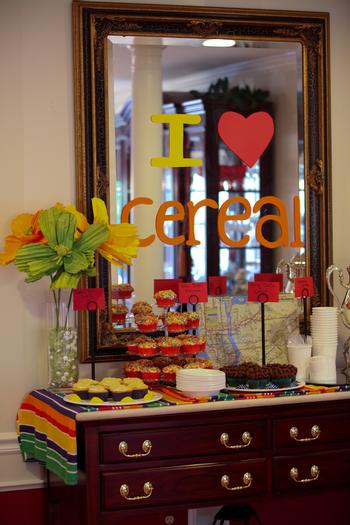 The welcome table was warm and bold with an orange, paisley tablecloth that held an adorable ABC NYC book for the guests to sign-in at and a copy of the shower invitation.
As a unique touch there was a welcome drink table that had a vibrant back drop of crepe paper streamers in blues, greens, oranges, and yellows. There was also a large bouquet of fantastic flowers that added warmth.
There were all kinds of beverages for the guests to enjoy, sangria, mimosas, Jarritos in a variety of flavors that provided a range of choice and brilliance of colors.
There were all kinds of decorations that made the whole theme bright and fun, a mirror behind the treat table had I Love Cereal on it and the ceiling was full of different layers of lanterns.  There was even a miniature Diaper City centerpiece that was done brilliantly.
The treats themselves looked fantastic. There were "Coo-coo for Colin" cupcakes that were on a ribbon laced plate.  And if chocolate cupcakes weren't enough, there was a tiered tray of "Yabba Dabba Delicious" cupcakes that were color filled fun! There were even a plate of peanut butter "Captain Colin Crunch" cupcakes that gave a neutral blend in with the bright colors.
As favors for the guests who came adorable smiley face cookies were individually wrapped and tied with cute little yellow ribbons.  The whole party was thoroughly planned out and detailed to make this ABC NYC baby shower a memorable experience for all who attended it.
Credits & Vendors –
www.ashleybaberweddings.com
Decor – Amanda Gray – www.ashleybaberweddings.com & Laura Ritchie – www.eventsinthecitydc.com
Photographer – Elusive PhotoDesign – www.elusivephotodesign.com
Stationery – Stubborn Press & Company – www.stubbornpress.com
Favors – www.smileycookie.com
Linens and decor – DIY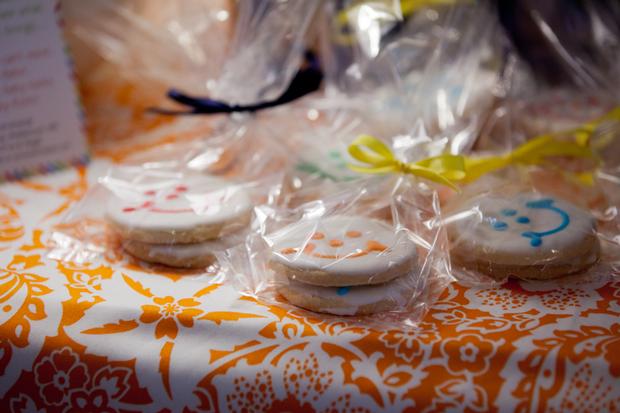 Look for more ideas –
Look for items –