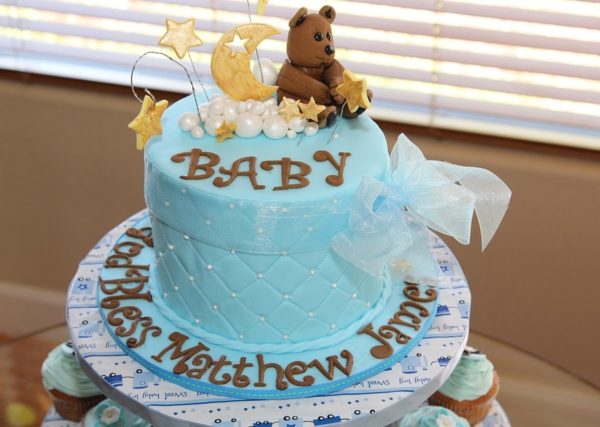 Baby Shower Cake Ideas for a Boy:  Having a baby shower, everything should be fun and cute. If you know the sex of the baby that can make planning a lot easier. You would know what color balloons to buy and which banner to get and all that gender specific kind of stuff. The one place that you can be the most creative is the cake. There are so many options for baby boy cakes that can be fun and unexpected as opposed to the traditional sheet cake with blue icing and "It's A Boy" written on it. You can really go all out.
Here are some great ideas.
There are some very cute cake options you could try. One is a little blue bassinet with a baby tucked in, the whole thing is edible and it looks absolutely precious! You can have a cake made so that a little diapered butt and baby feet are popping out of it. Some of the cakes can be traditional ones, like a 2 tiered square cake that looks like charming presents, with striped blue wrapping paper and a bow on top. You can also do polka dots if you prefer that to the stripes.
If you already know what they are going to name the baby, than there is a perfect cake that will just screams adorable! It is a simple (so less expensive if you are on a tight budget for the party) sheet cake with blue icing or fondant. In the middle you can have a teddy bear or any other animal made of fondant with a blue bow around his neck. On each side of the bear place some catchy words such as, "The big day is drawing near…" on the left and, "Baby (Baby name) is almost here!" This idea is very sweet and loving and yet so simple. Sometimes the best ideas don't have to be the most extravagant.
You can go with any animal or baby item; a teddy bear, an elephant, baby rattle anything you want. You could even transpose the latest sonogram photo right there if you wanted.
This is a great way to have some real fun with something at the party, that one thing to really make it spectacular and different. The pictures of the cake will be something everyone will want to show their friends, and you really can do anything with the cake to make it special for both the mom-to-be and guests. So whether you choose to go simple or go all out, the cake is sure to be the centerpiece of the party!
Follow My Mess's board Baby Shower Cake Inspirations on Pinterest.