"A Special Delivery" Stork Themed Baby Shower Ideas
A stork is a sign that a precious little boy or a gorgeous, giggly girl will be delivered to a couple and because of this many parents-to-be enjoy using the idea of a stork as a theme for a shower. Stork themed showers are unisex and therefore lacks partiality, regardless if you are planning for a little boy or a little girl so this particular theme is a marvelous option (particularly when parents  are unaware of what they are expecting). Retailers have being stocking up on stork-themed baby shower materials including cutlery, decorations, an all the other necessities for a festive stork-themed shower.
Invitations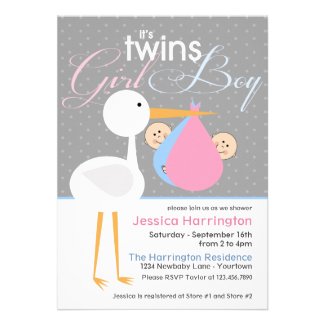 Stork Themed Baby Shower Decorations
Unique Decoration Ideas Surrounding a Stork Theme
Balloons: Yes They Come in Stork Shapes Too!
Believe it or not, there are plenty of stork-themed balloons out there, with both stork and baby pictures on them! Choose neutral colors such as yellow, green and lavender if you want to it to be a gender reveal or is unknown. If, for whatever reason, you can't seem to locate balloons with the much-desired stork illustrations, you also can decide on the option to simply place stork stickers on plain balloons.
Even Better – Stork Made Out of Paper!
As with balloons, one may simply go to your local store, preferably a party store and choose from a vast selection of paper storks. Or, if you are feeling adventurous and artistic enough, you also have the option of making your own Paper Stork. To find out how is even more simple, there are endless options and ideas, at the touch of your fingertips!
Lavish Baby – Carrying Stork
If you want to take your artistic ability even further, feel free to create stork stuffed-animal that is carrying a cute baby accompanied by a receiving blanket or diapers.
Stork Themed Baby Shower Favors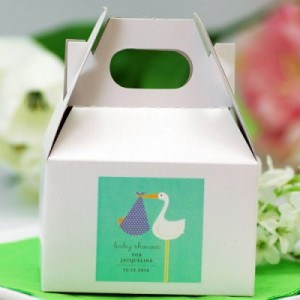 Stork Themed Baby Shower Drinks
Punch Bowl: Storks Get Thirsty Too
Ice-cold drinks are a must at any baby shower. As with the balloons and paper storks, you can use little plastic storks to place in an ice-cube tray and then fill the tray up with the mommy-to-be favorite punch. The delectable little treats will be the perfect accompaniment to the guests' beverages perfect for the pregnant mommy as she opens her gifts. These are some of the simplest decorations that you can incorporate in your stork-themed baby shower.
Stork Themed Baby Shower Game
Things to do for Fun
Here is a simple game that can be played:
Storkers Quest- Throughout the duration of the party, the host can have storks hidden throughout the area where the shower is to be held. Guest will be given the task of locating as many storks as they possibly can throughout the party. At the end of the party, the person with the most storks can receive a little gift or perhaps let them have an input into naming the baby when he/ she is born.
Don't Say a "Word" - Pick a word that is commonly associated with a stork such as "deliver" or baby shower such as 'baby' or 'mommy'. As your guests arrive, give them a pacifier necklace each with an instruction not to say that word. If a person catches someone saying the word, the person who said the word will need to give necklace to the person who caught her. The person with most necklaces at the end of the baby shower wins the game! The game is very simple but extremely fun and interactive
Follow My Mess's board Baby Shower Stork Theme Inspirations on Pinterest.