A new baby is a wonderful thing. Not just for the Mommy and Daddy-to-be but for all friends and family as well. When coming up with baby shower ideas you want to make sure you do it right! By choosing a baby shower theme beforehand will make planning for the cake very easy. If you are unable of the gender of the baby, stay safe by choosing gender neutral colors such as yellow and green.
Popular baby shower themes for baby girl: Princess  | Flamingo | Pink Tiffany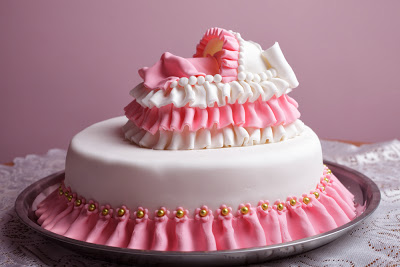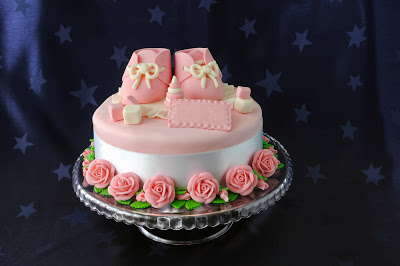 The one thing that can make the shower scream we love you, we're proud, and we put a lot of thought into your shower, is the cake! Now, most people go with a sheet cake with an image of a rattle or diaper pin with "it's a girl" written on it. There is nothing wrong with that, but, if you do want to make a statement, make your shower better than the standard one size fits all baby shower. You could use the cake to do just that!
There are a lot of ways to go with baby shower cake for a baby girl. There are more options than you even need. The first consideration should always be your budget. Different kinds of cakes will cost more than others. So when picking out an option, have a maximum number in terms of budget in mind, at all times. There are some cute things you can do. You can have the entire cake shaped like a baby girl wrapped in a pink blanket or a cake shaped like a bassinet, but remember any sculpted cakes will cost more than traditional shapes do. 
You could go with the classic sheet cake, but with one exceptional detail added. You can have a rectangular, square or round cake with a good sized sleeping baby made of fondant on top or an adorable worded cake topper.
Depending on the bakery, this may cost a lot less than the baby shaped cake or a little less, at some maybe more. You may want to pick a place you know does great work first, with a budget in mind sit down with the baker. Tell her your most extravagant, over the top ideas and see if it's beyond your budget, just work from there to exclude few things here and there or for an alternatives. Another way to do it is to start by telling her your budget so she can tell you the most amazing thing that will get you for that particular price.
If you only have a sheet cake budget don't worry, because there are great options there too.  The best ever plain, flat, not shaped like anything or with anything on top of it cake I have ever seen was a flat single layer sheet cake with pink frosting on the sides with baby green color top, and there was a poem and a drawing in icing of a teddy bear with a pink bow around her neck. The teddy bear was in a square in the center and each half of the poem was written on either side. Now there are two versions depending on whether or not you know what they named the baby. The poem reads "The big day is drawing near…" then it continues on the other side, "The new baby is almost here!" So if you do know the baby's name it would be "baby Jessica is almost here". You can go all pink if you want and not do the green top. You could change it to any animal or picture you like, even have the baby's last sonogram put there instead. No matter what you change, this is a sweet, simple, affordable cake that is absolutely breathtaking. It is so sweet and pure and loving that it is sure to be a hit.
Follow My Mess's board Baby Shower Cake Inspirations on Pinterest.