A baby shower is a time for happiness, so what better theme than a tie dye theme for a baby shower? Show off lots of bright, vibrant colors! If you love the 70s, you can even include some 70s decorations! Homemade tie dye can also make for a special touch and a great keepsake for after the shower. It is time to get crafty because there is a baby shower to plan! Below are a few ideas to get you started!
Color Swirl Ombre Balloons
These perfectly swirled party balloons will add just the right amount of color to your party decor! You will recieve one balloon with your order, however, if you need a large variety of balloongs, larger orders can be accomodated. If desired, the balloon can be filled with helium for a small fee at your local party store. The balloon should not be inflated more than tweleve inches and should be filled one to two hours before the party begins. These balloons are so gorgeous, your guests will be staring at them all day. You can choose one standard color or have a variety of colors.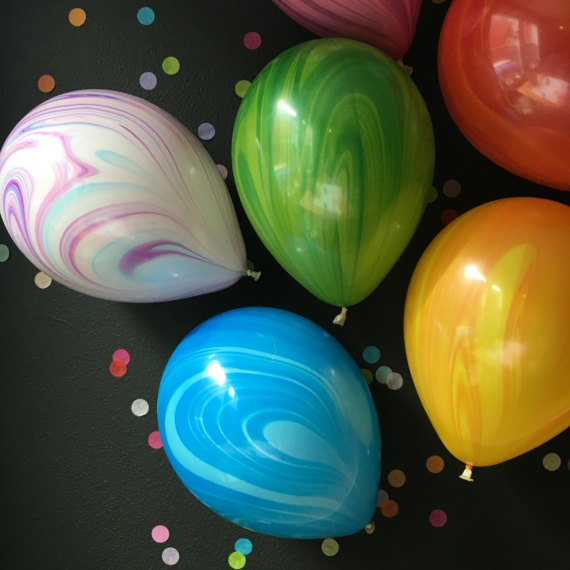 Flower Power Cake Topper
This beautiful, elegant tie dye cake topper will turn any cake into a masterpiece. The piece includes a baby dressed in a yellow diaper with with pearl trim and a white flower with pearls. The optional accessories include a yellow smiley and threee matching tie dye flowers. The topper is both hand crafted and hand painted. In addition you have the option to choose the desired skin tone for the baby. Skin tone options include: dark brown, medium brown, light brown, and white. The topper is edible, however, it can be saved for many years if it is stored properly.
Peace Signs
Go crazy with this twelve piece decoration set that is filled with peace signs and tie dye. The package features six brightly colored swirls and rainbow cardstock peace sign cutouts. These far out decorations are sure to be the life of your party! You will receive six plastics swirl decorations, three plastic swirl decorations with seven inch cutouts, and three plastic swirl decorations with five inch cutouts. You will also recieve plastic hooks to make for easy hanging. These decorations will work perfect for an indoor or outdoor baby shower.
Tie Dye Pony Tails
These hair tie party favors will make the perfect finishing touch to your special celebration. Each hair tie favor includes the following components all elegantly wrapped in an individual cellophane envelope: One personalized favor card and three hair ties. The quote included with the hair ties reads: "Thank you! Hope you had a groovy time." The bottom of the card has plenty of room for personalized text.