Dr. Seuss books are beloved all over the world with timeless stories, vibrant characters, and fantastical rhyming worlds. Incorporating Dr. Seuss' world into a baby shower to welcome twins is a truly memorable way to celebrate. Between tons of colors, fun décor, and a day full of exciting story time, here's how to make a Dr. Seuss baby shower unforgettable.
Thing 1 Thing 2 Invitations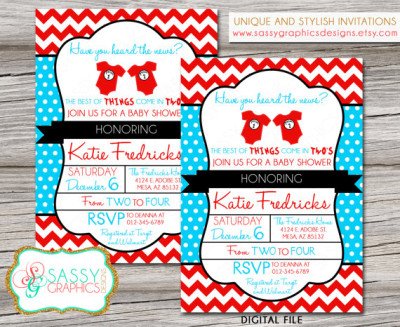 Decorations
While there are so many different parts and characters of Dr. Seuss' literary world, the main focus for the party and all its decorations, food, favors, and games should be around characters Thing 1 and Thing 2 from Cat in the Hat because this party is all about the new twins! You're going to want to stick with baby blue, white, and bright red colors for your décor scheme, along with patterns of polka dots, zig zags, stripes, and tons of puffy, fuzzy toppers and feathers.
Set up tables with red and white zig zag pattern tablecloths, and tie polka dot blue balloons in bunches floating from the center of each table. Create centerpieces in tall red vases with striped straws and big, soft puffs of blue and white feathers. Thing 1 and Thing 2 are really eccentric and fun characters, so that's the feel you want for your baby shower event.
Stuffed animals of the best of the best Dr. Seuss characters like Cat in the Hat, the Lorax, and the Grinch are great to have on hand to place around the party as decoration accents. Have a tall, red and white striped top hat like the Cat in the Hat wore at each place setting for your guests to wear at the party and be silly. Toss glittery blue and red tinsel on tables, chairs, and on floors and hang an ample amount of polka dot streamers and fuzzy blue garland from walls and doorways.
Have Dr. Seuss books placed around tables and different parts of the venue for guests to look through and feel nostalgic, too. For the gift table, have your guests each bring their favorite Dr. Seuss book or movie for the new twins.
Baby Shower Food Ideas
Food for a Dr. Seuss baby shower should be just as vibrant and full of life as the decorations, so starting with a fabulous party cake (diaper and edible alike) is a must. Do an elaborate cake in front of the Cat in the Hat's actual top hat, or how about a several-tiered cake in bright red frosting with haphazardly placed tiers that look as though the cake is falling down in every which direction. Of course, no matter what your cake looks like, you'll absolutely have to have toppers, figurines, or candied fondant molds of Cat in the Hat chasing after Thing 1 and Thing 2 on the cake!
Give the rest of your food the same unique vibe and look such as a crooked cupcake stand full of cupcakes with thick blue frosting, bowls full of red and blue gummy fish, and teacups full of red and white pudding. Sugar cookies in the form of Thing 1 and Thing 2, and jars of colorful candies are delicious treat additions. Peanut butter and jelly sandwiches, popcorn, and green eggs and ham quiche are appetizing salty fares. Mix up some blue and red fruit punch for beverages and you've got yourself a fantastic food table.
Baby Shower Favors
Baby Shower favors can be bright and silly, so opt for fur tipped pins, or bags full of bright and extra sweet candies. To really emphasize the theme for twins, you can prepare favors that come in a pairs such as socks, a bright red or striped socks. You can add Thing 1 Thing 2 favor tags to go with them. Activities such as "Name the Dr. Seuss Story" allows your guests to tap into old memories while having a splendid time.
MORE INSPIRATIONS: