What a delight this Twinkle Twinkle Little Stars Shower by Bee-unike Events turned out to be! Using a fantastic blend of light and dark blue tones, the space used for this party was pure elegance.
A large window was utilized to create a stunning backdrop for this stellar dessert table. With a sheer fabric curtain over the window, there was no glare from the sun and the vibrant light gave the entire room a warm and inviting atmosphere. Blue fabric was draped on each side, showcasing the theme tone beautifully. In the center of the window a navy blue window frame was made from poster board with a silver moon and stars hanging in it, giving a neat look. Even the ground below the table was decorated to go with this spectacular shower theme, white fluff gave a fantastic cloud like effect that guests were sure to enjoy.
The table used to hold the snacks was a modern chic sheer one that did not need any cover. It made the perfect stand for the spread of tasty snacks that filled it. Each edible was detailed beautifully, making this table a work of art. A massive two layer cake was frosted in light and dark blue and had an adorable moon and bear topper. To enhance this beautiful cake, it was set on a stand decorated in fluff to make it look just like a cloud. To each side of the large cake, mini cakes were frosted in the light blue with their own adorable moon and star toppers.
A unique and brilliant decoration used for this Twinkle Twinkle Little Stars Baby Shower theme were light up stars and clouds that were incorporated into the dessert table flawlessly to attract the eye while ensuring that the theme was clearly expressed. For a natural touch large bouquets of blue and white flowers stood tall on large, clear stands.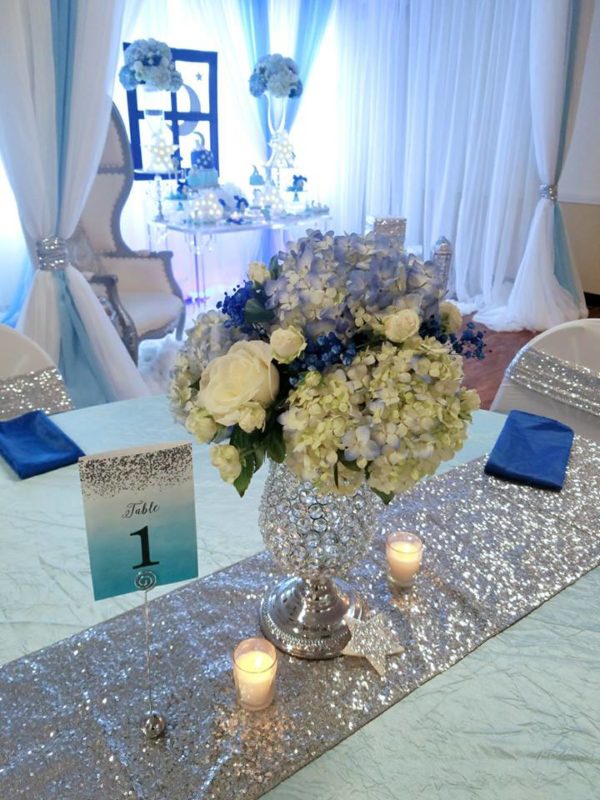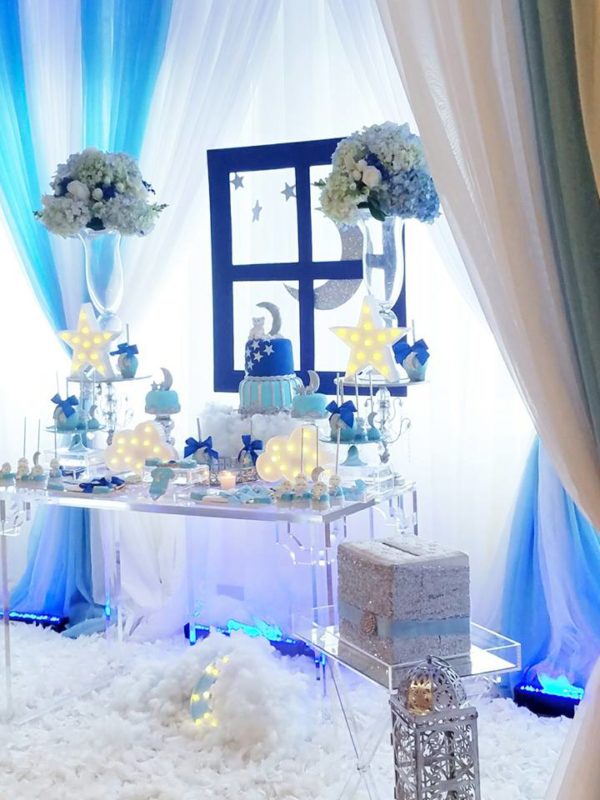 Credits:
Planning/design: Bee-unike Events
MORE INSPIRATIONS: