Happi Tree Themed CrossFit Baby Shower by Marla of Fujiko's Flowers.
This beautiful baby shower was designed for the happy parents to be who adored Happi Tree theme by Dena Designs. Marla  incorporated the cross-fit community, the group she and they belonged to. The food looked quite delicious. Marla notes that many members of her group were on a diet that consist of fish, eggs, veggies, fruit, grass-fed meats among other things so she incorporated the diet into the foods prepared. Menu included watermelon soup shooters, shrimp and avocado salad, and grilled peaches with a balsamic glaze and many more. All the food was featured on a table, with trees as the backdrop, and large flowers cascading down unto the table.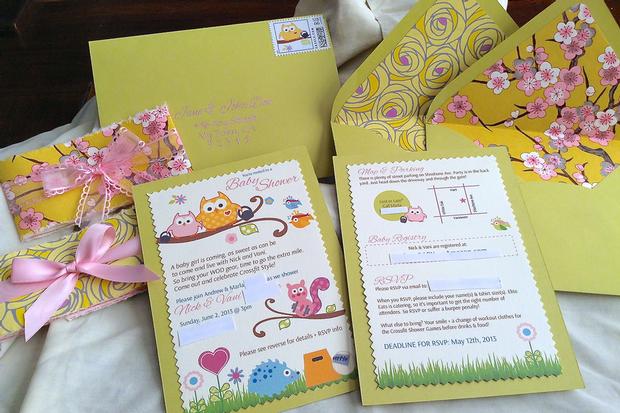 Along with the fine cuisine presented, there was the elegant floral arrangements. The white and pastel pink flowers are featured on the food table as well as on guest tables as centerpieces. The drinks that was made for the party are simply ingenious as well. They play to the Paleo diet as well. The party features coconut water, cucumber mint water in a pitcher, basil lemonade, basil vodka gimlet, and a drink called the buddy miles. Each drink bottled, in a clear soda bottle container and labeled with cute mini chalkboard tags for a nice touch.
A lot of wood, and floral arrangements make for a more earthy feel, perfect for this cross-fit baby shower. Another design element I noticed were the nicely displayed mason drinking jars. They have cute pink straws that feature a flag exclaiming the gender of the baby and the word congratulations. This party incorporates the color scheme of the baby's room, and the cross-fit community that brought the party goers together, in a most wonderful way.
Credits and Vendors –
Event Design and Florals: Marla Hudnall – Fujiko's Flowers www.fujikos-flowers.squarespace.com
Photography: Kaysha Weiner
Plate, Tub and Bottle Rentals: Town and Country
Table, Chairs, Linens and Silverware Rentals: JC Party Rentals
Jadeite Cake Stand Rentals:  Minted & Vintage
Caterer: eliteEATS
Beverage Consultant: Chris Hudnall
T-shirts: Ooshirts
Quilt: Beth Norris
Mini Plyo Box: WOD Toys
Tissue Paper Flower Tutorial
Upholstery Painting Tutorial