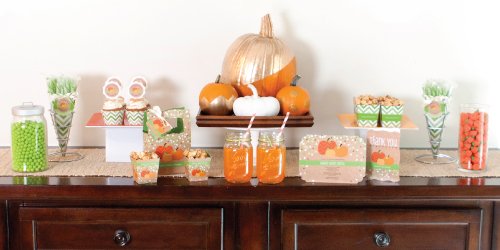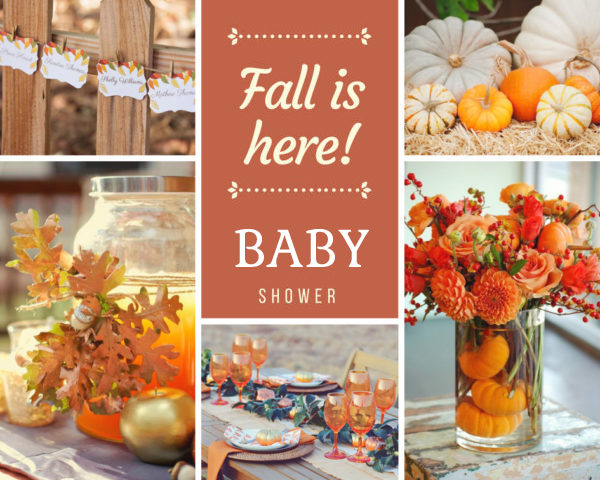 Autumn is the most beautiful time of year to have a sweet baby shower to celebrate the upcoming bundle of joy. With the gorgeous colors of changing leaves, the crisp temperatures in the air, and the warm aromas of pumpkins, spice, and cranberries, this is the time of year in which we feel joyful and surrounded by beauty. Having a baby shower full of the best parts of autumn is a wonderful way to celebrate a sweet addition to the world and soak in all that this season has to offer.

Fall Baby Shower Invitations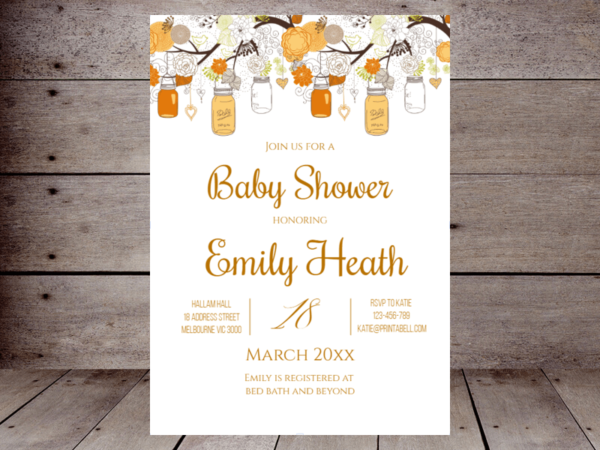 Fall Baby Shower Decorations
Having the shower outdoors in the hours of brunch is a perfect setting for your fall baby shower. This time of day provides breathtaking sun hues, nice autumn air, and plenty of delicious brunch food. It's also wonderful because half of your decorations are already done for you by nature within the trees, grass, and sky. Drape tables in deep chocolate brown silk tablecloths with lace white runners and awesome centerpieces of painted white pumpkins with floral arrangements of dried, plum and brown colored flowers, autumn leaves, and orange daisies.
Set out tableware of deep burgundy hues, with shabby chic distressed silverware, drinking goblets, and ivory napkins tied with silky brown ribbon. Pumpkins in all sizes placed around the venue is a must-have décor item, and tall arrangements trailing up the walls of twigs, rods, and woodsy details further bring in the feeling of fall. Line table edges and ceilings with garlands of intertwined twigs and leaves and put up gold balloons. Streamers of paper owls and a cornucopia in the spirit of a baby crib are creative and fun decorations, while a table set up in all the rich colors of the leaves is great for guests to place their gifts.
Fall Baby Shower Food
You can certainly never go wrong with brunch food, and you can really put together some delectable dishes for your guests. Warm pumpkin soup served in hollowed out gourd halves, bowls full of pine nuts, and cinnamon and brown sugar roasted almonds. Croissants with spreads of hazelnut butter, marmalades, and organic jams pair wonderfully with just about anything. Crockpots full of cider and hot chocolate, sautéed season vegetables and potatoes, and cheese plates with herb crackers are all filling food options that will warm up your guests' tummies.
Fill tall glass apothecary jars with mellocreme pumpkin candies and top orange frosted cupcakes with candied maple leaves. Cups of butterscotch pudding with vanilla wafers, cakepops in the replica of pumpkins, sweet bread with sorghum syrup glaze, and piles of toffee make for amazing treats for the sweet tooth. The party cake should be delicious, yet simple, so go for a single or double tiered white cake with cream cheese frosting and a topper with the baby to be's name spelled out.
Fall Baby Shower Activity & Favors
Set up an activity for pumpkin carving for the guests, as this is something everyone can participate in and it's extremely relaxing and interactive. Hand out prizes of coffee shop gift cards or burlap bags of autumn candy for the guests with the best pumpkins. Hollow out some pumpkins before the party and fill with party gift favors for all your guests. You can't go wrong with sweet gifts of treats, jars of mixes for cookies or brownies, and even pumpkin carving kits for the guests to take home with them.
Fall Baby Shower Games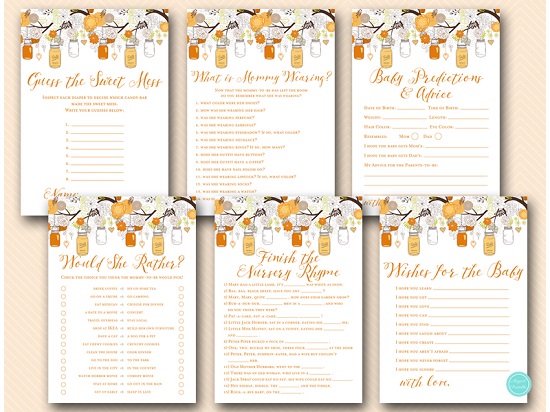 MORE INSPIRATIONS: