Favors | Wish Cards | Mint+Orange Display | Pie & Centerpiece | Cookies | Cake | Frosting
There's simply nothing better than a creatively thought-out theme for a baby shower celebration. But to go along with that, it's always a plus when something creative can be merged with an easy, non-stressful setup.
This is why a Little Pumpkin motif for your upcoming baby shower is the perfect way to go—especially if you're putting it on during the fall. From gorgeous colors to striking ambiance, the images of little pumpkins represent all the sweetest things—mama to be's little baby bump, fairytales, and a homey warmth.
Pumpkin Baby Shower Invites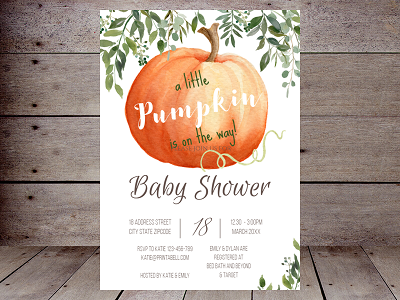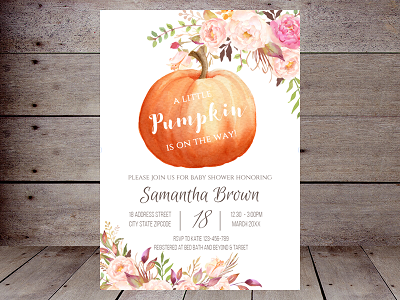 Pumpkin Baby Shower Decor
Décor for a Little Pumpkin baby shower should include a few key aesthetics: eye-catching decorations, on-point lighting, and the delicious aromas of pumpkins! Real pumpkins in various sizes are great for placing around the party venue, while dim orange, twinkling lights strung up everywhere really set a sweet atmosphere.
Burlap and ivory also go really well with the Little Pumpkin theme, so you can create a burlap banner with congratulations messages or the baby to be's name. Ivory lace table runners look beautiful next to more orange and pumpkin décor.
Rich green ivy and plenty of sparkles add an extra dose of fairytale-esque to the event, too. Having scented pumpkin candles can also offer a delightful, welcoming addition to the party. For even more elaboration, you can add in colors for gender, so don't be shy in bringing in pinks and blues to the overall Little Pumpkin magic. Of course, you can't forget some entertainment for the guests. Create an activity with a keepsake for the guests or the mother to be, by having guests paint and decorate little pumpkins!
Lil Pumpkin Baby Shower Games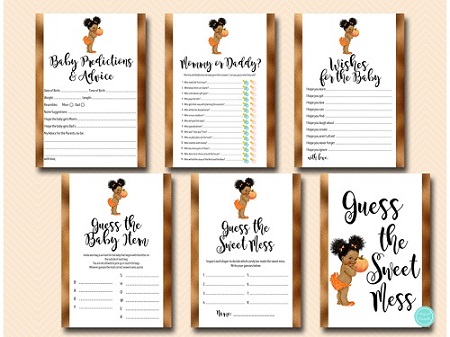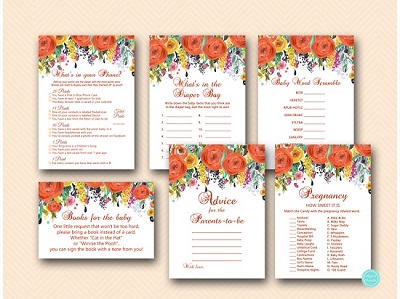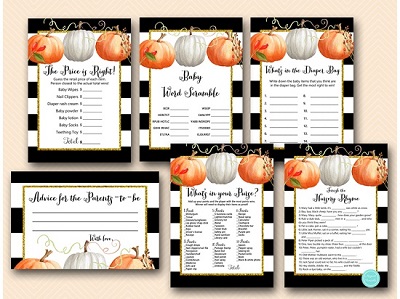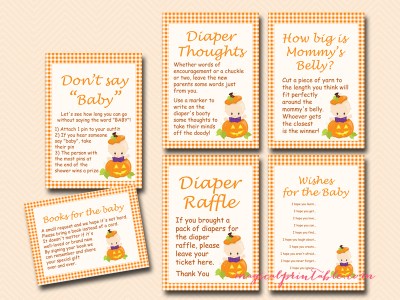 Lil Pumpkin Baby Shower Food
For the food tables, you can do just about a million different things with this! Apothecary jars of all sizes filled with mellocreme pumpkins, sugar squares, orange delights, and orange m & m's are all gorgeous to the eyes and delicious to the taste!
Pumpkin shaped sugar cookies with glittery orange sprinkles, and a cute, pumpkin shaped cake, cupcakes, and little cakepops are also yummy and perfect for the Little Pumpkin theme. Miniature pumpkin pies, tartlets, and brownies are scrumptious and unique treats for guests.
As for salty fair, roasted pumpkin seeds, along with an array of easy to eat finger foods such as tea sandwiches, kabobs, and cheese plates are definitely the way to go.
Pumpkin Baby Shower Collection Board