If the parents-to-be religiously watches basketball and loves to play the game, there is no better theme for her baby shower than a basketball themed baby shower!
It's a perfect theme for a co-ed baby shower as well. A basketball baby shower allows for a fun atmosphere that the guests will love. If parents-to-be have a favorite item or a collection, you might even choose to display some of those special memorabilia as part of decor!
It's time to lace up your sneakers and get your head in the game because there is a baby shower to plan. Below are a few ideas to get you started!
Basketball Baby Shower Invitations
While you can make the invitations look any which way you wish, a basketball-shaped invite or a ticket to slam dunk baby shower is a fun choice to get the guests excited for the event theme.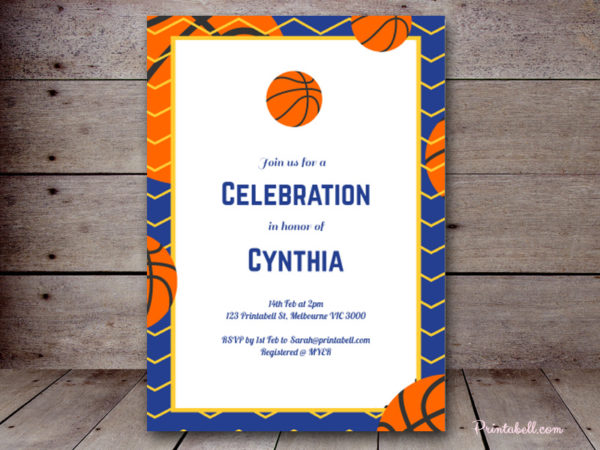 Basketball Baby Shower Decoration
Basketball twisty ceiling hangers, blue and orange door streamers with basketball embellishments, and big, metallic balloons in the shape of giant basketballs are some simple decoration ideas for this theme. Think things like jerseys, color palates, and onesies in team imagery. A flag banner across the main food table or as a backdrop congratulating the mother-to-be are some ideas.
For the backdrop of a dessert table, a large basketball themed poster with a miniature basketball hoop along with any favorite basketball team memorabilia that the mom-to-be loves would be a nice touch that would really sets the tone for your theme.
For the guest table centerpiece, you can make a simple 2 tiered diaper cake with our DIY diaper cake tutorial. You can print out a large basketball image on cardstock paper and place it on top of the diaper cake you've made. Wrap each tier with thick orange and black satin ribbons.
Basketball Cupcake Wrappers
These textured cupcake wrappers will make your cupcakes fit right in with the theme. The unique texture will make your cupcakes stand out from ordinary cupcakes. There are no bottoms to the wrappers; they simply wrap around the cupcake making it easier to assemble.
Basketball Banner
Showcase the theme of the baby shower with this amazing basketball banner. The letter pennants can be personalized with the name of the baby being celebrated.
Basketball Corsage
Make sure that your guest of honor feels special with this beautifully made basketball themed corsage. The corsage can be made with different colored ribbons to suit mommy-to-be or daddy-to-be.
Basketball Confetti
Make your party a slam dunk with this basketball themed confetti. This confetti is sure to add some color to your tables. The confetti can be custom ordered in any colors, which makes it perfect if your are planning to focus on a specific team.
Each piece is cut from sturdy card stock and measures approximately one inch across. You have the option to choose between all basketballs or half basketballs and half solid colors. The confetti will look lovely as part of a display table or spread throughout the party room. In addition, the pieces can be saved for scrapbooking.
Basketball Baby Shower Food
For a baby shower cake, an actual basketball replica cake with a baby in a carriage on top would be a fun idea. If not, a sheet cake of the court would look amazing.
Food could be things that you can only get from a game vendor, such as hot dogs, hot pretzels, popcorn, and slushies. For treats, think cakepops that replicate little basketballs, rice crispy treats that look like team scoreboards, chocolate cupcakes with bouncing basketball toppers, and popcorn buckets full of all kinds of sugary candies.
Basketball Baby Shower Favor
Favors for a basketball baby shower can be anything from a gift bag full of yummy, elaborately decorated sweets to game day takeaways, such as basketball coasters, bottle openers, or keychains.
Basketball Party Favor Soaps
These darling 3D basketball soaps look absolutely wonderful and your guests would surely appreciate receiving them!
Basketball Popcorn Cups
Send your guests home with a classic half-time snack in these adorable basketball-themed cups. The containers can be ordered as cups or boxes. Each item is made from high quality, sturdy materials and is recyclable. The containers can be paired with other basketball-themed items such as solid-colored tableware and accessories to create the perfect finish.
Basketball Baby Shower Game
Popular baby shower games such as Baby Bingo, guess how many candies are always a good idea, along with themed games such as Trashketball, or name that famous basketball player.
Basketball Baby Shower Printable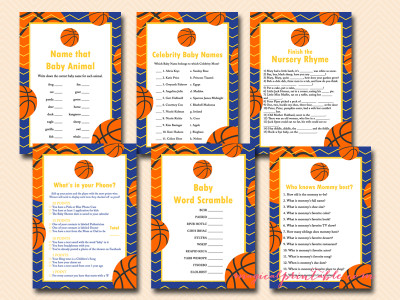 Basketball Themed Baby Shower Parties
Here is a collection of my favorite basketball baby shower parties and cakes for inspiration. Please see below each image for credit.