What a gorgeous event this Woodsy Boho Baby Shower was! Magnificently designed by Paula Clemente Woods and mom to-be Kasi Leigh Lydon, this party had an abundance of sweet details that mom-to-be could love.
One favorite element of this adorable party was a diy teepee that stood in one corner. Rather than a classic option, a fantastic white cloth was used, draping down to the floor gracefully surrounding a blanket and pillows. To accent the cloth, garlands were strung to each side of the opening, giving a lovely natural touch.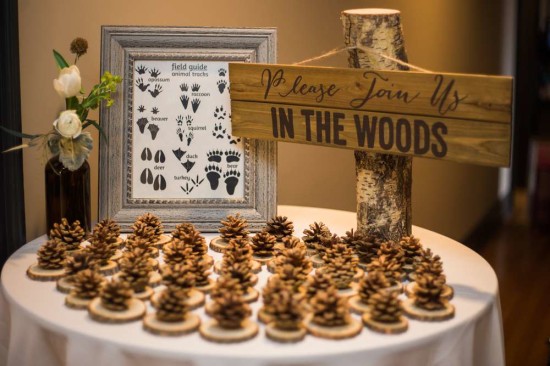 A tasty trail mix bar was set-up, creating a unique eating option for the guests that was certain to be enjoyed.  With all sorts of options including banana chips, gummy bears, cashews and more, there was enough to please virtually any palate.  All of these were set on a long table with a white cover, and beautifully decorated with framed art and other natural touches.
The guest tables were perfectly prepared, set up with several choices from a long row, to a circular option, giving everyone their own special place.  Each table had a white cover that blended with the theme and had a fantastic green runner that added a bold touch of color. Each table was adorned with a lovely floral centerpiece that went with the Woodsy/Boho idea smoothly. For everyone's convenience, each plate even had a copy of the menu on it so they would know what was available to munch on.
From the garland hanging from the chandeliers to the strands of gorgeous soft lighting, the venue chosen for this party was excellent.  There was even a fireplace that was adorably decorated with a string of onesies across the front, giving a cozy effect. On the mantle baby-to-be's name was even spelled out in light up letters adding a personal touch.
Credits –
Photos by Kate Garland of Kennedy Grace Photography
Teepee: Kasi's Husband, Russ Lydon & Mom, April Quinn
Trail Mix Bar: Kasi's Mom, April Quinn & Kasi's Sister Molly Quinn
Painted Wood Signs, Pine Cone Seating and Bird Seed Favors: Kasi
Photobooth: Kasi's Husband, Russ Lydon
Games and Welcome Sign: CaraCoPrintables , Etsy
Event Design, Installation, Flowers & Menu Cards: Paula Clemente Woods
Venue: 14 & Hudson, Piermont NY
More Inspirations