A baby shower is the celebration of the wonderful joy of a new little one being brought into this world. It's magical and beautiful, and that's exactly how the baby shower should be! A woodland theme for a baby shower is a brilliant way to gather with loved ones to share excitement about the new arrival, as the woodlands themselves are majestic and awe-inspiring. After all, didn't the best fairytales begin in an enchanted forest?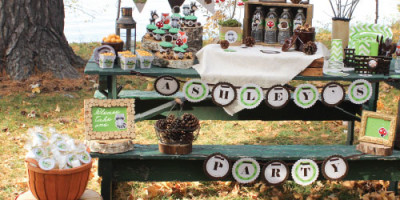 Woodland Invitations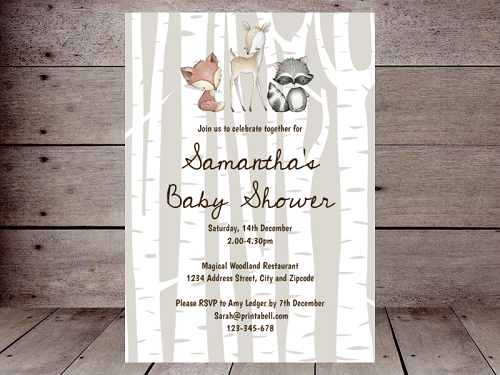 Woodland Decorations
Decorations for a woodland baby shower are so fun and magical to put together. If you can have your shower outdoors, this is a great setting for the theme, but if not, you can totally bring the woodlands indoors as well. Put removable decals of birch wood trees on the walls and hang tufts of faux Spanish moss from the ceilings. Deep green ivy garland and doorway tassels of tiny white flowers give a breathtaking effect to the event venue.
Arrangements in copper painted mason jars of little round red berries give the space a pop of color while table runners in chocolate brown tie in with the natural hues of the forest. Bunches of white, green, and brown balloons tied to tall branches placed throughout the space mix party vibe with woodland vibe well. Figurines—big and small—of precious woodland creatures like baby deer, squirrels, chipmunks, and bunny rabbits cab be set up all along the venue, on tables, on the floor, or just to paint the scene as if your guests are truly in a magical woodland. Put up twinkling fairy lights for the illusion of fireflies and utilize lush, green ferns in window and corner spaces. Wooden stools that resemble halved logs and tons of floral arrangements such as English roses and Forget Me Nots are an embellishment that if you have the budget for, you should definitely do

Woodland Food Ideas
Food for a woodland baby shower should have a brunch-type feel, so think light fares with delectable flavors. First thing's first—the cake. A very popular cake design currently is a double to triple tiered cake that has frosting detailed on it as if it were made of a light ash wood in the forest. One of these cakes would be perfect for a woodland baby shower, and you could have woodland animal sugar decorations or detailing with sugar fondant that resembles a carved heart with the baby to be's name in the center.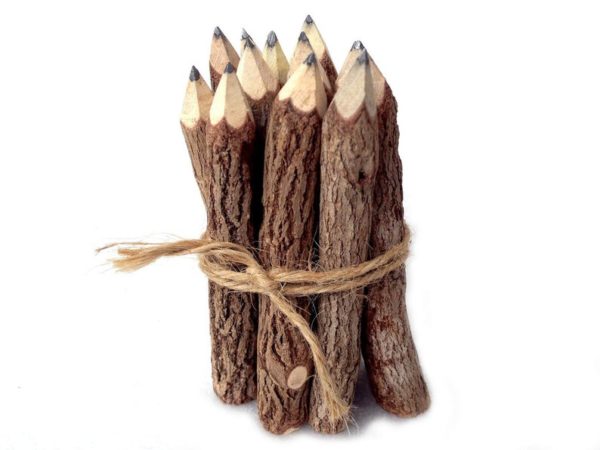 A great topper for this beautiful cake is a plush arrangement of ferns and babies breath. As for the rest of the food, go crazy with creativity! Treats like pecan logs, cupcakes with candy toppers in the image of maple leaves, miniature pancake and maple syrup sets in little plates, and frosted sugar cookies in the shape of bluebirds. For salty snacks, set up wooden bowls of pine nuts, arugula salad, and oat bread with rosemary butter spread. Great beverages for this event are tea or lemonade served in big glass dispensers decorated with faux ivy.
Woodland Games & Activities
For shower activities, one of the most unique and best things you can set up is a planting station for your guest. This doesn't have to be over the top, and can actually be an easy and extremely enjoyable activity. Set up a station with small flowers or seeds or something similar, and the soil, for your guests to plant in a pot that they can also paint with designs. This can be something you let your guests take home or the mother-to-be can keep it in her home for daily celebration for her little one to arrive.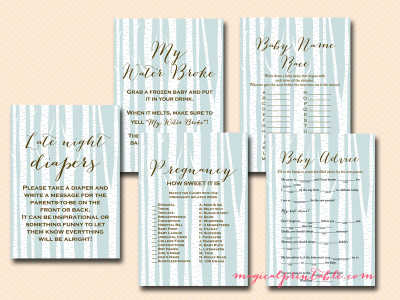 Woodland Favors
Guest favors for a woodland party can include a wooden box full of individually wrapped chocolates, special edition DVD's of Bambi (or any other woodland themed type of kid's movie), coasters with beautiful woodland backgrounds, or even pine-scented candles.

MORE INSPIRATIONS: