Taking a favorite part of the classic Alice in Wonderland theme, this fantastic party focused on the Mad Hatter tea party, creating a magical adventure that any kid could be mesmerized by.
Ela from Itsy Photography captured each detail of this spectacular gathering, ensuring that every moment could be treasured forever.
The dessert table for this party was surreal in its gorgeous layout, the entire table was full of things you would expect to see in Wonderland.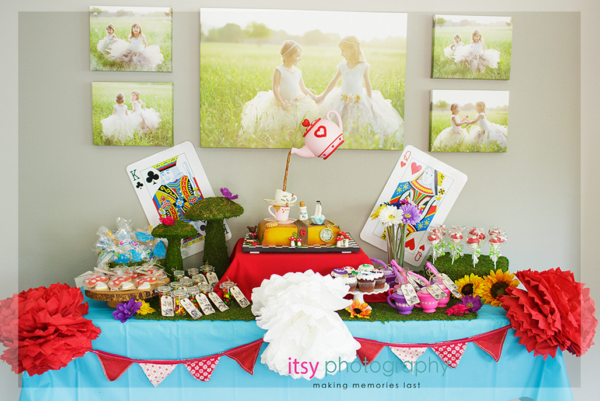 For a backdrop, elegant photos on canvas were placed of the party celebrities, they embraced the theme perfectly with a meadow and lovely white dresses that seemed almost magical.
The table was covered in a neat bright blue color and an adorable red and white flag banner was draped in front of it, creating a vibrant splash of color. Gigantic tissue poms were made and placed on each end and the center of the table, giving it a fuller look. Mossy material was used to add a natural touch for all of the tea party elements to really stand out on.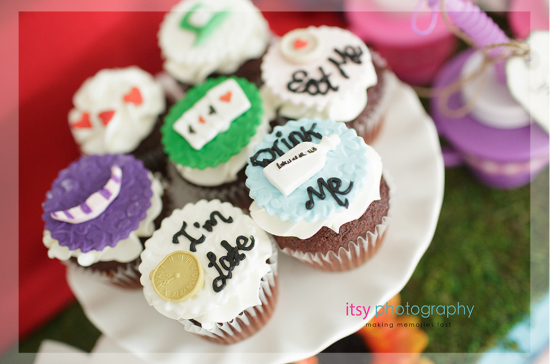 A wonderful variety of treats was available for the guests to enjoy from creative cupcakes that had "Eat me", "Drink Me", "I'm late" and other cute little phrases and decor. The cutest tea cups ever were used to drink from, pink and purple delights, each with a fantastic straw for the kids to drink from. To add a fun Alice touch, each had a tag saying, "Drink Me."
The real show stopper at this party was created by Roxy's Sweet Treats. The cake as a centerpiece brought this theme to life in the most magical way. A teapot was made to look as if it was pouring into a stack of teacups, creating the coolest effect.
The cake showcased Alice falling down the hole, the rabbit's watch, and a bottle saying, "Drink Me", covering some of the favorite parts of the story all in one spectacular dessert.
Credits-
Ela – Itsy Photography
Roxy's Sweet Treats