Alice in Wonderland Party by Maria of Sweets Indeed.
Though originally designed for a little four-year-old, I think this Alice in Wonderland idea would make a great baby shower theme as well!  Marie created a unique blend of excitement and intrigue, bringing this child's story to life and making a memory for everyone who attended.
The design on this treat table was magnificent, using Alice's dress as inspiration, Marie created a tutu that wrapped around the table in a soft blue and then layered an apron over-top making this table fantastic.  All of the tutu's by Sweets Indeed are handmade and reusable, giving a wonderful decorative option that can be utilized many times.
Using hanging lanterns of every shape, size, and color, the mood for this party was set with ease. To really fill this theme in, there were also neat, over-sized chairs thoughtfully placed around the table.  There was even a wonderful, vintage looking key on one of the chairs that brought a little magic into the atmosphere.
A beautiful detail that was incorporated into the dessert table were little signs that had fun, personalized phrases encouraging the guest to step into the world of Alice. With all kinds of colors, these signs made a great touch.
One of my favorite creations was the pile of tea cups surrounded by brilliantly frosted sugar cookies. This decoration was innovative and vibrant, giving a unique effect.
The birthday cake was adorable. Frosted in pink and placed on a delightful cake tray, this cake had a little bit of everything, some of the personalized signs, a tea kettle and of course little one's name, making this very special and one-of-a-kind.
There was even a wonderful mushroom decoration on the table that labeled the table, and incorporated the mystery of Alice while enhancing the table and filling it in quite nicely.
Credits –
Sweets Indeed
Tutus - Sweets Indeed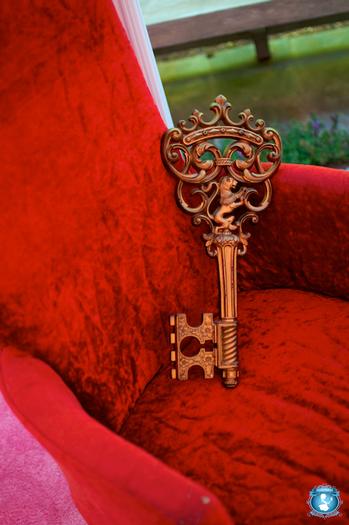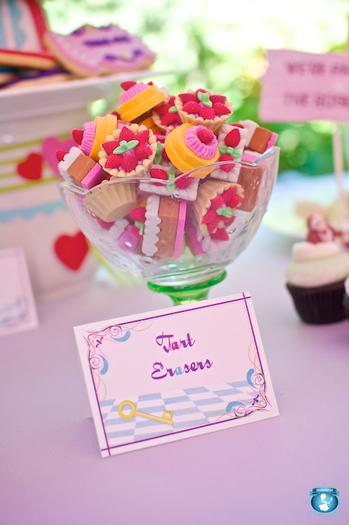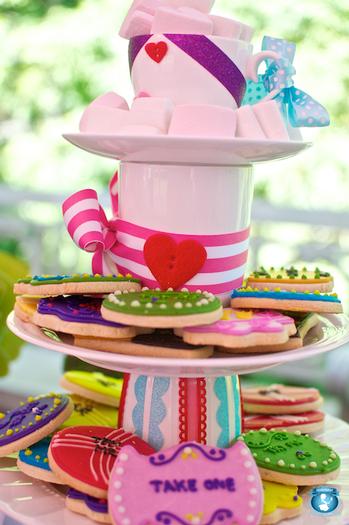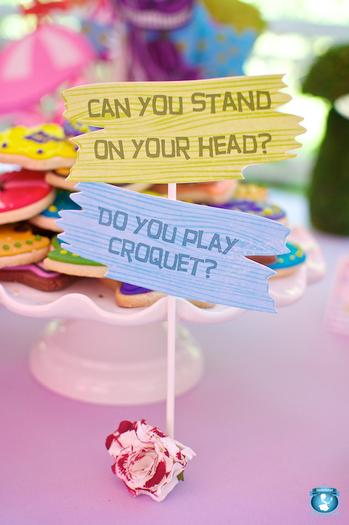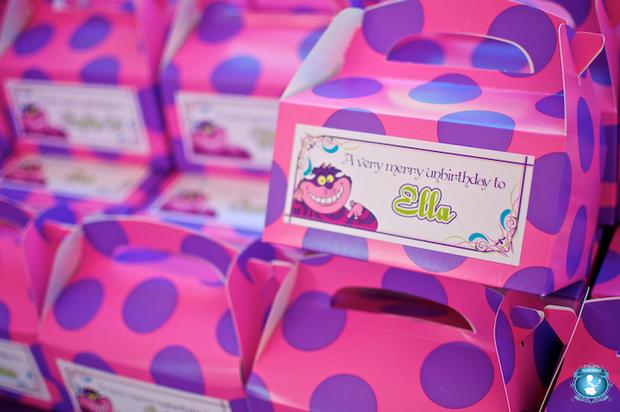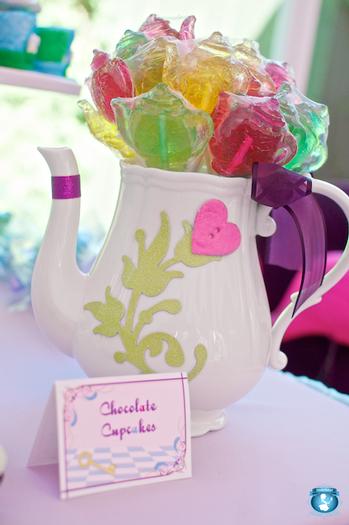 MORE INSPIRATIONS: