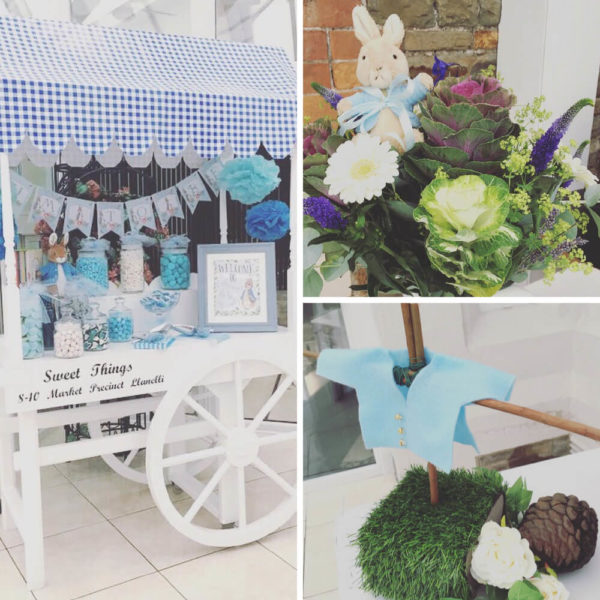 This Peter Rabbit themed baby shower was thoughtfully and carefully planned by Corrina of Teacups and Glitter. The Tale of Peter Rabbit took center stage at this party! Corrnia successfully implemented the original style of the book throughout the party decor.
Guests were greeted with an adorable welcome sign and a large white vase filled with a floral arrangement by Blodau Elli. The floral arrangement featured a variety of colored flowers and greens along with a small rabbit on the top. The classic, white tablecloth underneath the decor helped to give the party a traditional atmosphere. 
The designer attempted to re-create the scene of Mr. McGregor's garden including the famous wishing tree. The garden was set on another white tablecloth and included a variety of features that would be seen in McGregor's garden, such as a wheelbarrow and a watering can. The wishing tree was strung with blue polka-dot tags featuring hand-written wishes and notes from the party guests. This was a wonderful twist to the traditional guest book. Decorating the front of the table were printed flags in shades of baby blue.
The desert table featured a beautiful two-tier cake complete with matching cupcakes. The exquisite detail of the cake featured characters from Peter Rabbit along with a white picket fence and beautiful pink flowers. Each cupcake was frosted with delicious buttercream frosting and featured a Peter Rabbit design. Each end of the desert table was decorated with blue and white balloons. 
Brown paper bags were decorated with light blue letters to spell out the words baby shower. Each bag was filled with elegant blue heart tissue paper. This fun decoration doubled as a great game for guests to play. The party designer placed a card in the bag with a picture of a baby related item starting with the letter on the bag. Guests had the challenge of guessing the item. Guests could also play a similar game where they had to guess the celebrity baby based on a photo. Photos of celebrities were strung across a large wooden frame that was decorated with greenery. 
A brick wall created the perfect setting for a photo booth. Guests could take their pictures in a large empty picture frame while using a large variety of provided props. The props were elegantly displayed in a white wicker basket. Blue and white checkered flags added just the right pop of color to the top of the photo booth scene. 
Guests were lucky enough to get to craft their own special gift for the baby at a Dickie bow tie making station. The station was covered by a white tablecloth and featured a variety of fabrics and decorations to make the perfect bow ties for the baby being celebrated. When guests were finished with their bow ties, they could hang them on an elegant display. 
Credit:
Teacups and Glitter
Blodau Elli
Natacha Yummy Cakes