The Gender Neutral Party
A unique Aqua and Red Baby Carriage Themed baby shower by Maja of Sugar Coated Candy & Dessert Buffets. Whether you are keeping your baby's gender a secret, having twins, or just looking for something different this party is for you. The aqua and red theme gives a fun Dr. Seuss feel to the baby shower. Cakes by Josephine supplied the cake, cake pops, and cupcakes, while the cookies were created by My Sweet Obsession. No matter who made them, these sweet treats are guaranteed to please. Friends and family will love the red and aqua rock candy as well as the fun custom labels on the candy bars. Bela Designs did an amazing job with the labels, a pretty backdrop, favor box stickers, buntings and customized chocolates. The bright red pom poms and the paper flowers really stands out with a soft aqua backdrop.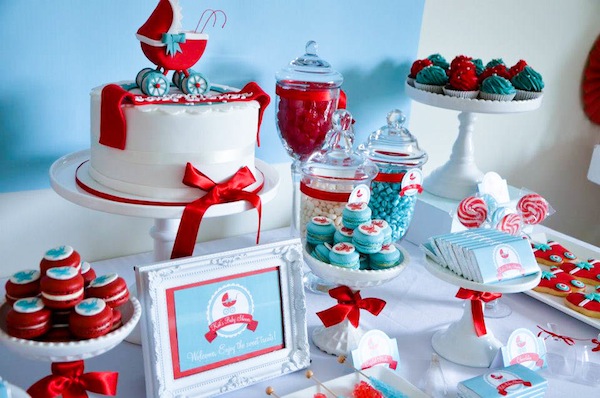 The contrast of the aqua and red creates a really clean look overall especially the dessert table. It looks so vibrant. I like the idea of two smaller tables on each side of the dessert table, one banner displaying 'girl', the other 'boy'. The centerpiece cake is absolutely adorable. The 3D fondant baby carriage sitting on top is so detailed and cute with the aqua fondant ribbon. There are 2D versions of the same baby carriage on the cookies.