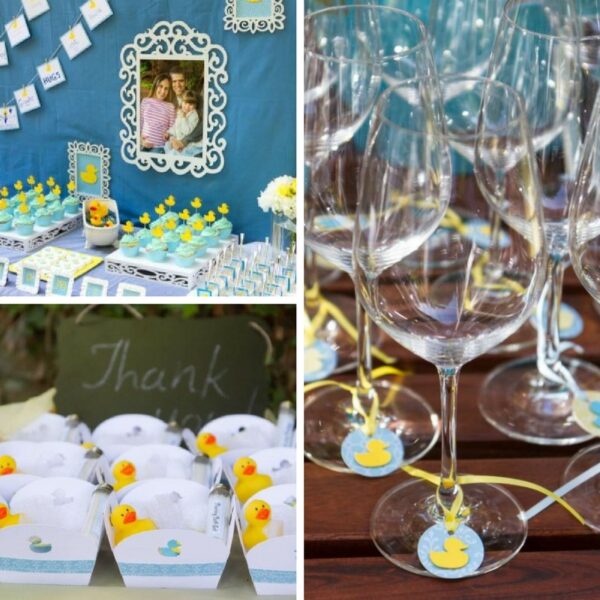 This Sweet Rubber Ducky Shower was a lovely classically themed gathering that was sure to be a hit. With yellow, blue and white as the base colors, this venue was beautifully put together by Festiva Party Design in a delightful array of tones.
The treat table was adorable, with a backdrop in blue that featured the happy family in a white frame along with framed ducks and clothesline with fun phrases attached.  With a white cover for a base, a blue and white striped runner was used to create an intriguing stage for all of the goodies to sit on. Wonderful ornately detailed stands were used to give a bit of a classic look to the table while holding treats that were made to perfection.  Tasty cupcakes with little duckies as toppers were frosted in light blue.  Candies were placed in elegant jars for the guests to enjoy.  There were even tasty looking macarons in white.  Flowers were used to add a natural touch to the table and a fantastic little tub with bubbles and duckies advertised the theme in cute style. The front of the table had mini framed letters spelling out baby-to-be's name.
The beverages were decorated to match the theme as well, bottles of lemonade and iced had labels with little duckies on them.  Even the glasses were dressed up with duckies tied in yellow and blue ribbons around their stems.  Polka dot straws had little labels saying "Let's Drink!", they were set in a mason jar with a lovely blue ribbon and a yellow ducky too.
The food table was filled with tasty goodies like chips and dip and other tasty edibles. There was even a row of fruit filled waffle cones that looked divine.  With a spread of flowers, this table went with the theme while providing delicious options for the guests to enjoy eating.
Credits –
MORE INSPIRATIONS