How to Play Dirty Diaper Game
Also known as Name that Poo Chocolate Bar
A very gross but one of the most hilarious baby shower game! You would need newborn disposable diapers and chocolate bars of different brands or sorts with different fillings such as creamy, nutty, sultana, caramel-filled chocolate bars. Melt or squeeze each chocolate bars (you can use microwave) on a diaper and get the guests to guess which chocolate brand or sort it is by sniffing, touching and tasting the gooey poo! You can ask the guests to pass on the diaper from one person to the other after they've written it down what they think it is on a piece of paper or available printable below for correction later. Or you can place few melted chocolate diapers displayed on a table and get everyone to go to the table to sniff and taste and write down on a paper what chocolate bar they think it is.
You may want to give the guests a list of chocolate bars you've used just so that it is not too difficult to guess.
Don't forget to take plenty of photos!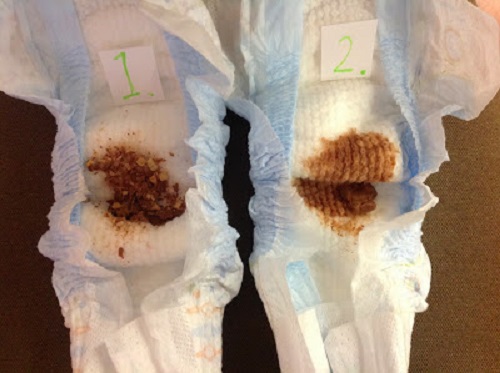 Dirty Diaper Template
You can have plenty of name that poo game online! Search them online using terms such as 'diry diaper', 'name that poo', 'chocolate bar game', 'guess the sweet mess', or even 'shit happens!'. You can download the files instantly and print at home or at your local printing shop :)