Kathy of Tickled Peach Studio created a memorable event with this Black and White Toile Baby Shower. Having black and white toile fabric for the nursery bedding and curtains, it was natural to create a perfect, classic party with the addition of a little pink to celebrate the new baby girl.
The invitations introduced this theme well with a custom made look designed by Kathy. They had a nice, elegant appearance with a touch of the toile and a fantastic pink carriage creating a chic look.
The decorations started off with a custom made wreath on the front door to welcome the guests as they entered the party. The welcome table featured a lovely guest book designed with printables that made it stand out nicely. With the serving tables covered in black and white the theme was very well blended into the buffet. The food was all nicely labeled with personalized cards that matched the invitations.
The dessert table was impeccable with a back drop of ribbons that cascaded down in blacks, grey, and pink, really emphasizing this fantastic theme. Each dessert look delectable in pastel perfection. There were strawberry cupcakes frosted in strawberry buttercream icing, tasty cinnamon bun cake balls, and all kinds of delicious looking cookies.
One fun activity that the guests got to participate in was decorating little onsies for the baby to be and then hanging them up with clothing pins.  A whole table was set aside especially for this activity, covered in fabric markers and pieces of fabric that could be used anyway the guests wanted to make a unique onsie. The party must have been full of artists because the onsies turned out fantastic!
As a final touch, each guest received a personalized tic-tac shower favor to remember the event by. A little personal touch and a great way to remember such a lovely event.
Credits –
Tickled Peach Studio  – http://tickledpeachstudio.com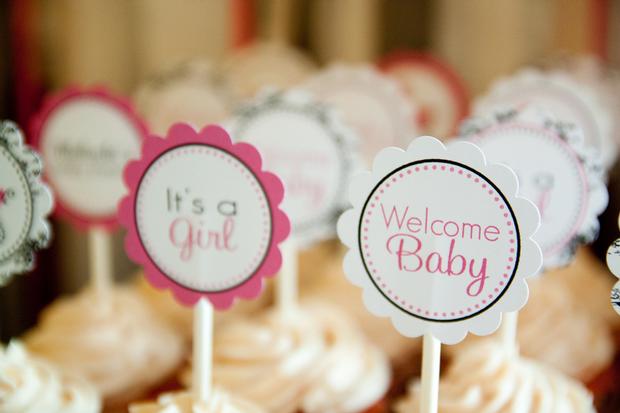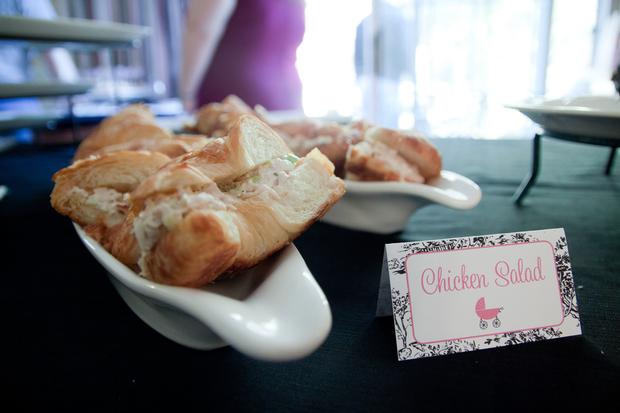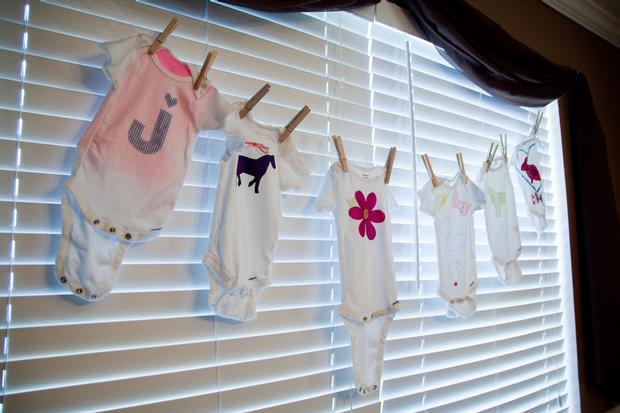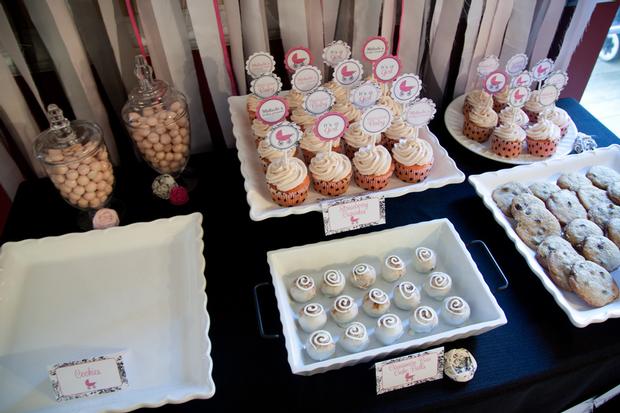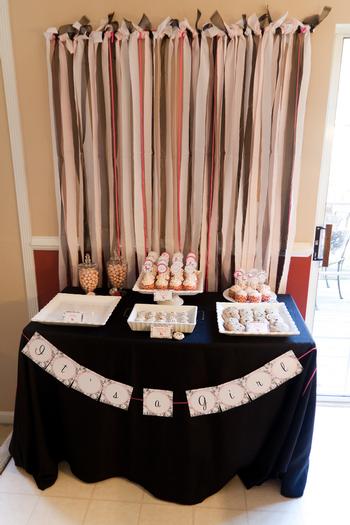 Look for more ideas –