Sweet Soirees brought a sweet and sophisticated look to this Little Gentleman Baby Shower, using black, red and white as theme colors in wonderful fashion.
The dessert display table was a vision of fun with a gorgeous black and white patterned backdrop that matched the tablecloth runner for a bold effect. A line of absolutely adorable onesies was draped across the backdrop pinned on a clothesline. Each one was decorated in a cutesy classic look of ties and bow ties.
The base of the table was covered with black which really set the tone for the sophisticated atmosphere of this sweet party. With the incorporation of a deep red tone into the treats and decor, there was just enough color to make the whole look work perfectly.
Tasty treat options were available for everyone to enjoy, which included a delicious arrangement of tie-shaped sugar cookies, decorated in fun styles from stripes to polka-dots. Grey macaroons were set in front of a cool framed list of rules on how to be the perfect little gentleman. The frame was painted black, blending it with the theme tones beautifully.  Tasty looking cake-pops were set in a fantastically displayed box, each one had an adorable bow tie on the stick that matched the backdrop. Yummy cupcakes were stacked on a towering tray, each topped with a dash of delicious brown frosting.
Other sugary treats were placed in clear containers with lids and placed precisely on the table so that each snack was easily reachable. The cake was pure divinity in two layers of bold patterns that made the perfect centerpiece for the table. Topped with a mustache, this cake was a vision of what a little gentleman would love at a celebration of his impending entrance to the world.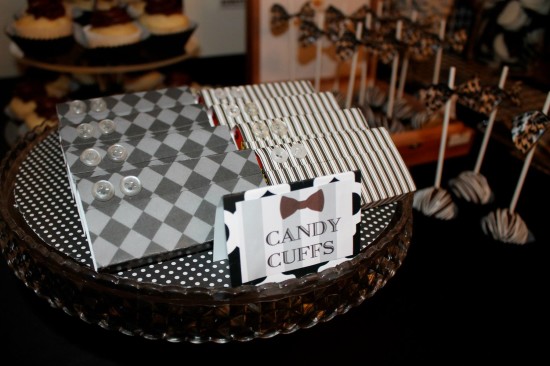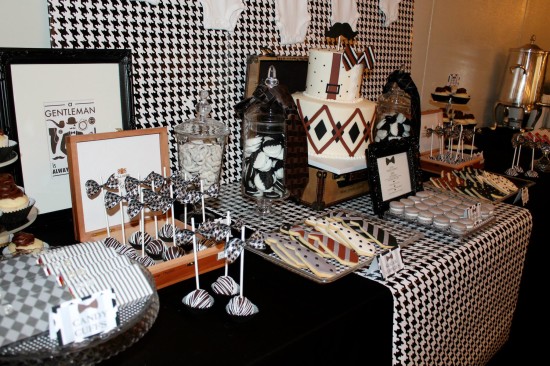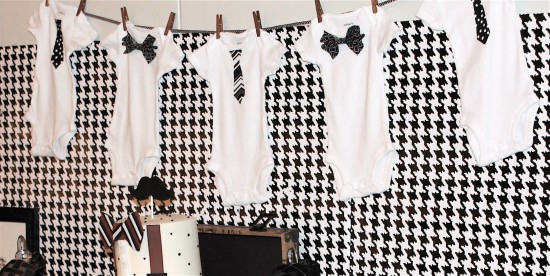 MORE INSPIRATIONS: