This fantastic Cottage Inspired baby shower was photographed by Kelly Rucker Photography who did a phenomenal job of capturing the elegant and blissful tone of this event.
The invitations to this party were most certainly one of a kind. Using the theme's color palette of mint and peach, they were perfection with florals that really made them stand out. With such a beautiful invitation, each guest got to feel special before even getting to the party.
The venue for the event utilized the white walls and windows to create bountiful sunlight that lit the entire area up fantastically. There were shades on the windows that ensured the sun wouldn't be too dazzling as well, and the muted effect really enhanced the elegant feel to this party.
Decorations filled the room from top to bottom. The ceiling had a lovely array of tissue poms that were made to look like flowers with the mint and peach blooms and dark green leaves. They really stood out as a unique and tasteful accent piece.
The buffet table also utilized the floral part of the theme, bringing a taste of nature to the party that was sure to have a pleasant aroma and a relaxing impression for guests. The flower arrangements included a bouquet of lovely off-white flowers in a clear vase, set in a group of three they looked very nice. There was also a bouquet of vibrant orange and red flowers that made the table pop with color and increased the energy in the room.
One very neat touch on this buffet table was the chalkboard art that displayed, "Fearfully and Wonderfully Made".  The drawing was smooth and fantastic, it really made a perfect addition to this elegant theme.
Another neat decoration that added to the theme was a fabric strip banner that had a combination of pastels that finished the room off with a bang.
Credits – Photography: Kelly Rucker Photography
Florals: Whole Foods
Chalkboard Design: The Eclectic Press
Invitation: Jenn Sprinkle Creative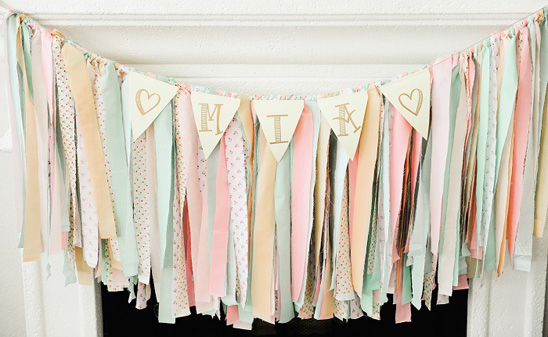 MORE INSPIRATIONS: