This country party by Jocelyn of Memories are Sweet is a creative, colorful way to make your little cowpoke's day shine. These soft colors, the festive feel, and the patterned cowhide balloons and balloon holders next to the bannered adornment, the bright reds, and the country themed cake all mix together to create a friendly, exciting environment for children. With cowboy hats and line dances, any party can be easily turned into a square dancing, country jamboree.
This cake is styled to look like any country folk, with the creative flair of the two layers bearing cow patterns, a jean decoration, and even a belt, to mimic that southern country clothing design. The cowboy and cowgirl hats on top add to the excitement of a country feel, and will send your child and their friends crazy for a slice.
The country themed banner / hanging decoration, also, complete with cow hide, checkered, and white and red flags makes a good decoration bringing color and style to this birthday party room.
Name tags, place holders, and general signs are always a must for birthday parties. These little markers wear an adorable cowhide print beneath a bright red, decorated center, and the white, stylized writing is not only easy to read by all, but also scriped in a country style, adding to the entertaining feel of the room.
The larger sign also looks wonderful, this one reading "Fill your bag with yummy treats! It's our way of saying 'Thanks Ya'll for coming". These come within a decorative wooden frame, with a matte to keep the page in place, and thin glass to add a shine to the room.
For tabletop placeholders, these little silver tin buckets, each adorned with a decorative napkin and a cowboy hat name tag, will make the perfect little markers to let the children know where they sit. Along with the goodie bags bearing a sheriff's badge, and a little cowpoke's name, these kids'll feel excited, special, and ready to party.
Refreshments are always a must, and this saloon is a great way to meet those needs! Everyone knows the western saloon, and any country party would be incomplete without one. Not to mention, even the glass drinking jars are so lovely with decorative red and white striped paper straws, a decorated in a cowboy boot graphic with your party guest's first initial on the side.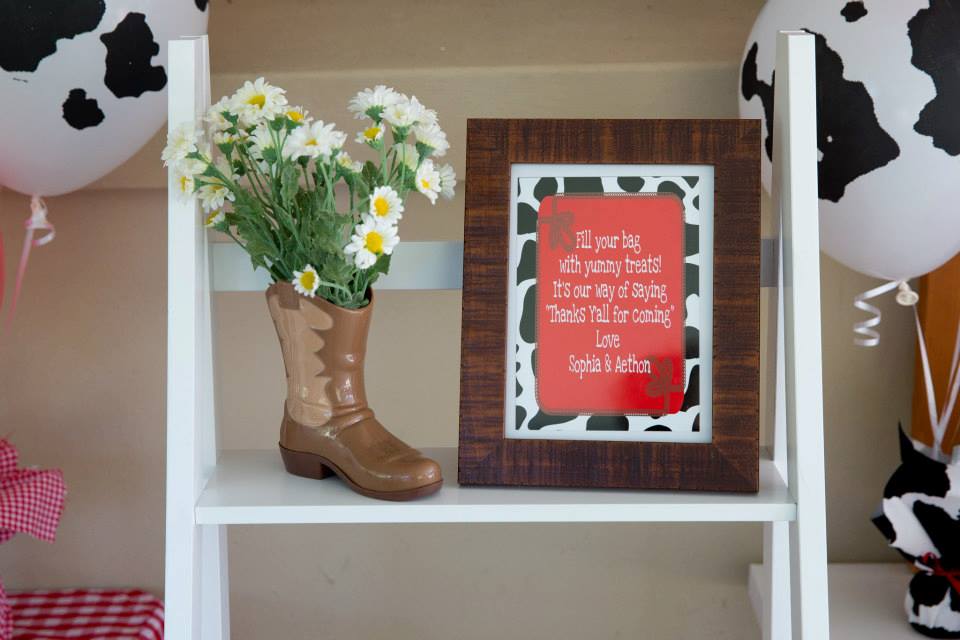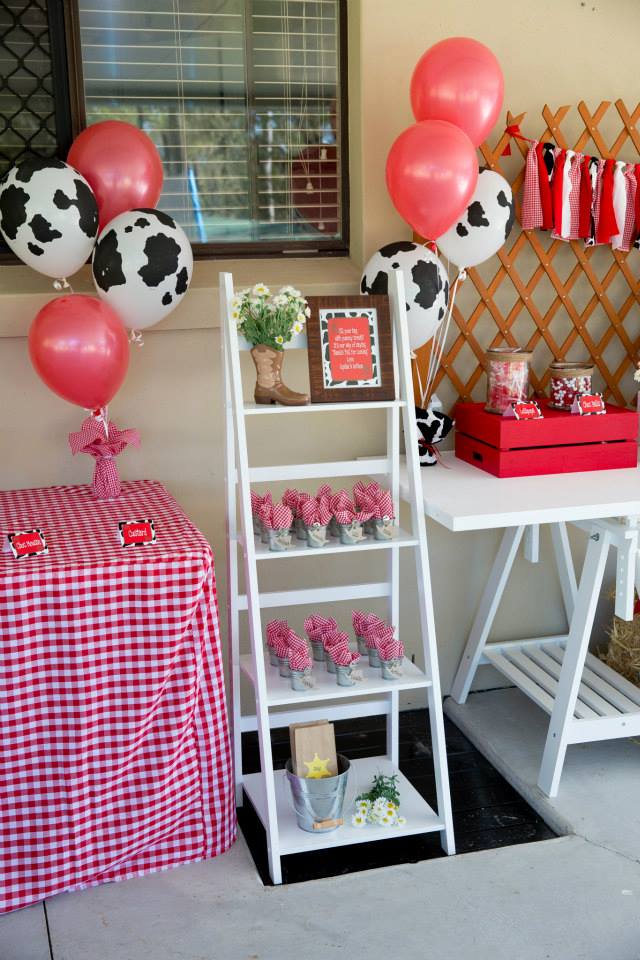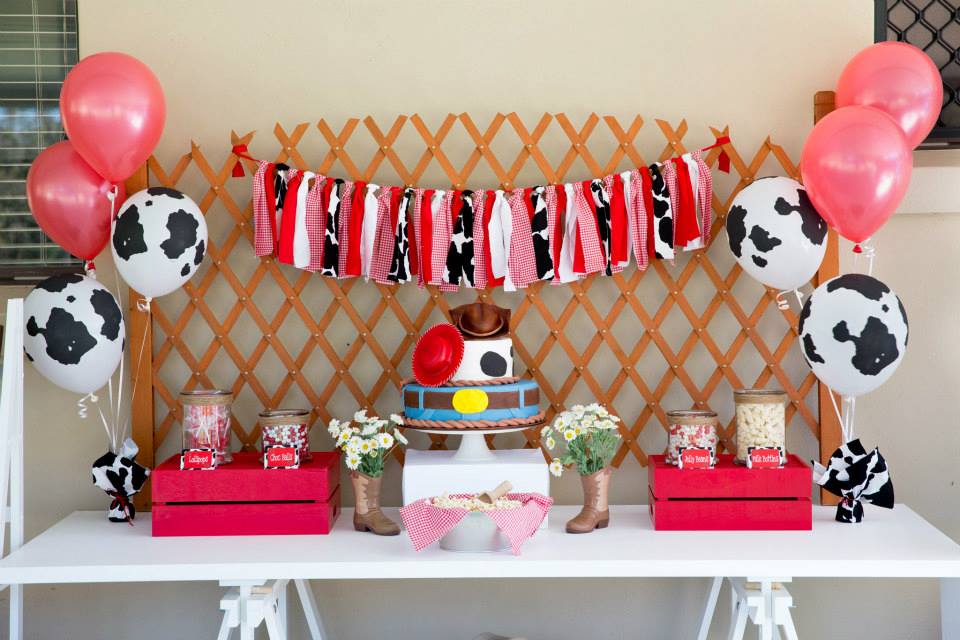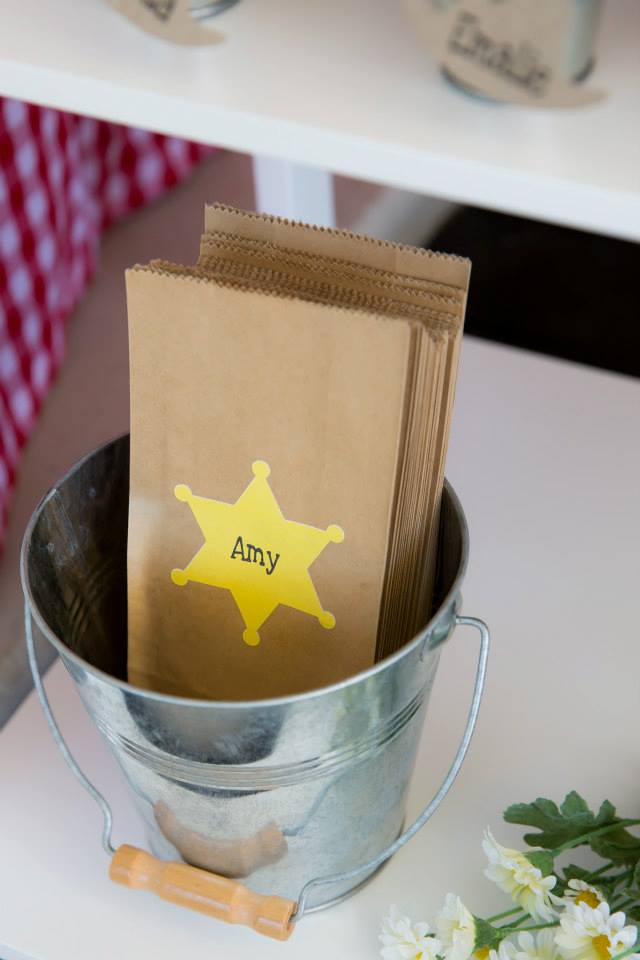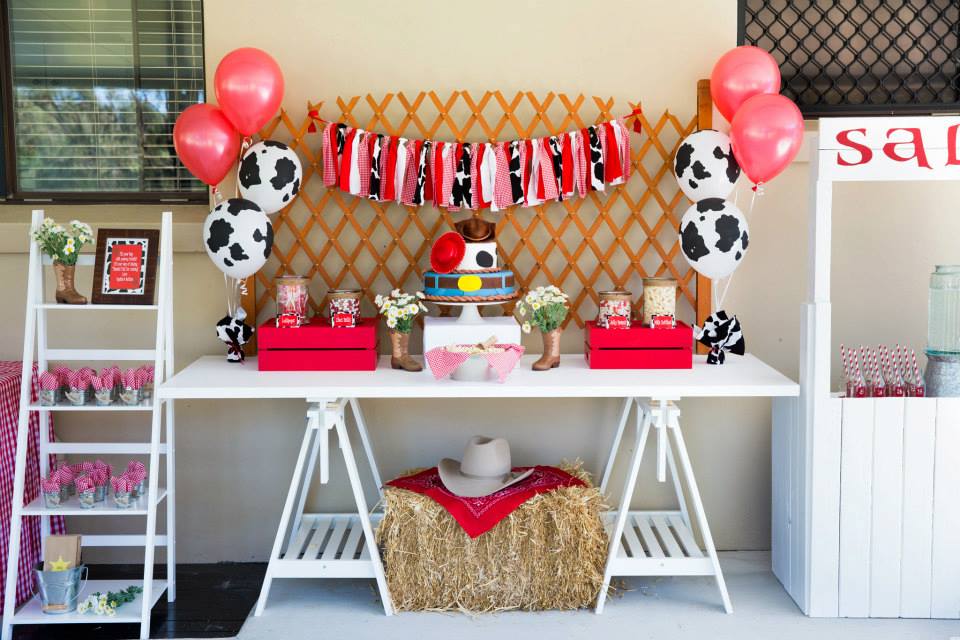 Styling & Paperie by Memories are Sweet – Lolly Buffets
Cake by Velvetier
Photography by Shirley Dowling Photography