Safari Baby Shower with Silhouette and Burlap by Kara of Lillian Hope Designs. What a beautiful safari theme! The backdrop, celebration banners, diaper cake, invitations, decorative boxes, signs, cupcake decorations are so cute and stylish. Thanks again for letting me share these wonderful inspirational photos to my readers.
The invitations displayed in this photo decorated with soft, safari colors, and a symbolic giraffe print look like a great way to get the message around. The decorative fonts add an African feel to every word. The asking of a book to bring along for Jagger's growing library was a great addition.
For food trays and candy bowls, these decorative, patterned signs really add to the overall appeal of celebration. These adorable little signs add character to every dish, and bring color abound, reminding everyone it'd be a great time to remember.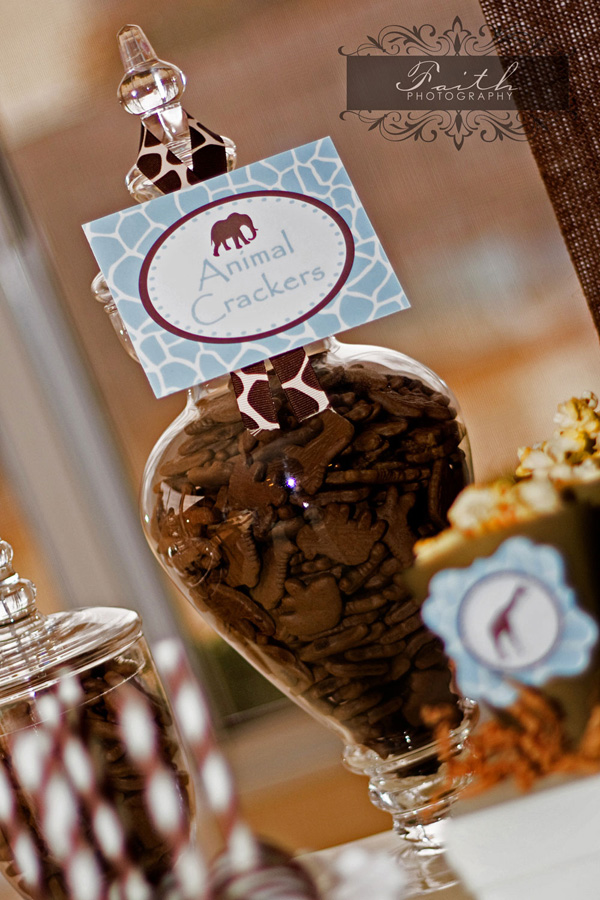 The "It's a boy!" colorful cupcake wrappings and cupcake toppers make every little sweet in this photo a stylish reminder of the coming child. The depicted giraffe and zebra striped cupcake wrappers are depictive of the safari theme, and the baby's initial placed on the topper, mirroring the a decoration of giraffe or elephant, only added to this wonderful idea.
Even children know no party's complete without goodie box, and these crisply made thank you boxes to be filled with treats for friends and guests look like a great additional piece. It's sure that all guests went home happy with their sweets.
These snack jars and cones for things like candy, popcorn, and other treats are well crafted, with giraffe print signs bearing Jagger's first initial, or giraffes. They're an adorable, great way to keep snacks tidy, and make sure every guest gets one!
Every party needs a cake, and this wonderful little monkey should more than did the trick for the wonderful little baby this celebration was centered around. Matched with the rest of the party set, this cutie kept with the safari theme and looked great
Decorative jars keeping that safari feel with mesh and ribbon wrappings really outclassed any other silverware holders. The 'it's a boy' signs, animal images, Jagger's first initial remind everyone who the life of the party was.
A wish box for the guests to wish a new child success, wonder, beauty, or anything else in their lives is be a memorable, cherishing part to any baby shower. This is a creative idea, and the child will surely love reading them, when he's older.
If you love these safari blue and brown baby shower printables, you'd be happy to know that Kara has a shop at etsy!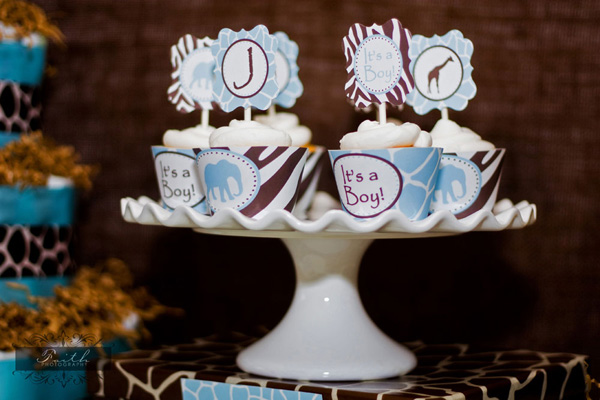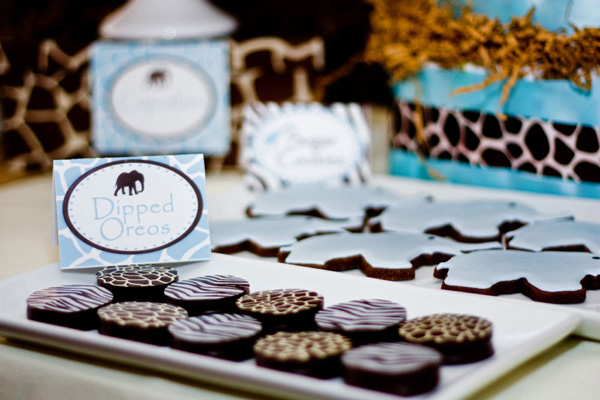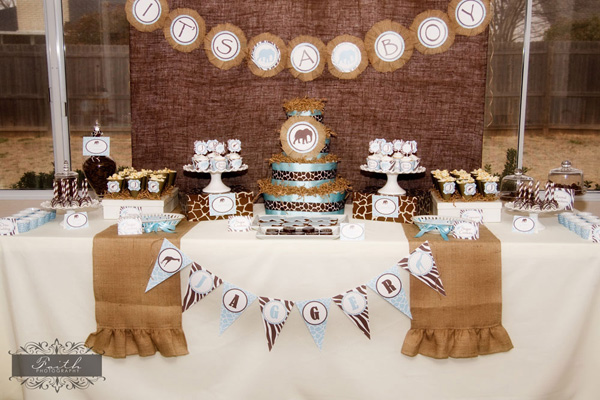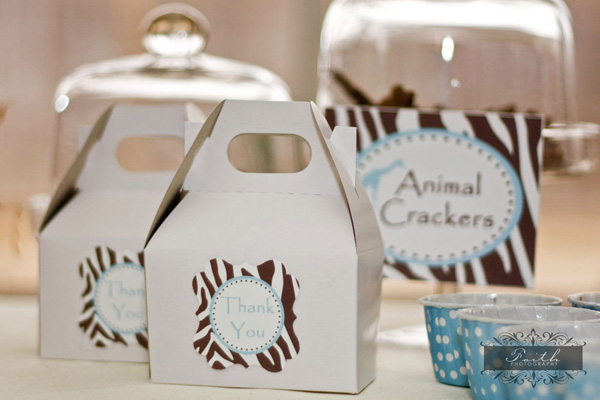 Styling & Prinbables – Lillian Hope Designs
Photography – Faith Photography – www.faithphotographybyannye.com
Cookies – Bonbon Du Jour
Oreo Pops – Lauren Scheck
Baking Cups – Dime Store Buddy
Burlap Table Runner – Straight Stich