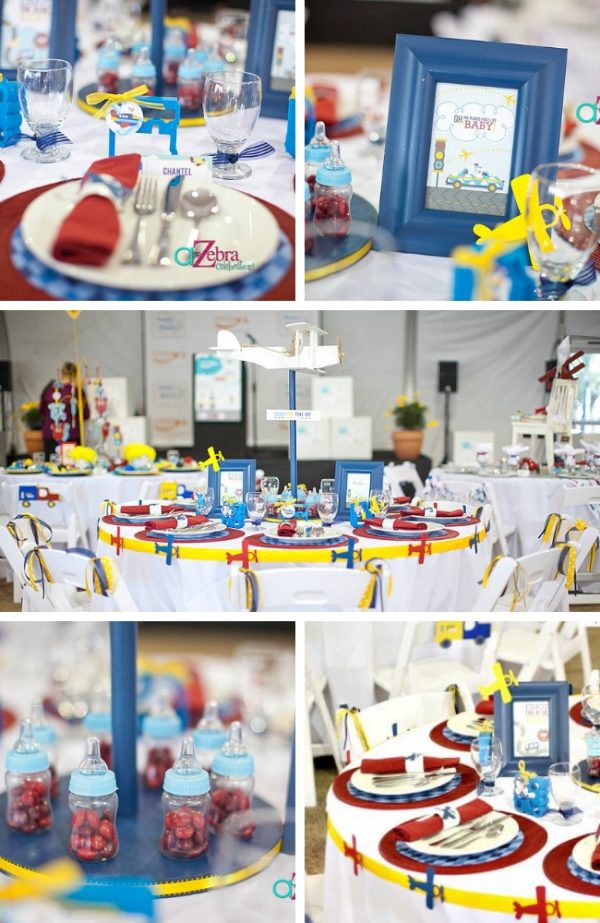 Go Baby Go Airplane Baby Shower: A baby shower is a special occasion for an expecting mother, so all the details of the party must be in order on the big day. The "Go Baby Go" Airplane baby shower theme party by Nancy of A to Zebra Celebrations takes care of all the small detail. This baby shower was part of Operation Shower, which is a non-profit organization that hosts baby showers for military families.
Each table is lined with a white linen table cloth that hugs the table just right. Around the edge of the table, in yellow is a brilliantly placed ribbon with small aircrafts circling about in red and blue. The chairs even feature decorative yellow and blue ribbons. This bit of pop color accentuates the white tablecloth and really draws your eyes to the table itself.
In the middle of the table, standing tall, is a white wooden airplane from Pottery Barn Kids, that makes you want to get in and take off for a faraway land. The table also features party designs from Hostess with the Mostess. The party printables featured on the table itself include uniquely designed onesie silhouette, Go baby go garland, and party signs, all created to take you on a journey beyond that of the party. The printables, placed in pastel blue picture frames, use colors such as a pastel blue, red,and yellow that match the label linen to a tea. They feature cute saying that go with the party theme such as, "Enjoy the ride baby," and, "Oh the places you will go baby."
The table also featured adorable sandwich cutters that will divided your food up into clouds and bite sized airplanes. At the right corner of each is an airplane or bottle luggage tag attached with a yellow piece of ribbon. In the center of the table, along with the wooden aircraft, are tiny bottles filled with M&Ms for the guest to take home as party favors. The napkin rings , made from recycled toilet paper rolls, are wrapped around a red table napkin and features airplanes, made from cardstock. The cutlery is placed on a white plate, on top of a small circular blue checkered place matt, and then laid on top of a bigger maroon colored place mat.