Little Baby Blue Baby Shower by Lauree of Lauree Crafy Creations.
This Baby Shower party theme combines the sophistication of a Sunday brunch with the joys of celebrating a new life. The brunch table served an array of miniature homemade items of tea sandwiches, blueberry muffins, cinnamon rolls, mixed fruit salad and quiches.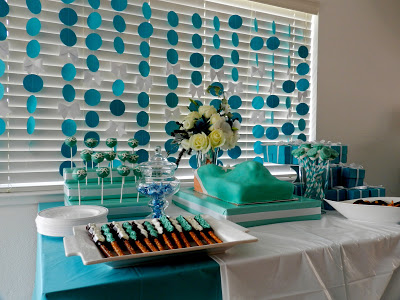 Another table served a non-alcoholic drink mixing station where guest could mix their own delicious concoctions. There was  another table arranged for shower gifts with hand painted baby onesie decorations. The cake was in the shape of a pregnant belly and the dessert table contained cake pops, kisses and blue boxes filled with chocolate chip cookies to be given as favors. The beautiful blue and the white ribbons really reminds me of the pretty Tiffany & Co. which I absolutely love! I can see so many elements of Tiffany and it's so beautiful. Behind the desert table was a handmade garland made from blue paper and bows cut into circles.
The whole theme was brought together by blue, black and white decorations ranging from handmade wall fans to flower arrangements made by a florist friend. The flowers are too beautiful!