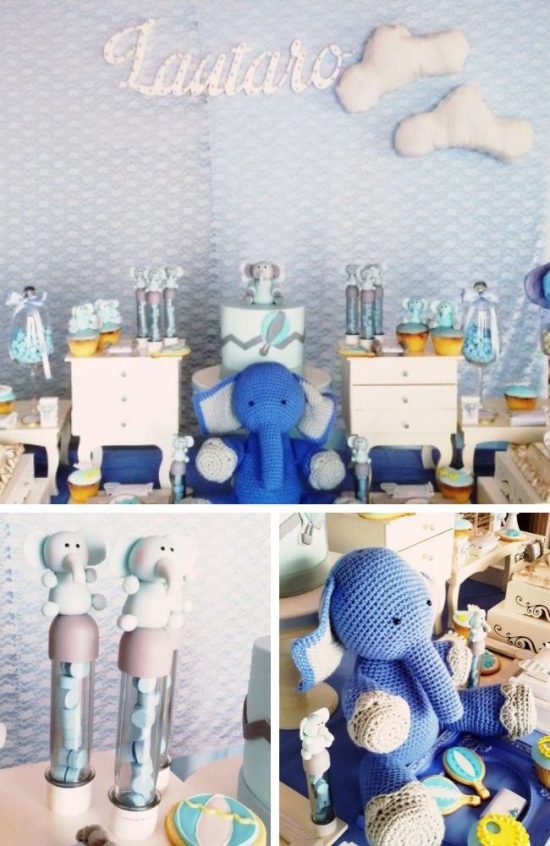 De Mil Amores by Romina de B, brought fun to this Little Elephant Baby Shower with craftiness and color that definitely impressed.  From the fantastic blue tones to the vintage styled details, this event was a unique and fabulously organized extravaganza.
Instead of a table dedicated primarily to tasty snacks, a table was arranged with an abundance of decorations that had treats placed perfectly to draw attention.  A sweet, soft blue fabric backdrop was used to set the stage for an elegant and adorable layout.  Centered across the backdrop baby's name was spelled out in a white cursive font and was accented with white fluffy clouds.  The front of the table was layered in a light tone with a blue on top, and draped in a graceful manner with flowers at the curve points.
The entire table was covered in all sorts of wonderful details from mini-vintage dressers to tables and trays that had detailing that added to the elegant effect.  All in a soft, light color, they matched the theme while providing a perfect place for little treats to sit on.
The centerpiece to the table was a wonder, a handmade elephant, crocheted in blue and white, providing baby-to-be with a cuddle-buddy to enjoy. Directly behind him a delicious looking cake stood tall in soft blue and silver tones topped with a mini-elephant.  The dressers each held tasty cupcakes with little elephants as toppers too.
Other yummy edibles included glasses filled with candies and giant purple lollipops dolled up with blue ribbon for the guests to enjoy. There were even sugar cookies shaped like elephants perfectly frosted in multi-tones. One favorite touch was a sugar cookie placed in the center of an ornate frame, giving a picture effect that you could just eat right up!
Credits – De Mil Amores by Romina de B
More inspirations