Kelli of Fancy that Studio went all out with this Little Sunshine baby shower.  From the brilliant color choices to the outside layout, this event was designed to please every attendee!
With a summer vibe, this party was made to embrace the warmth and fun of the beach, with all kinds of pails that held more than just sand! This bright orange pail was decked out with wonderful fruity candies on sticks, a vibrant skewer of deliciousness! With flip flops precisely placed by the pail and a very fun blue patterned table cloth, this party was introduced fantastically.
This purple pail was pleasantly dolled up with a rainbow variety of striped-straws that really emphasized the beach fun at the party with personalized tags for the guests to enjoy.
The tables were a summer set of bright colors and seaside fun. With a striped tablecloth of vibrant colors this table was ready to please guests. The center pieces were a unique array of sand toys, a shovel and rake with another pail of entertainment.
There was a personalized banner wishing Mom-to-Be the very best, each little flag was painted in correlation to the wonderful beach theme and it was strung up in a fantastic place to spotlight the event.
One fantastic dessert were the cupcakes, which were a confetti of flavorful fun and frosted in a wide assortment of colors, with a wonderful personal tag celebrating Mom-to-Be.  They were all set in a neat tiered cupcake rake, really drawing attention.
The beverages were a fresh splash of yummy lemonade and pink lemonade that gave a relaxing and breezy feel to this wonderful party. With cute tags on each huge container, even they were dolled up to match the fun theme.
The final frozen touch to this lovely event were the innovative DIY cherry sno cones that Kelli created, making a perfect finishing detail for guests to love.
Credits –
Kelli at Fancy that Studio – http://www.fancythatstudio.com/fancy-that-studio/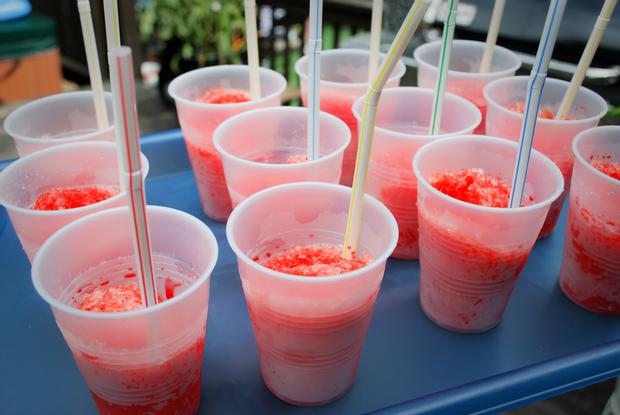 Look for more ideas –