You Are My Sunshine Themed Baby Shower Ideas: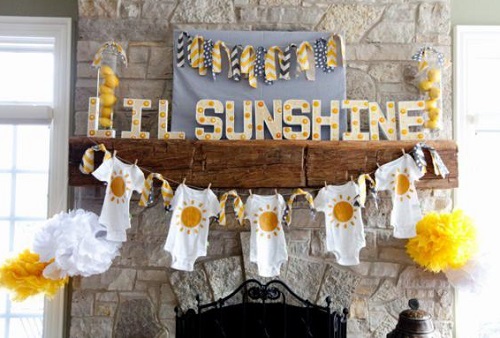 What better way to celebrate the eternal bliss of a baby's birth than to sing, dance and make merry altogether."You Are My Sunshine" theme for baby shower can be a celebration on a pretend tropical island with visitors acting as the great Hawaiian dancers soaking the fun and the sun. You can accentuate the mood with synthetic coconut and palm trees mushrooming across the island and live drum beaters setting the rhythm in the air. So change your gears to decorate your place like its party at the beach under the shinning golden sun. Young girls can jewel up with marigold flowers and dance to glory. Parcel invitation cards with flowery designs in shell shapes and ask them to come wearing the most comfortable beachwear.
Sunshine Baby Shower Invitations
You Are My Sunshine Decorations
So, the party room can be painted golden yellow and dainty blue with soft, satin fabrics for the golden sand beach and the vast blue sky.  Sprinkle golden dust and flower petals and leaves to keep the rustic look. A big wooden hollow platform can be filled with sand to let the children feel the crusty, crunchy dust and make the ambiance lively and happening. The children can make castles therein to get involved and feel exotic. Let the party mood flow with engaging Hawaiian music and foot tapping melodies. Exaggerate the feel with balloons, mermaid statues, paraphernalia like sun hats, shades and beach clothes, life guards, paper boats, stationary beach side cafe and stuff hanging all around.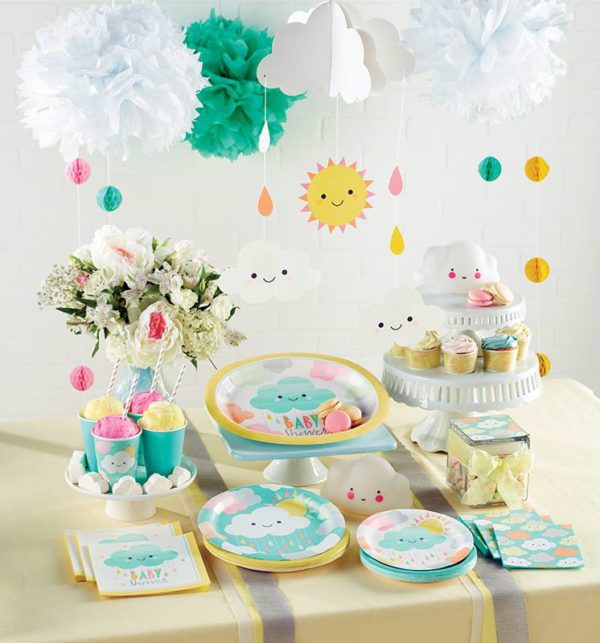 To make it look authentic, remove the dining table and spread beach mats where everyone can sit together and gulp up ambrosia food and nectar in their beach shorts and flowery tops. Scramble plastic scorpions and crabs, jelly fish, plastic shells and marigold fish around the eating mats and freshen up the air with purple lavender pansies. Install bubble maker machines in hidden corners for children fun and frolic and let there be sharing and cheering by the beach.
Sunshine Baby Shower Games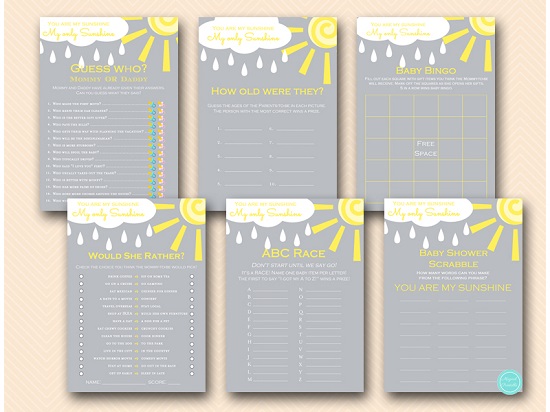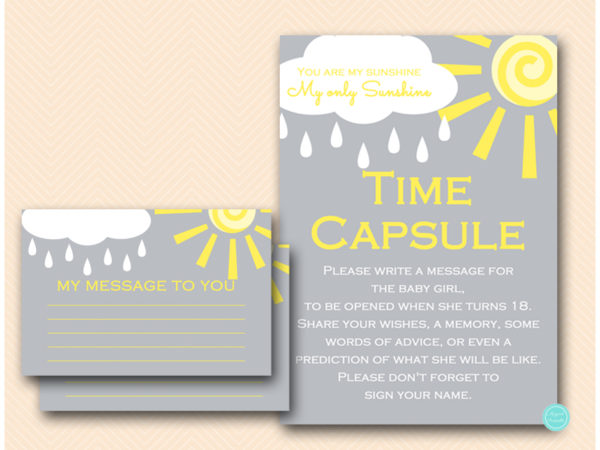 You are my Sunshine Tableware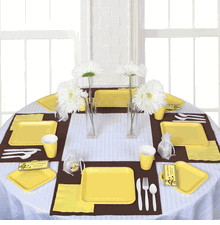 Baby shower Food Ideas
The food cannot be left behind when it comes to celebrations and this will be no exception. "You Are My Sunshine" theme party will have lip smacking food to cater to everybody's platter. Let there be starters like chicken sandwiches with cheese and wine. If Children are invited, they can binge on savories like barbecued chips and cheese biscottis. Serve freezing cold iced teas and fruit juices in coconut shells to lighten up the mood. You can have beetroot salad, crab pastries and Hawaiian salad for filling up your guests. The custard with fruit sauce and fresh scraped coconut topping can be served in the end for all. But don't forget the ice creams in groovy mango flavor served with cream for the hot tropical climate. Pack return gifts like sounding shells with thank you notes and keep them handy for the end of the celebration.
Keeps the live jingly band playing while everyone's cheer rise s above the din and food plates clutter and imagine waves crash against your fabric beach. It will be a celebration worth remembering with pretends, wishes, food, wine, music, flowers, petals, chatter and shimmering moments to cherish. Yellow, blue, golden, fruity smells and fresh aqua blistering and lingering long after everybody is gone!!!
Follow My Mess's board Sunshine Baby Shower Inspirations on Pinterest.