This Green Pea Pod Dessert Table created by Amanda of Sweetfix was originally done for a wedding, but the idea is so lovely and relaxing I think it would be a great idea for a Baby Shower dessert table as well!
This table was casually placed outdoors, creating a springtime feeling that would allow guests to really enjoy the event. With a fun window as the backdrop Amanda created a wonderful patchwork curtain that showcased pretty green patterns that blended well with the theme. The window had a real vintage quality to it with little aged corners.
The cloth that decorated the table was actually a fantastic patchwork quilt that brought the whole look together with its variety of patterns and wide-range of green, white and grey tones. With the outside setting this cloth was the perfect covering for the table.
The desserts laid out were impeccable in detail and were all organized very nicely. There were tasty key-lime pie shooters that had a slice of lime actually placed carefully on top of each, adding to the greens that made this party pop.
Delicious fruit custard tartlets were set on a lovely tray that really accented these treats.
The  cupcakes were very unique, pineapple-coconut with coconut IMB, creating a fantastically frosted, fun treat.  They were placed on wonderful, tiered cupcake trays that provided different levels for the guests to get the best view.
There were even yummy looking candies in pretty jars that presented a texture, treasure trove for guests to enjoy.  With all different heights and colors these candies were sensational.
The centerpiece on this dessert table was a perfection, a large bunch of pea pods all standing upright together and tied with a pastel ribbon, creating a neat effect. They were placed on a lovely cake tray with a green ribbon threaded through it.
Credits –
Amanda with Sweetfix: www.sweetfixrva.com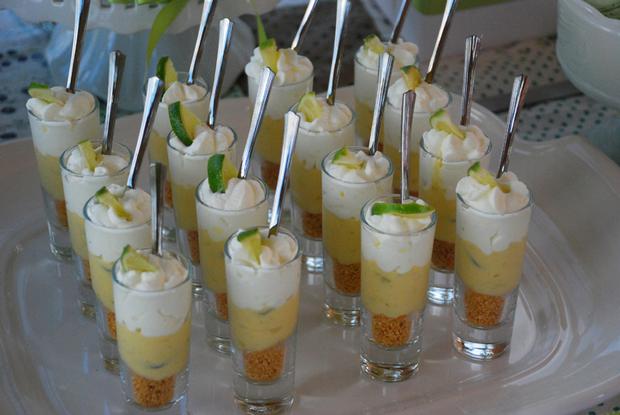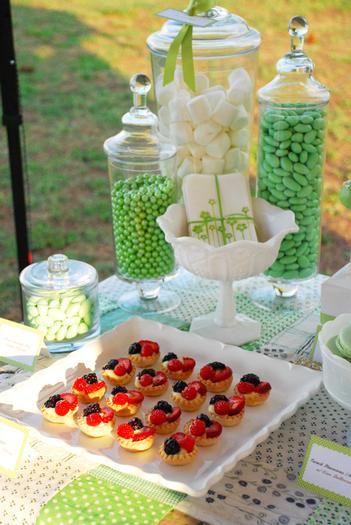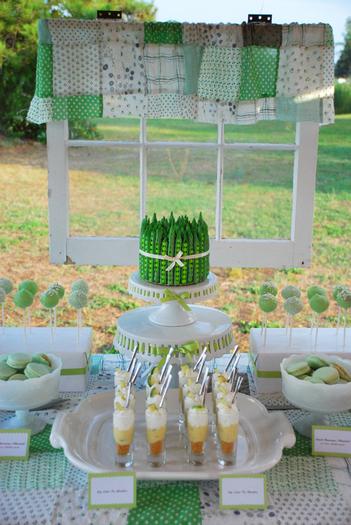 More ideas –