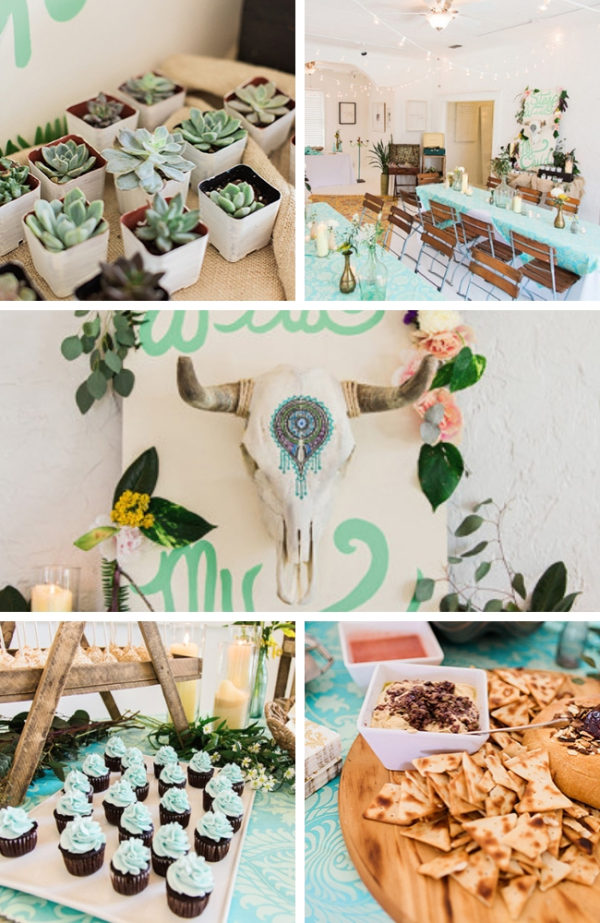 With a Bohemian in blue and mint theme, this baby shower was a soft and sweet gathering that had a wonderful spread of ideas that Mom-to-be was certain to appreciate.  Beautifully planned by the fantastic Soulshine Rentals, this event was one to remember.
The venue chosen for the party was pure perfection with a natural lighting and large space that made it a great spot for celebrating new life to come. Long tables were setup to allow guests to sit near each other for a cozy and warm look.  Each table had a neat layered effect with a white cloth on bottom and fun mint patterned cloths on top.  The tables were then each lined with lovely center pieces all the way down the middle, adding a touch of elegance that still allowed for everyone to visit with each other easily.
To add to the Bohemian vibe, a tie dye station and henna station were laid out for the guests to enjoy. The tie dye station had lots of little tops to create art on for baby-to-be, giving a gift that would last. The sign for the station was adorable in big bubble letters.
On fantastic display of art included a bull skull that was decorated in a fun way and hung on a board that featured a neat display of plants and lettering.  Set on a table with little cactuses, this addition to the look of the party was stunning.
The arrangement of food was superb with a little something for everyone to try out.  Adorable chocolate cupcakes were set on a tray with mint frosting that matched the theme smoothly.  Set on a table with lots of plants and flowers, the Bohemian theme was well incorporated. Other touches added to the theme as well, rustic trays and a neat rustic buffet gave an effect that stood out remarkably.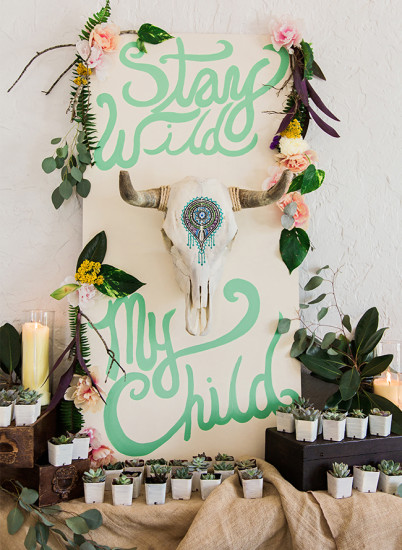 Credits –
Photography: Brooke Images
Planning, Design, Signage & Florals: Soulshine Rentals
Décor: Soulshine Rentals and Sidney Cardel's
Venue: Blue Jay
Catering: Taste! Catering on the Boulevard
Desserts: Alleycakes Dessert Company and Bell Bakery
Henna Artist: Jana Satterlund Tarr