Pretty In Pink Fairytale Princess Party
This party theme is fit for a princess on her special occasion. All I can say is "pretty in pink"! The main color used in this theme is a pastel like pink color. The party also boast light blue, that match the hue of the pink, yellow, and peach as accent colors within the party.
This party was planned and executed by Gloriana from Party Box. The party was designed with a little girl in mind on her special day. The party is home to some adorable design elements. There are a few that stand out to me. The first are the adorable tutus for the party guest. The party also had cute tiaras for the party girl and her friends to wear.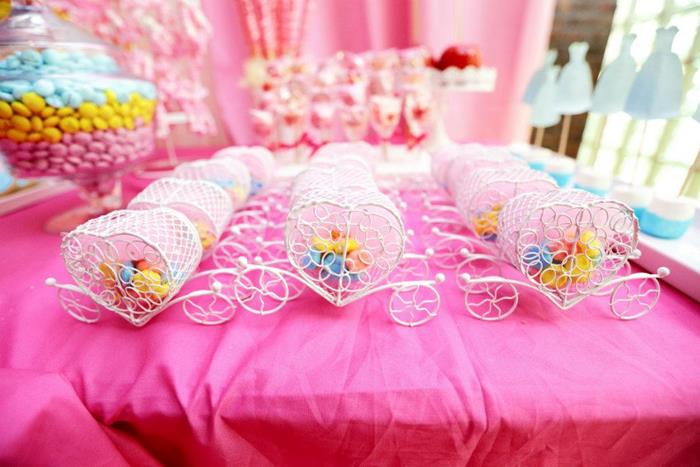 The representation of the different Disney princesses was also genius. The candy apples were a representation of Miss Snow White herself. The darling mini carriages filled with candy were representative of Cinderella, and pearl Madeleines that were representative of Aerial. The cake represented them all, on varying tiers as well. The bottom tier of the cake is home to Ariel. The tier is done in blue frosting and has elements of the sea as decorations. The next tier in pink is home to Snow White. Next to her lies two apples. The next tier, in lite pink is Belle and on the top tier, in white, sets a pumpkin carriage home to the one an only Cinderella.
Another fun element are the blue dresses, held up by toothpicks, stuck in a marshmallow bed.
On the outside of the party venue a picture of the birthday girl herself, in a cute snow white dress, is displayed outside. Next to it is a tutu dress of a snow white in blue and yellow tutu. The colorful lanterns hanging from the ceiling, and the balloons on the table, bring all the design elements together.
The table setting is so unique and fun with mannequin centerpieces with tulle dresses of colors of all the Disney Princess dresses. So many great ideas for a perfect Disney Princess themed baby shower!