This adorable Bird Baby Shower was styled fantastically by Jennifer of Pink Elephants and Lemonade. Using a perfect array of bright pastel colors, this event was light-hearted and fun, giving a theme that is unique and entertaining for all.
Gorgeous tiered trays were used to display yummy bird and birdcage cookies that were frosted to match the theme colors brilliantly.  With such a variety of shapes and colors, the layout used was definitely well thought out.
Instead of draping pom poms from the ceiling like many showers, poms were used as table decorations, offering a fantastic new approach to a party favorite. The large, fun shapes and colors added texture and life to the treat table.
Along with the pom poms, tissue flowers were created to fill as well, making a sweet addition.  As a centerpiece on the treat table a birdcage was set-up that went precisely with the theme.  Right in front of the cage was a wonderful little bird. The table was covered with a white cloth so all of the added little touches stood out more dramatically.  The front of the table was even decorate with wonderful little cloth tassels that matched the backdrop of tassels and polka-dots.
The cake was delightful with cute birds and polka-dots in bright colors on two-layers, ensuring there was plenty for each of the guests to enjoy. The tray was even decorated with matching polka-dots, blending the look perfectly.
There were a lot of wonderful decorative additions that made this Bird theme fun and one-of-a-kind. A vintage bicycle was set out with a water bottle and treats.  With lots of birds around, the theme was well shown throughout the venue area. All of the little touches really brought the party to life with sweet birds and bright playful colors.
Credits –
Event Styling: Pink Elephants and Lemonade
Bunting: Fabulous Bunting
Cake :  Kitchey 
Cookies : Smooches
Water Bottle Labels : Smart Party Planning
Photographer :  Evelyne Photography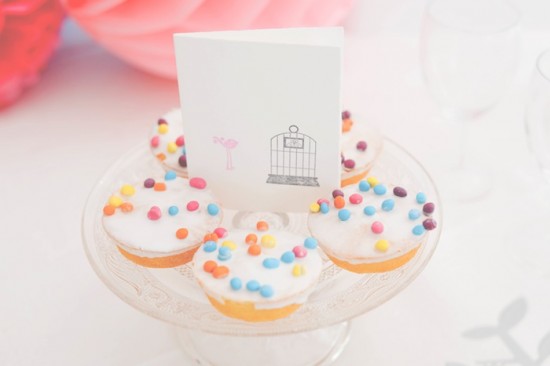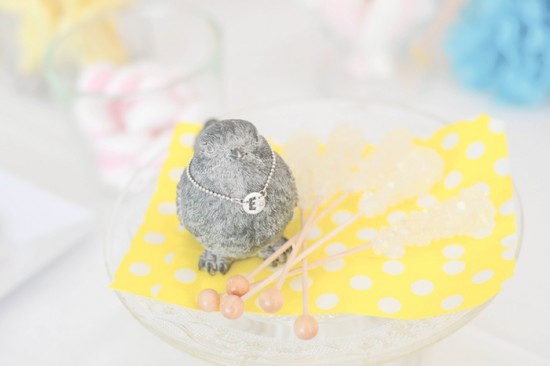 MORE INSPIRATIONS: