Golden Hollywood Themed Party by Joanne of Cakes by Joanne Charmand.
Every party, whether it is as small as a get-together among friends or as monumental as a wedding, is more enjoyable when following a theme This could be as simple as pink to as specific as 80's retro.
Pictured below is the Hollywood Red Carpet Setup by Joanne of Cakes by Joanne Charmand, for the casual movie enthusiast to the film aficionado and everyone in between. This party configuration features three different types of cookies: red Walk of Fame stars with the guest of honor's or the host's name on them, classic log cookies and cookies in the form of golden Oscars with black bases.
The cupcakes follow the basic color scheme of black, white and red and are topped with the red fame stars embedded on base of black or white, as well as with detailed film reels and the traditional black-and-white clapperboards with a white base on top of red frosting.
With both basic black and red macaroons as well as dusted with shavings to give the effect of feathers – like the feather boas which are considered the trademark of all great movie stars – the macaroons help add to the overall effect of a movie premiere or an awards ceremony.
Probably the most interesting aspect of the display was the cake pops – small white balls of sweet frosted goodness on sticks, each decorated with small gold "stars", and half of them partially decorated with red edible glitter.
The centerpiece is a multi-tiered cake, which instantly brings to mind movie premieres and Hollywood stars. From the bottom-up, the layers depict the word "HOLLYWOOD" in white against a red backdrop, an abstract black design on white, a red carpet complete with accompanying security poles, and finally a customizable star on a gold background on top of two layers artistically frosted and placed to look like film reels – all edible, of course. The red carpet cake alone needs an award. This cake is truly the star of the show.
All of this is placed on a black tablecloth and gold stands, to remain true to the theme. The setup buffet and cake, cookies, cupcakes and cake pops are courtesy of Cakes by Joanne Charmand, whereas the macaroons are by Macaroon Delights. The award goes to" The popcorn encrusted macaroon".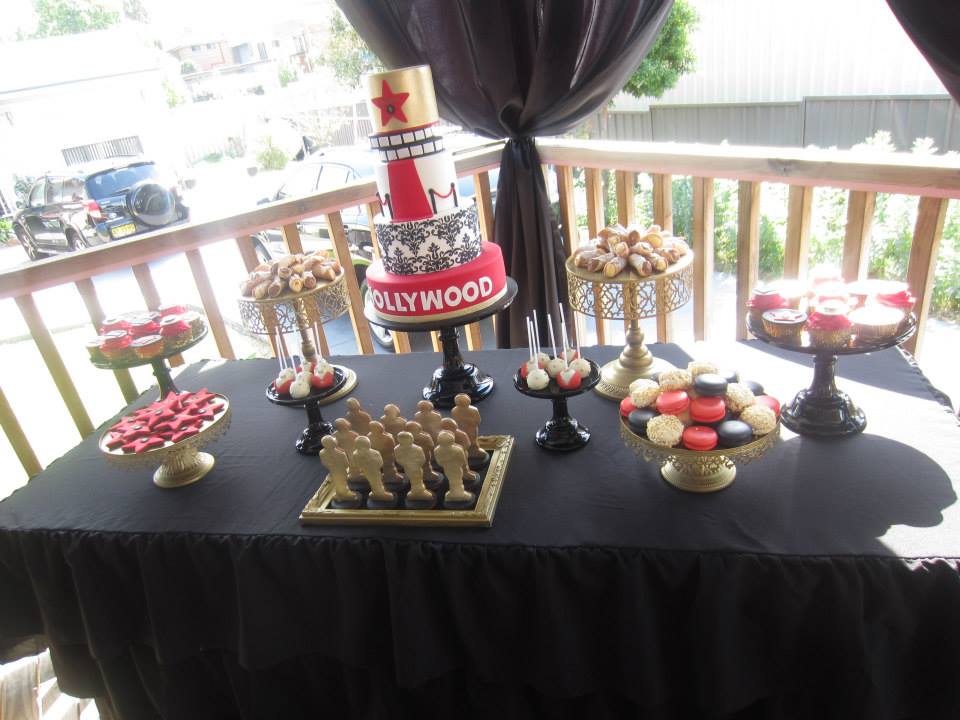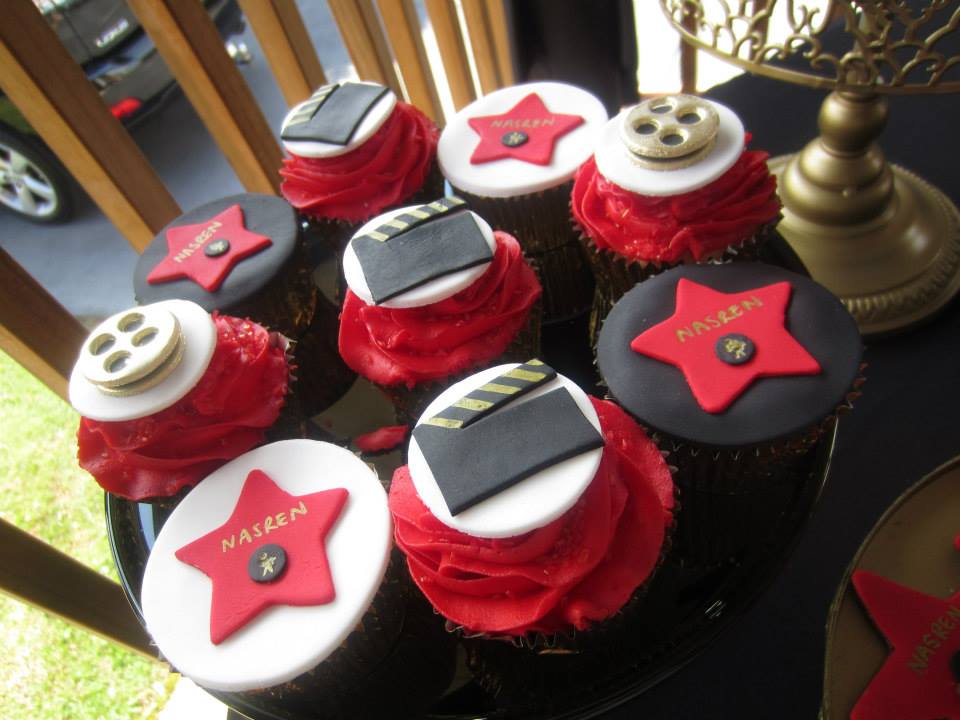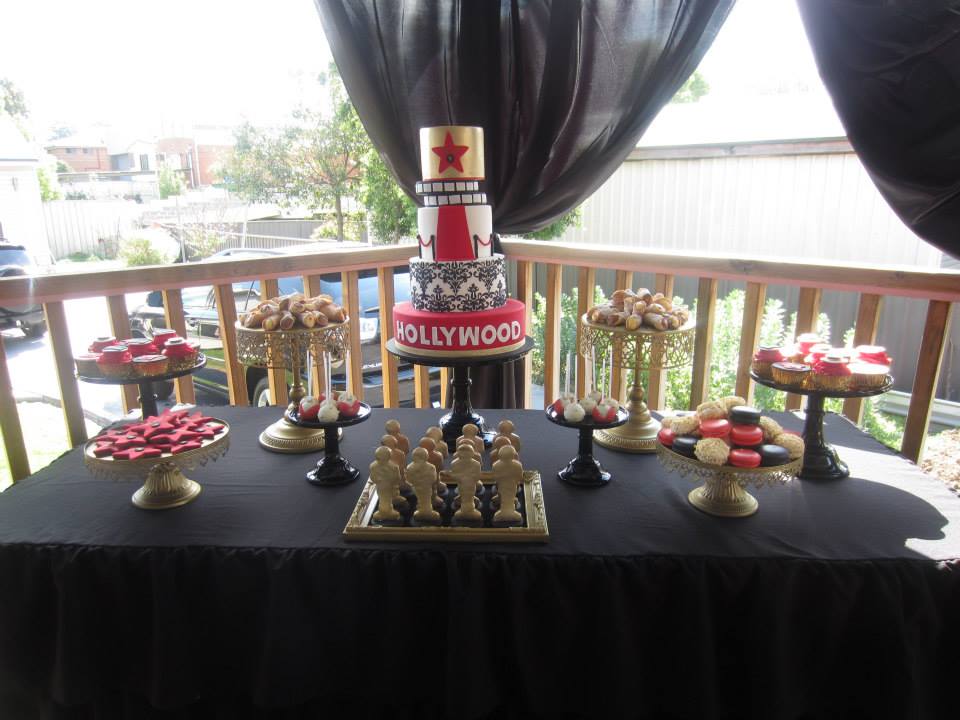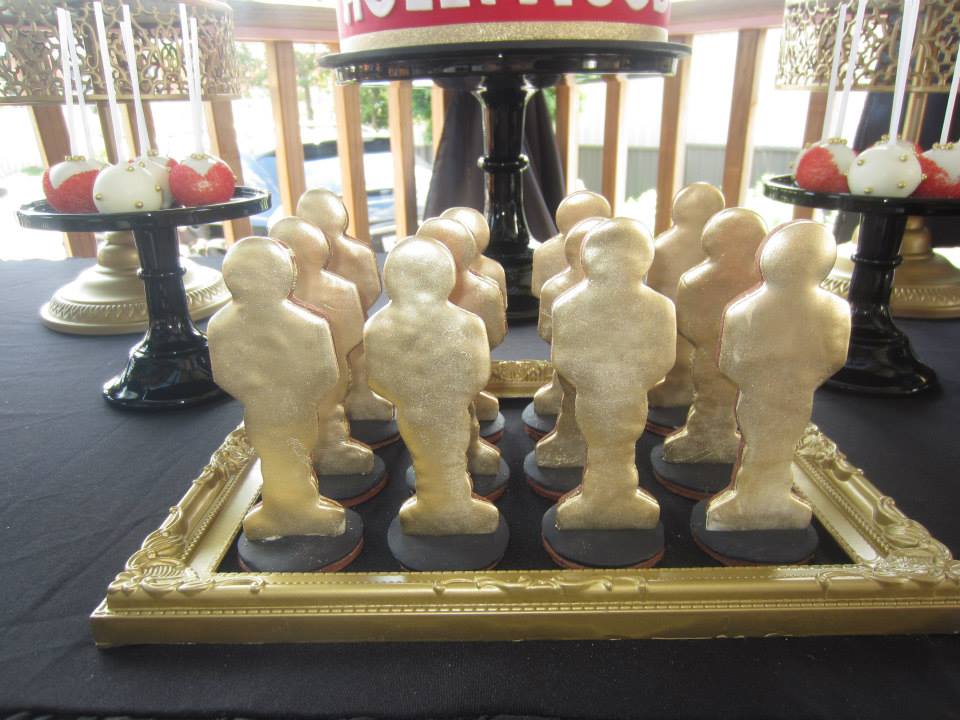 Hollywood Themed Party Inspirations:
Hollywood Red Carpet Baby Shower