This is one insanely easy to make grab and go appetizer that you can serve at any occasion! Well.. except for one… baby shower… Unfortunately, the blue cheese used in this recipe is not cooked and these amongst other soft cheese is one of the foods Mommy-to-be should avoid. So, I'm so very sorry if you've come here looking for a recipe for a baby shower… I promise the next one would be appropriate!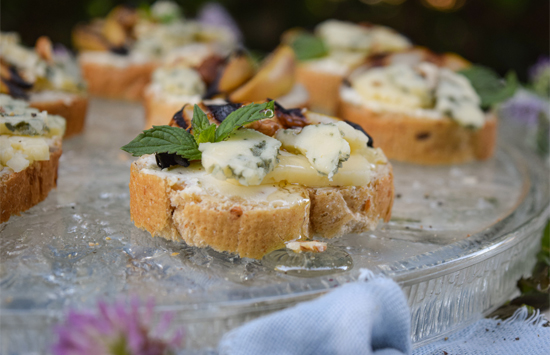 Walnuts have many health benefits but I'm not a big fan of eating them on its own, so this walnut, cheese with a drizzle of honey combo works like a charm. It is absolutely delicious and it is very simple to make. If blue cheese is not your thing, try any other soft cheese. You can also roast your walnut with maple syrup for extra sweetness. It's your call, enjoy the savory treat!
Ingredients:
9 Slices French bread
2 Small pears (to make 18 slices)
1 Tbsp roasted walnuts, chopped
3 Slices blue cheese
1/3 Cup cream cheese
Black pepper
Mint leaves
1 Tbsp honey
Instructions:
Step 1.
Heat the grill. Slice the pears into half-moons and grill both sides until nicely browned. Set aside.
Step 2.
Spread the cream cheese over the bread slices.
Step 3.
Top with grilled pears and blue cheese. Sprinkle with roasted walnuts, black pepper, and mint leaves. Drizzle with honey. Serve.