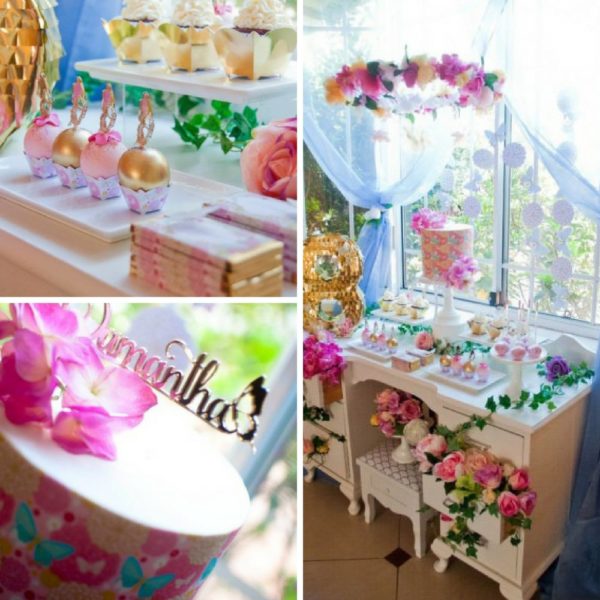 This Butterflies and Flowers birthday celebration was put together last minute and Jhoanee of Its A Cake Thing did an incredible job. we think it looked anything but simple! Using her team of effective help, Jhoanee created an elegant and girlie bash that was very impressive for a special 8 year old little lady.
She took full advantage of a gorgeous window by using it as an accenting backdrop for the detailed snack table. Beautiful sheer fabric was draped in an elegant fashion and had lovely flowers tied on each side for a sweet effect. Across the top, a fantastic arrangement of flowers were hung along with a sweet mobile that added a soft touch to the look.
The range of soft and bold pinks, oranges, and a dash of blue really gave this party that adorable Lil Miss atmosphere. Flowers were incorporated into almost every detail. Instead of using a standard serving table for the treats, a beautiful desk was utilized. It was white and classic in its shape, making it a fantastic option to add to the decor while maintaining a functionality that guests could appreciate.
The range of delicious treats was incredible.  Lovely cake pop treats were beautifully made and placed into cute little holders and topped with butterflies.  Cupcakes were also made with cute butterflies and put into little holders that blended with the theme perfectly. Cake pops with tall sticks were covered in a light pink and went with the butterflies as well with little white ones on top.
The cake was magnificent in its perfection.  A towering circular wonder wrapped in fantastically detailed edible art, this treat was sure to be a show-stopper. It was arrayed with lovely flowers and celebrated the sweet girl by advertising her name on top. Set on a tall white cake tray, this dessert certainly made an epic centerpiece for the entire layout.
Credits –
Event Planner – Jhoanee – itsacakething
Cake topper, cake pop sticks and toppers : Glistening Occasions
Edible cake wrap : Zahari
Edible butterflies and chocolate wrappers : Cardique Cake Artistry & Craft Studio
Florals and butterflies garland : Memories are Sweet – Lolly Buffets
Cupcake and cake pop cases : Ps Made With Love
Floral chandelier : Hanging Pretty
Pinata : Party Pony Designer Pinatas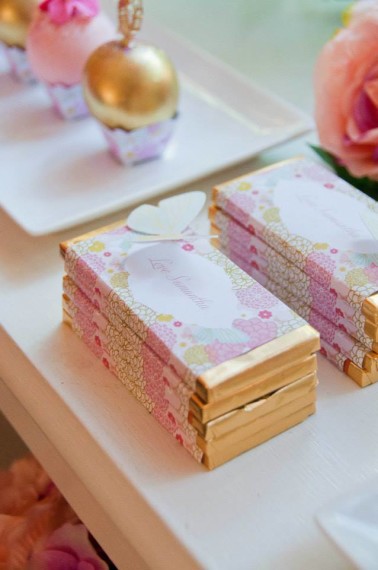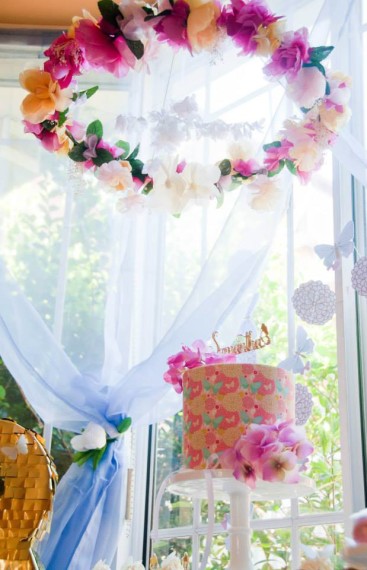 MORE INSPIRATIONS: