Using an Old Schoolhouse baby shower theme, this baby shower was actually held at a very unique venue creating a decoration in and of itself for everyone to enjoy.  Shannon, mom-to-be, was very lucky. Her mother-in-law, Amy, actually owned the building, a century-old schoolhouse. In addition to providing the lovely location, she also provided the antique furniture and decor.
The entrance to the schoolhouse was fantastic all by itself. With aged steps leading up to a small doorway, there was no doubt as to what the theme of this great celebration would be.
Inside was a wonderful spread of vintage decorations that really stood out. There were chalkboards spread throughout the whole area with adorable little messages for guests to read.
A cute little desk had been set up with miniature cards for everyone to leave advice and well-wishes for mom and baby to be.
Draped across one wall was two levels of clothesline with an abundance of photographs pinned up for guests to check out.
They even utilized a vintage ladder, setting it against the wall and hanging a bouquet of balloons, it gave the room a fuller look.
The dining area was adorable. A backdrop had been set-up with Baby Boy draped in the center that really went well with the theme. Circular tables were utilized, giving visitors a cozy way to eat together. Each table was draped in a beautiful dark cloth and the centerpieces were fantastic large tissue poms, creating a floral effect. With additional poms hanging from the ceiling, the entire area was full and warm.
Even the treats were wonderful with all kinds of choices ranging from donuts to pacifier candies that were jelly beans and lifesavers. There were even little owl cupcakes that looked very delicious.
This baby shower was the perfect blend of neutral tones and vintage fun, ensuring that it would be enjoyed by all.
Credits –
Photography: Shalynne Imaging Photography
Rentals: RC Special Events
Cake: King Soopers
Furniture: Newel Post Antiques
Banner, Name & Welcome Cards: One Cute Cookie
Plants: The Urban Garden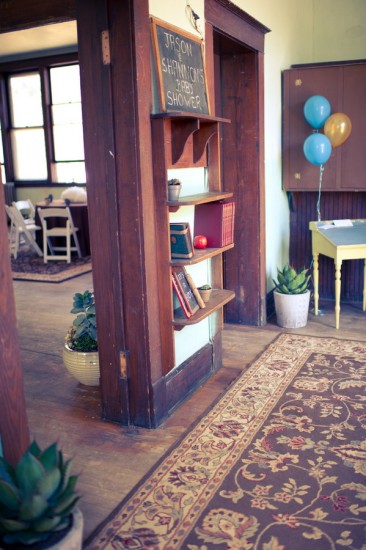 MORE INSPIRATIONS: