Princess Ballerina Party by Liliani of Lima Limao. If there was ever a party for the pampered princess, this is the one! Pretty pinks, canopied cake and table, and beautiful balloons. Simply put, a perfect baby shower ideas for a baby girl. It should make the expectant mother feel as though she is expecting royalty. The theme of the party – the princess in pink – is wonderfully shown in the ribbons, crowns, and delicate feel of the decorations.
The most interesting featured item is the layout of the table and the unique and beautifully designed cake, cupcakes and cookies. Pampered and precious, the cake appears to be so delicate – filled with creamy icing, decorations and the brightest pink for the princess. A  Lovely pink ballerina shoes right on the top! The cupcakes and cookies incorporate the pink ribbon and princess crown as though saying, "There's royalty on the way"!
Now, once you have managed to enjoy the beauty of the cake and table, feast your eyes on the canopy that surrounds the table – almost adding a magical air to the whole party, it does enhance the beauty and feminine look of the entire table. Lace so delicate it is almost unnoticed, but adds to the intimacy of the moment.
The breathtaking beauty of the decorations will make the event memorable for all the individuals in attendance, but what an opportunity to make a beautiful memory for the coming princess. Worthy of the arrival of anyone's special princess, this table arrangement and the royal statement it makes, is sure to please any expectant mother.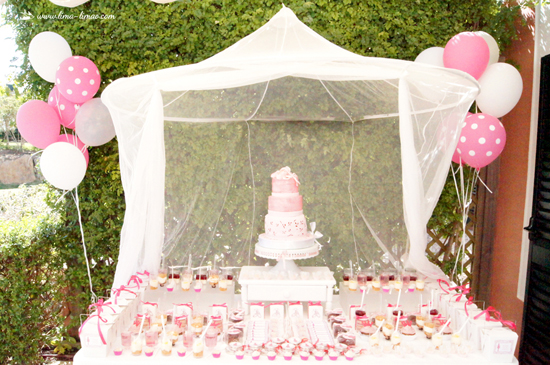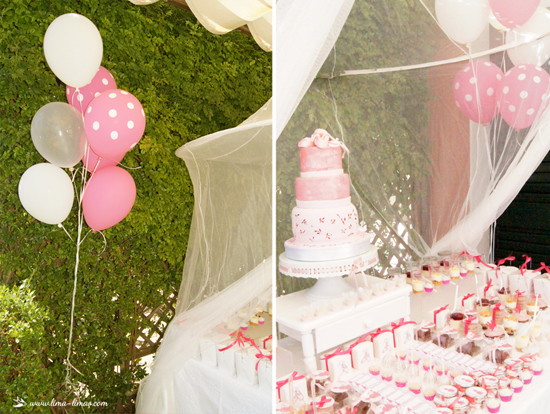 Vendors: