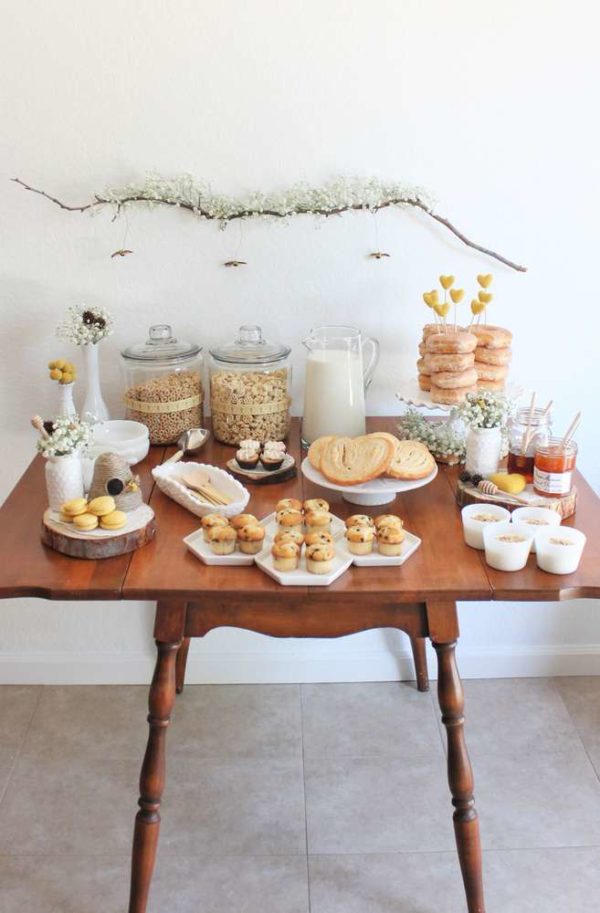 Sweet Jelly Parties created a light-hearted and warm atmosphere with this Bright Bee Loved Baby Shower.  The venue was full of natural light and with white walls, the room looked vibrant and beautiful.
To hold the snacks a lovely vintage style table was used, no cover required as the beautiful wood made a perfect base for the food and decor. The wall was decorated with a long twig accented in baby's breath and adorable little bees were hung from it giving a simple, yet delightful accent to the table.
Fun details gave this table a fresh and unique look like hexagon trays placed together to look like little honeycombs. These held tasty looking muffins for everyone to enjoy. A small stump was used to hold yellow macarons, a vase of baby's breath and a miniature beehive made of twine.  Little bees were placed on the hive and in the baby's breath to go with the theme perfectly.
With this party being bee themed, it made senses to offer honeycomb cereal and cheerios, these were set at the back of the table beside a large pitcher of milk.  To one side, three stacked towers of donuts stood on a cake tray with super cute yellow hearts on sticks at the top. There was an arrangement of tasty preserves to try out as well, with honeycomb dippers.
Beverages were offered with fun chevron or striped straws that blended with the theme tones beautifully. Fresh juice made a perfect addition to the menu.
Invitations to the party were fantastic, a modern chic way to show off the theme while offering an elegant font that could easily impress.
Gift bags were actual paper bags for the guests to take home with personalized labels that thanked everyone for "beeing" a party of the celebration.
Credits –
Party planner/photographer – Sweet Jelly Parties
Kids tableware – Re-Play
Printables – Small Moments
MORE INSPIRATIONS