Summer camp or camping with your family can be a wonderful experience for both adults and children. If your family loves spending your summers camping outdoors, what better way to welcome a future camper into the world than a camp themed baby shower? It's time to pack your bags and pitch some tents! There's a baby shower to plan! Below are a few ideas to get you started!
Camping Themed Party Sraws
These camping themed party straws are sure to make all of your beverages a hit with your guests! The straws are sold in sets on tweleve and are adorned with several camping related decorations such as a tent, fire, canteen, and backpack. Your guests will love the extra special touch when they sip from their favorite beverages.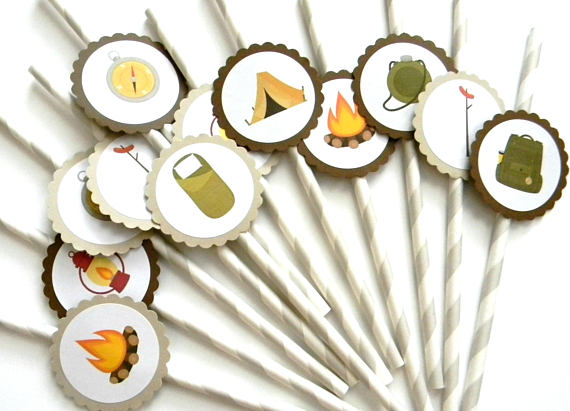 It's A Boy Cake Topper
If you're expecting a baby boy, this cake topper is sure to win the eyes of your guests and it  is the perfect decoration for a camp themed baby shower! "It's a Boy" is handcarved into three pieces of wood to make this cake topper extra special. The diameter of the larger parts of the cake topper measure approximately 2.5 inches. The topper can be customized to fit your party. You can also purchase matching wood hearts if desired.
Adventure Awaits Camping Themed Banner
What better message to send during a baby shower than "adventure awaits." Make sure that everyone knows that your baby's adventure will soon begin by displaying this adorable banner. Unlike many banners, this banner is made from wood, so it will last for years after the baby shower. This decoration could pull double duty as a nursery decoration! The banner measures approximately six feet in length, which makes it the perfect length to decorate almost any wall.
Pine Tree Appetizer Picks
If you're idea of camping involves pine trees up in the north woods, then these pine tree appetizer picks will make the perfect addition to your camping themed baby shower. The picks are sold in sets of fifteen and come in a wide variety of color options. You can use the picks to decorate cheese as shown in the picture or other small appetizers. They might even look nice atop small cupcakes!
Camping Themed Gift Boxes
Make your party favors the highlight of the party with these camping themed gift boxes. Your guests will appreciate the extra special touch when they open their party favors. These boxes can be filled with items such as popcorn or candy. To stick with the camping theme, you could even fill the boxes with supplies for your guests to make s'mores. The top of the boxes can be personalized with the date and the name of the baby being celebrated. In addition, the sides of boxes include fun "baby shower facts" to keep your guests entertained.