Dr. Seuss Themed Baby Shower by Cassandre Snyder Events.
This baby shower was thoughtfully put together by Cassandre. With a fantastic blend of elegance and fun, this theme had a little bit of everything. They even thought ahead to create a mock-up party to make sure they were completely prepared for the big day.
The tables were set up with bright aquamarine colored tablecloths that went well with Dr. Seuss' colorful array of books to which the theme was set. Each place setting had a lovely white place with an adorable red and white Cat in the Hat bowtie for the guest's to enjoy.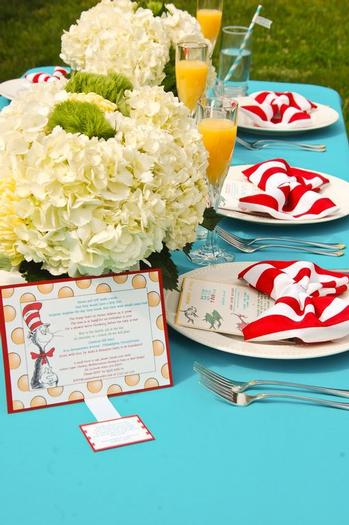 There were also place setting menus for each individual that had a personalized rhyming schematic that really sold me on the fun vibe of this party. The glasses at each seat were lovely, and contained bright orange mimosas, and for those who wanted a different beverage a second glass was placed with striped straws.
The major spotlight on the tables were the bouquets of flowers that were evenly distributed throughout. The flowers were divine, large groupings of white with green sticking out of the tops of them, like you would find in the Dr. Seuss book's illustrations.  Another adorable personal note was a special poem for the couple and their soon-to-come little one that was laid out by the flowers. Cassandre Snyder Events even thought to put a hot air balloon featuring a red and white striped look, at the table lingering just above the flowers that provided a whole new level of fun.
Each guest received cute little bag of popcorn at a  "Hop on Pop" popcorn station that was specially prepared to enjoy. They also got cute little custom-made candy bar favors to take home with them. All-in-all this Dr. Seuss Theme appeared to be a brilliant idea and was well planned out.
Credits –  http://cassandresnyder.com/