Perfectly Sweet went all out with this Mother's Day in Watercolor & Roses event. Using vibrant shades of pinks, oranges, creams, green and white, this venue was a vision of loveliness that was sure to be remembered.
They took advantage of the soft pink walls, using that as a backdrop for the dessert table, which really gave a soft impact on the array of decor and treats. One very unique detail that was used to bring a fresh look to the table was an array of colorful roses that was hung upside down, filling the space with natural beauty.  They were placed at varying levels so they didn't bump and added a layered effect to the table.
Using white dishware to hold the treats and decorations on the table, the colors of the flowers and snacks were able to stand out in sweet elegance.  The table itself was a fantastic pastel tone that set the stage for all of the various treats to really shine.
On each side of the cake a tall square tray was placed with fantastic vases completely filled with lovely flowers.  The tray even had enough space for little tasty delights to be displayed for guests to enjoy. Each little snack was tagged with a gorgeous sign in pastel, giving a sophistication that guests could appreciate.  There were wonderful chocolate bars that were wrapped in personalized paper for a neat addition to the treats.
There was even tea served, adding to the elegance of the event. Each had a heart shaped tea plate to hold the cup on.
The cake was a wonder in marbleized pink. Two layers of beauty set on a tall cake tray and topped with a single large, white bloom for a sophisticated style that looked quite tasty.
Credits –
Styling, concept and floral arrangements by Perfectly Sweet
Photography by Ducky Professional Photography
Baked goodies by Velvetier
Designer paperie and tablecloths by Memories are Sweet – Lolly Buffets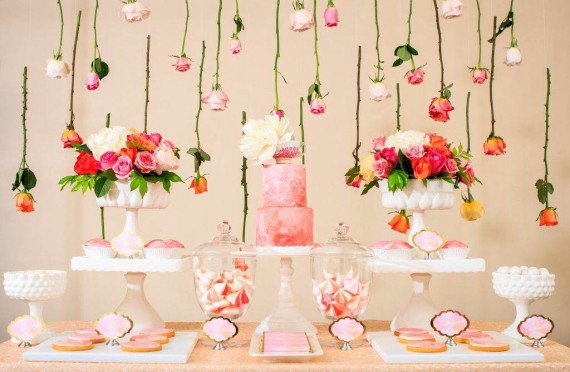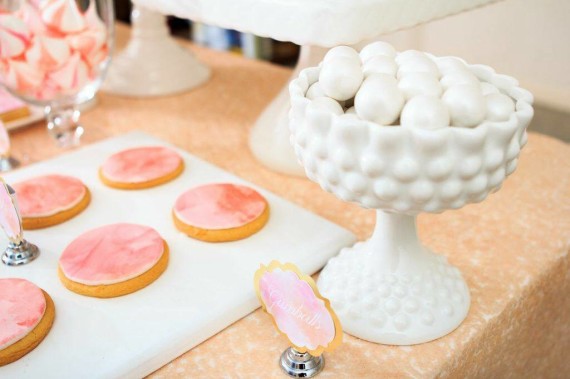 MORE INSPIRATIONS: