Foxes are all the rage in the world of baby showers and at childhood birthday parties. Foxes have even become a popular decor items in many nurseries. Bring woodland charm into your home with a fox themed baby shower. If you are having a baby girl, you can even turn your fox themed baby shower into a foxy themed baby shower by adding pops of bright pink and orange to the party decor. It is time to be clever because there is a baby shower to plan. Below are a few ideas to get you started.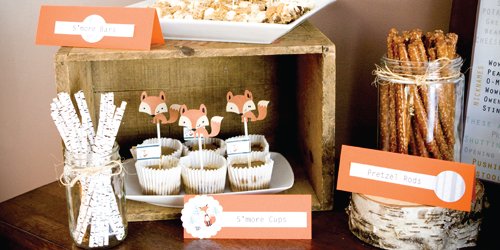 Invitations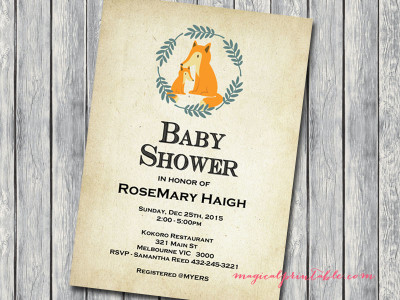 Decorations
A fox themed baby shower can consist of tons of different colors, from oranges to greens to blues. Fuzzy fox tail accents on tables, chairs, and along the venue walls are really cute additions to party décor. A woodland type of décor scheme really blends great with the whole fox motif, so table centerpieces of twigs and fairy lights with tufts of greenery and daisies are a beautiful way to dress up the tables. Tablecloths with tree designs and little figurines of baby foxes on every table are absolutely precious, while pin ups of fox silhouettes and smiling faces look great all over the party space.
Orange balloons with fox faces drawn on them and blue and yellow plush pom poms look splendid hanging from the ceilings, and they also make great backdrops to the main event table where the cake is housed. Cat-eye fox sunglasses at each table setting are also a really adorable idea for guest favors. Drape the main event table in a fuzzy orange and white fox-like tablecloth, and give your guests the option to where fuzzy fox slippers during the shower as well.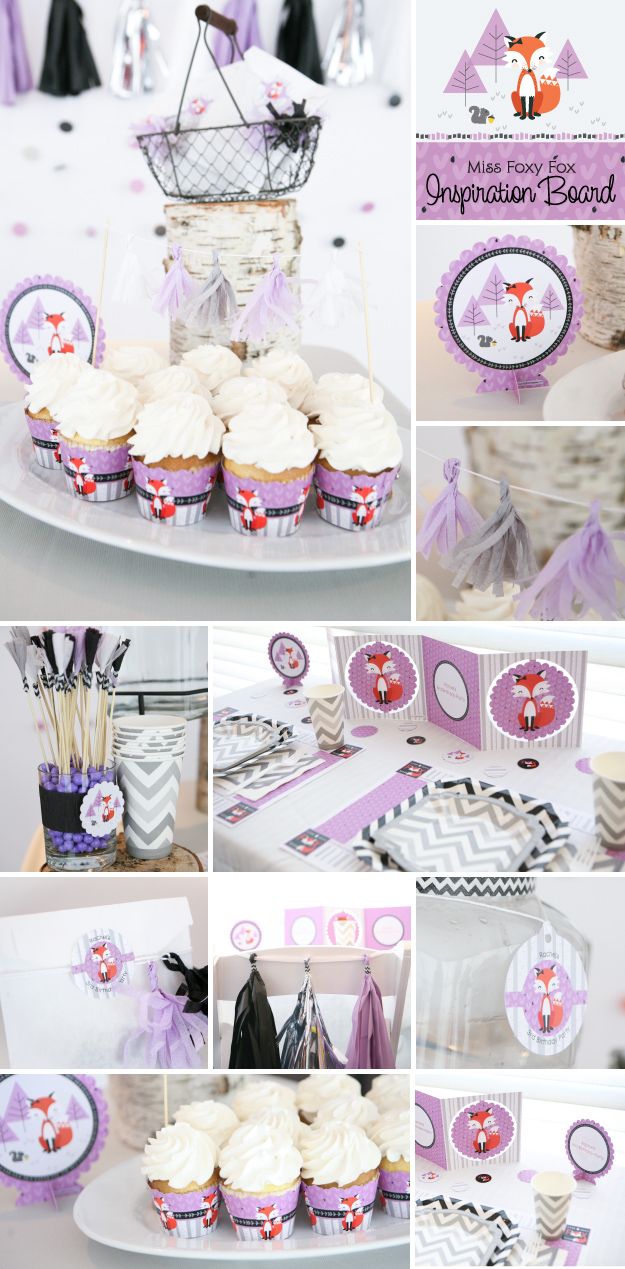 Fox Themed Banner
This adorable fox themed banner will make the perfect addition to your baby shower. The banner is made from high quality card stock and includes plenty of extra ribbon to make for easy hanging. The banner reads "It's a Boy," and also includes two bright colored foxes. The colors of the banner can be customized if desired. Welcome your guests to an outdoor party by hanging the banner across a fence or use it as part of a display table indoors.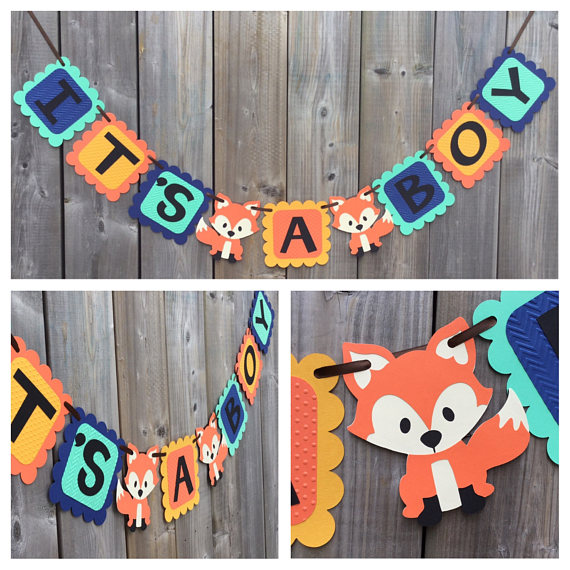 Fox Diaper Stroller Centerpiece
Food and Drinks
The main cake should can be anything from a sheet type in the shape of a baby fox, or it can be multi-tiered with ombre orange to white frosting and sugar accents of baby foxes and a welcome message to the new baby as a fun topper. Surround the cake with decadent treats like fox face sugar cookies, fox face cakepops, and cupcakes thickly frosted colorfully with dancing foxy toppers. Bowls of nuts, chicken nuggets, and miniature salads are a great way to mesh a woodsy and fox look, and they are easy for guests to eat. Iced tea with a fruit spread is also a fresh and gorgeous addition to the food table.
Favors & Games
Soap Party Favors
These super cute soaps are a great way to say thank you to your guests. Each soap is approximately two ounces and is made with all natural ingredients. The ingredients include: goat milk, oatmeal, and honey. The natural ingredients will help to gently soothe the skin. There are also no dyes or fragrances added, so these soaps are sure to be gifts that all of your guests will be able to enjoy. Each soap comes wrapped in a cellophane bag and includes a small twine bow. All you have to do is hand the soap out to your guests. In addition, the tag on the soap can be customized with the name of the baby being celebrated.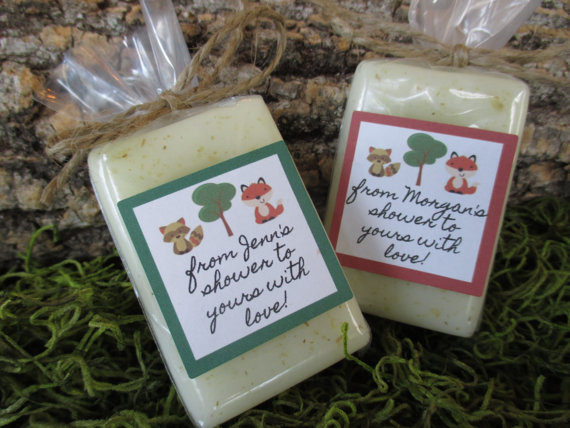 Favors can be dual purposed as prizes for games such as Pin the Tail on the Fox, or Name that Famous Fox Movie. Favors can be just about anything you can think up, from tiny fox bobble heads to cute designs of baby foxes on coffee mugs. Classic games like Baby Charades or Bingo are also always great go-to's for fun and engaging activities for the guests. A particularly memorable party gift to send your guests home with is a fuzzy fox eared hat. And for an extra dose of cuteness, have sweet movies like "The Fox and the Hound" playing in the background.