A fox themed baby shower is an adorable and unique way to ring in the upcoming arrival of a little bundle of joy. There are just so many ways to doll up your event space with all sorts of fox decorations, food, favors, and engaging games, that you can really let your imagination run wild. Baby Shower invitation in the shapes of little baby foxes are a great way to get the word out about the shower and to get guests excited!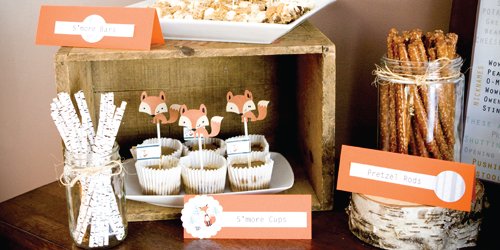 Fox Baby shower Invitations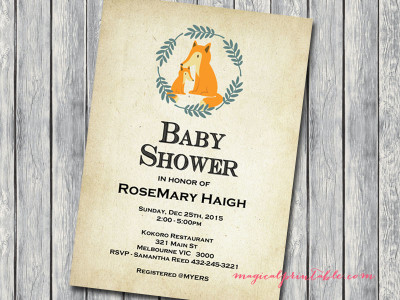 Fox Baby shower Decorations
A fox themed baby shower can consist of tons of different colors, from oranges to greens to blues. Fuzzy fox tail accents on tables, chairs, and along the venue walls are really cute additions to party décor. A woodland type of décor scheme really blends great with the whole fox motif, so table centerpieces of twigs and fairy lights with tufts of greenery and daisies are a beautiful way to dress up the tables. Tablecloths with tree designs and little figurines of baby foxes on every table are absolutely precious, while pin ups of fox silhouettes and smiling faces look great all over the party space. Orange balloons with fox faces drawn on them and blue and yellow plush pom poms look splendid hanging from the ceilings, and they also make great backdrops to the main event table where the cake is housed. Cat-eye fox sunglasses at each table setting are also a really adorable idea for guest favors. Drape the main event table in a fuzzy orange and white fox-like tablecloth, and give your guests the option to where fuzzy fox slippers during the shower as well.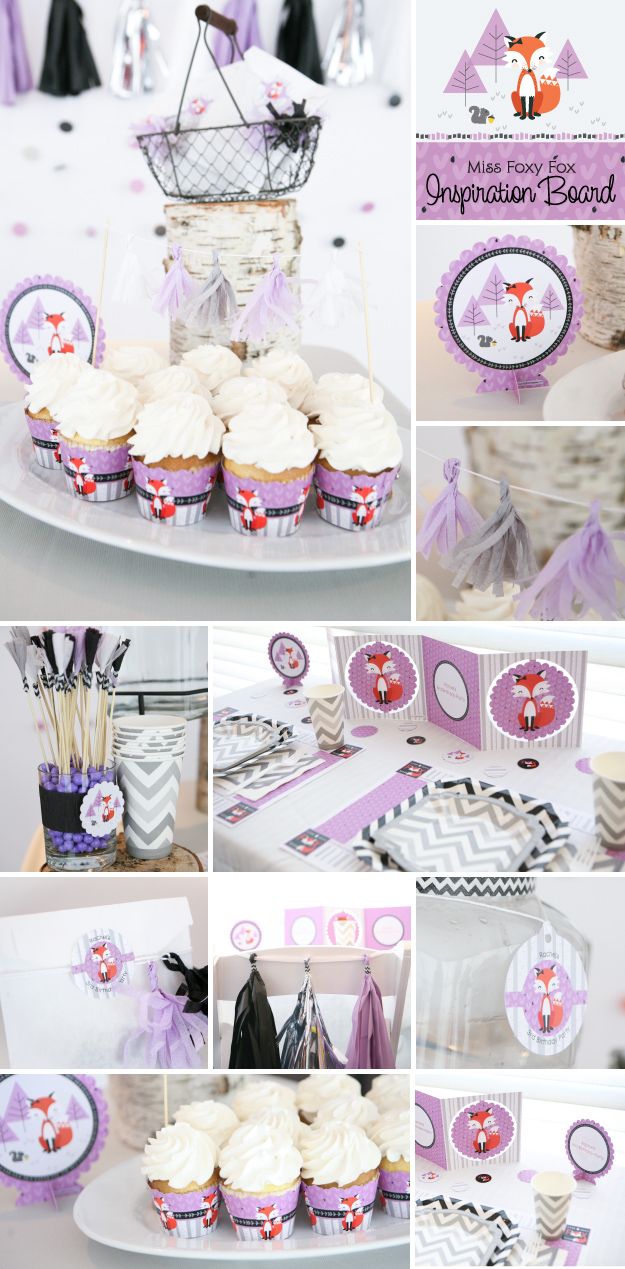 Fox Baby shower Centerpiece
Fox Baby shower Food
The main cake should can be anything from a sheet type in the shape of a baby fox, or it can be multi-tiered with ombre orange to white frosting and sugar accents of baby foxes and a welcome message to the new baby as a fun topper. Surround the cake with decadent treats like fox face sugar cookies, fox face cakepops, and cupcakes thickly frosted colorfully with dancing foxy toppers. Bowls of nuts, chicken nuggets, and miniature salads are a great way to mesh a woodsy and fox look, and they are easy for guests to eat. Iced tea with a fruit spread is also a fresh and gorgeous addition to the food table.
Fox Baby shower Favors & Games
Favors can be dual purposed as prizes for games such as Pin the Tail on the Fox, or Name that Famous Fox Movie. Favors can be just about anything you can think up, from tiny fox bobble heads to cute designs of baby foxes on coffee mugs. Classic games like Baby Charades or Bingo are also always great go-to's for fun and engaging activities for the guests. A particularly memorable party gift to send your guests home with is a fuzzy fox eared hat. And for an extra dose of cuteness, have sweet movies like "The Fox and the Hound" playing in the background.
Fox Baby Shower Gift Ideas
MORE INSPIRATIONS: