Minnie Mouse Themed Party by Rena of Sugarena.
This sweet, elegant and adorable party theme has so many amazing ideas for your next Minnie Mouse party. What is most astonishing about this party theme is how it's tied together with the colors pink, red and black and Minnie's pink polka dots bow. Almost every single item on the table has a classic Minnie Mouse pink with white dots bow. From the bows on the ice cream scoop, to the bows tied around each and every jar, bowl and table decoration. Those bow really make the theme of Minnie Mouse pop!
Credits –
Sugarena
Here is what Rena said about the party –
Baby Keira celebrated her 1st birthday with a gorgeous Minnie Mouse theme party – complete with a candy table, balloon arches, columns and helium balloons, desserts and goodie bags. Her mummy Michelle wanted this party to be extra special for her sweet little princess, and have chosen pink and white to be the main color theme for the event. She even custom-made a Minnie Mouse romper for Baby Keira, complete with a cute pink tutu and a Minnie Mouse headband!
Favourite highlights:
•Minnie Mouse styrofoam centerpiece
•2-tier Minnie Mouse birthday cake
•Minnie Mouse cutouts, papercrafts and toppers
•Customised Minnie Mouse inspired backdrop and balloon arch
•Minnie Mouse mini cuppies that spelt out Happy 1st Birthday
We wanted the candy table to be all things sweet and pretty – just like Baby Keira. The candies and snacks are meticulously selected to reflect the Pink Minnie theme – so that they will pop up beautifully against the customised backdrop and amazing balloon arch.
There are too many things to love about this table – but if we really have to choose, it would have to be the handmade Minnie table centerpiece. We painstakingly made it with styrofoam balls and spray-painted them with black glitter. We then adorned it with pink rhinestone letters to spell out Keira's name to give it that final classy touch. The Minnie gloves cut out made the centerpiece come alive and looked so cute we almost kept it for ourselves!
The 2-tier Minnie Mouse cake was another one of the main highlights of the party – with its pretty frills, the black bow and the beautiful cake toppers.
The challenge for us is to bring out the Pink Minnie Mouse theme as best as we could, through the colors of the candies as well the cute little Minnie cutouts, toppers and papercrafts we have subtly incorporated throughout the entire table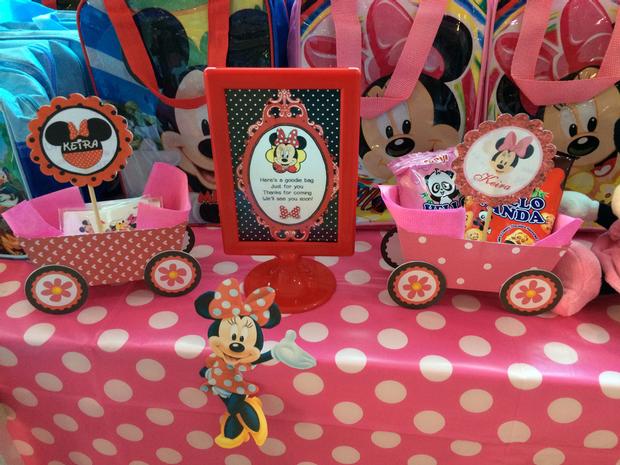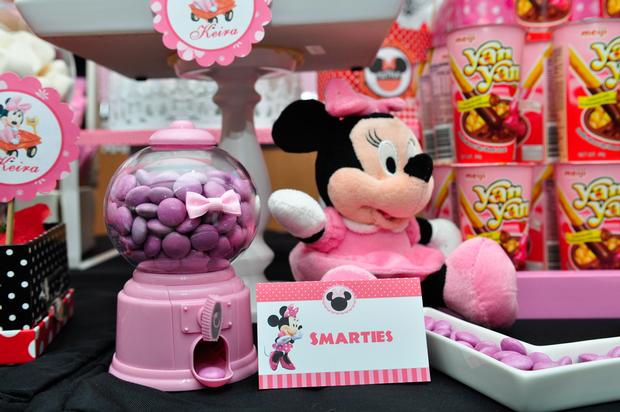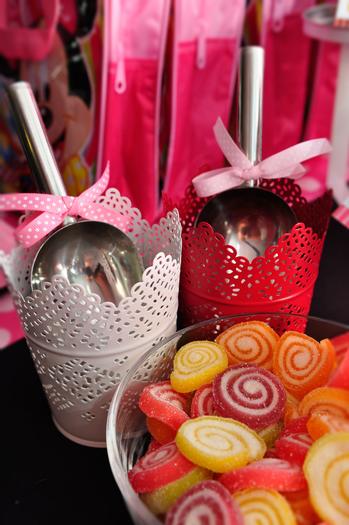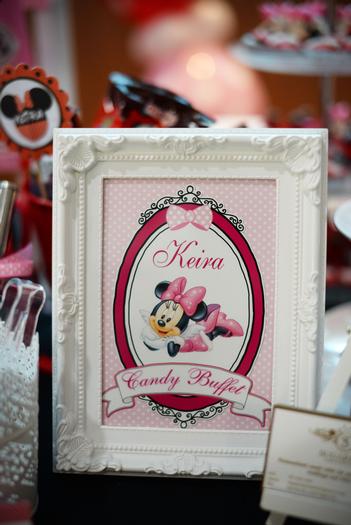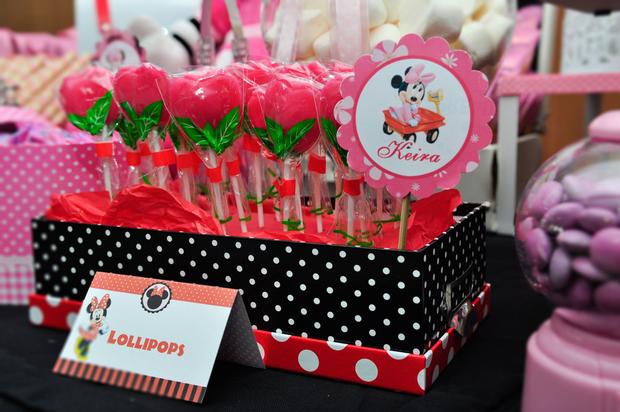 More Minnie Mouse Theme Ideas