Designed by Janece of Every Elegant Detail, this Nesting Themed baby shower had an abundance of charm and sweetness in every aspect of the event. The invitations were just the beginning with soft pink and green colors and wonderful artwork that was sure to please invitees. Even the font was celebratory with a sweet effect that was very impressive.
There were a lot of cute little floral arrangements that were placed in nests, creating a natural and sweet looking decoration. Even the ceiling at the venue was decorated with birds in a tiny cage and other pretty florals.
Using circular tables the party area looked very warm and cozy. Each one was covered in a gorgeous pink cloth that went brilliantly with everything from the napkins to the centerpieces. The centerpieces were nothing short of magnificent, each table was set up with an array of fantastic bird cages and florals in lovely vases that really brought the charming aspect of the theme to life. Each place setting had an adorable jar for the guests to enjoy as well that looked very detailed and creative.
Through out the venue area there were also little tables that were covered in soft orange covers that had beautiful floral arrangements as the centerpieces that filled the room with bold colors.
The beverage area was cute, a pink lemonade, fruity drink was set up with fruit cut out and placed perfectly along the inside.
There was even an adorable little birdy made to welcome baby-to-be that looked absolutely divine.
This theme really encompassed everything that a mom-to-be could want in a celebration, from the abundance of natural elements to the array of colors that really emphasized elegance and love.
Credits –
PHOTOGRAPHY: Janae Shields Photography
EVENT DESIGN: Every Elegant Detail
FLORAL DESIGN: Amy Burke Designs
PAPER GOODS: Rachel Hanson Designs
CAKE: Studio Cake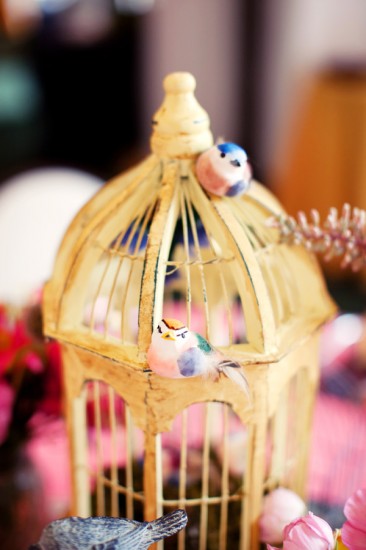 MORE INSPIRATIONS: