This Paris-Inspired baby shower theme was a perfect choice for Yesnia of Celebrate Flowers & Invitations, whose little one was actually named Paris. Using a black, pink and white palette, a graceful and elegant party was created to entertain friends and family.
The event was held over a huge indoor/outdoor area that gave plenty of space for everyone to enjoy.  The guest tables were absolutely magnificent, every single detail was impeccably laid out. With a pink base and black dishware, each setting stood out fantastically.  The centerpieces were one of a kind, mini-black chandeliers covered in massive floral arrangements. The glasses for everyone to use looked glamorous wrapped in pink jeweled ribbon. Even the guest chairs were delicately covered in gorgeous cloth.
The dessert table was a vision, encompassing the Paris theme brilliantly in a way that guests were sure to remember forever. Using a fantastic black backdrop, lovely vintage mirror frames were hung, giving an elegant effect. The table was covered in pink, creating a gorgeous base for the sweet treats that enveloped the entire area. With different layers of trays, everything was easily accessible and looked absolutely divine.
There were adorable little cupcakes topped with Eiffel Towers on a cute white tray.
There were black and white cake pops on sticks that looked yummy, and also some shaped as ice cream cones, giving a fun option.
The cake was a real spotlight draped in detail that was smooth and elegant. Three layers of decadence was completely wrapped in pink and black ribbons.  Topped with an Eiffel Tower, the cake made a fantastic decoration.
With an outdoor area set up for optimal relaxation, this party had everything a mom-to-be could want.  Using more florals and wonderful pink throw pillows, this area was a fantastic little area to hang out. With so many different things to enjoy, this shower was definitely a wonderful memory creator.
Credits –
EVENT DESIGN: Celebrate flowers & invitations
PHOTOGRAPHY: Becca Rillo Photography
EVENT COORDINATION: Tricia Dahlgren
DESSERT BAR: Cake Goodness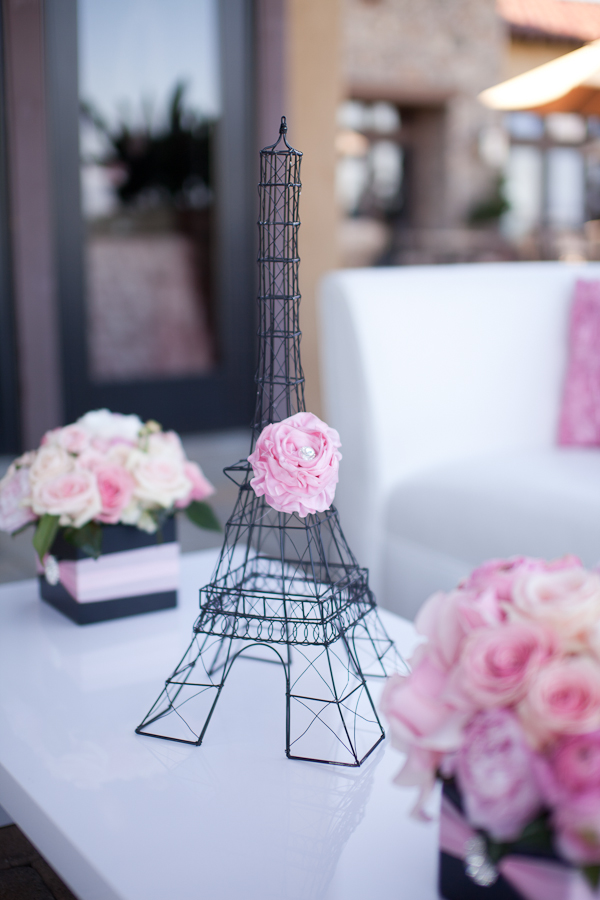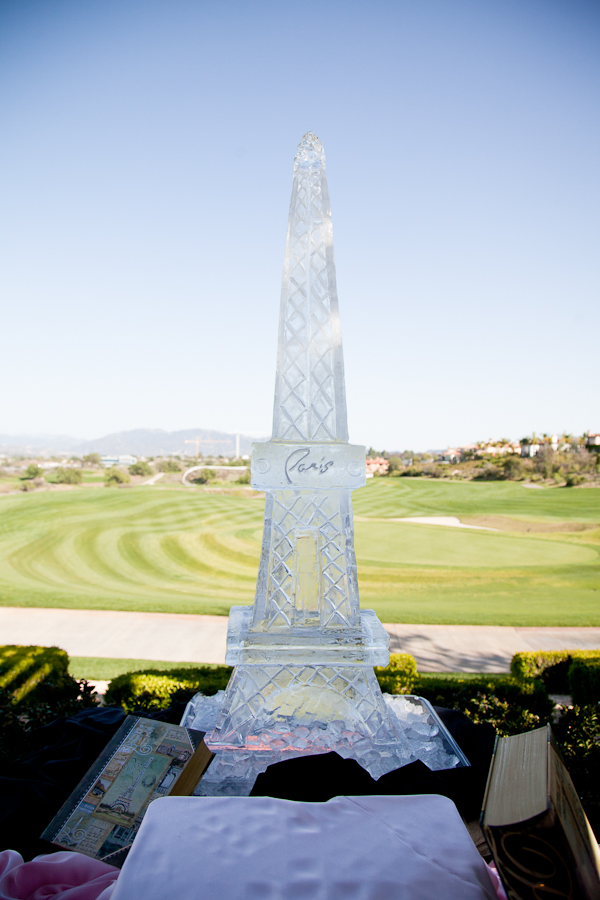 MORE INSPIRATIONS: