Congratulations – it's a girl! Welcoming a new baby girl into the world is thrilling, so long as you're prepared for the waves of pink about to wash over every surface of your home. From pink baby booties to pink bibs and pink plushies, your friends and family will find every pink thing under the sun to give to your bundle of joy.
If there's going to be a little princess in your life, you may be planning a baby shower to celebrate. Or maybe you're close to the mommy-to-be and want to take the party planning off of her plate! Either way, you'll need to plan a menu for the occasion, and you'll want to make it shine – quite literally! What princess doesn't deserve a little sparkle, after all?
If you need some sweet, sparkling treats, you've come to the right place! Pink Glitter Marshmallows are light and airy desserts perfect for a chocolate fountain or chocolate fondue pot, and guests are sure to love the sweet and whimsical Pink Glitter Meringues. If you or some of your guests are trying to live a healthy lifestyle, I've got you covered, too! Buckwheat Krispies treats use buckwheat puffs instead of traditional rice puffs for a more nutritious dessert option that tastes just as good. Sprinkle some pink glitter on top of the Buckwheat Krispies, and your pink glitter treats will make your dessert table shine bright! Buckwheats are much higher in protein and fiber. Also, it's high in the essential amino acids lysine and arginine. Many people consider it to be a superfood because it improves heart health and help manage diabetes!
Whether your guests are counting their calories or ready to indulge in some sugary goodness, these recipes will help you give them the perfect confectionary creation. They're delicious, easy to make, and a brilliant way to celebrate the new baby girl entering the world soon!
Ready to make the most glittery, vibrant desserts you've ever seen? Check out the recipes down below to get started!
Pink Glitter Marshmallows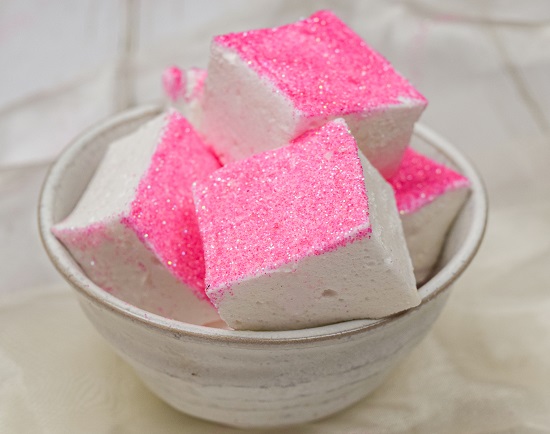 Ingredients:
2 Tbsp powdered gelatin, unflavored
1 Cup water
1 Cup granulated sugar
½ Cup corn syrup
¼ Cup powdered sugar (for dusting)
¼ Cup corn starch (for dusting)
1 Tbsp pure vanilla extract
¼ Cup edible pink glitter
Instructions:
Step 1. Lightly spray a baking tray with cooking spray. Set aside.
Step 2. Place the gelatin in a mixer bowl, add ½ cup cold water and let sit for about 5-10 minutes.
Step 3. In a saucepan over high heat, add the sugar, corn syrup, and the remaining water. Bring to a boil, stirring occasionally.
Step 4. Pour the hot mixture into the mixer bowl very slowly, keeping the mixer running.
Step 5. Increase the speed to medium and beat for 7-10 minutes, until white and fluffy. Add the vanilla and beat again.
Step 6. Pour the mixture into the prepared baking tray. Use a spatula to smooth the mixture into the corners.
Step 7. Allow to set for 3-6 hours. Once set, cut into squares.
Step 8. In a plate or a bowl, place the starch and sugar and mix well. Dip the marshmallows in the mixture, leaving the top side for the glitter. Shake off the excess. Dip the top into the glitter. Enjoy!
Buckwheat Krispies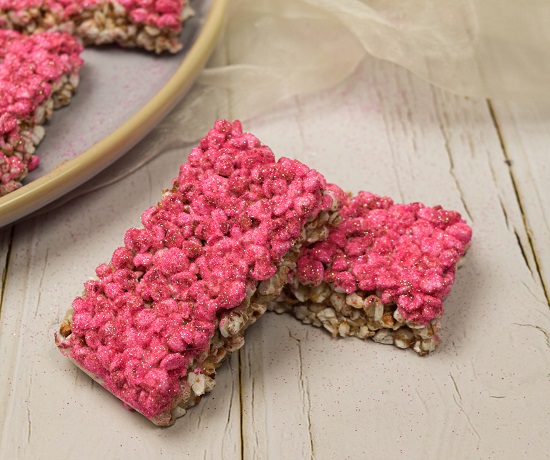 Ingredients:
2 Tbsp butter
5 cups mini marshmallows
1 Tsp vanilla powder
5 Cups puffed buckwheat
¼ Edible pink glitter
Instructions:
Step 1. Line a 9×13'' pan with parchment paper and set aside.
Step 2. In a saucepan, over low heat, melt butter and marshmallows. Stir occasionally.
Step 3. Remove from heat and stir in vanilla. Add puffed buckwheat and using a spoon or a spatula, stir until well coated.
Step 4. Press well into the lined pan and cool completely. Slice into bars and dip each bar into the pink glitter. Serve!
Pink Glitter Meringues
Ingredients:
3 Large egg whites, at room temperature
3/4 Cup granulated sugar
1/4 Tsp cream of tartar
1/2 Tsp vanilla extract
Pinch of salt
Edible pink glitter
Edible glue
Wooden sticks
Instructions:
Step 1. Preheat oven to 215 F. Line a baking sheet with parchment paper and set aside.
Step 2. In the mixer bowl, add egg whites and whisk on medium-low. Add in the cream of tartar, vanilla, and salt. After the whites begin to foam, bump up the mixer to medium speed and gradually start adding in the sugar.
Step 3. Add in all the sugar and beat until the whites begin to form soft peaks. After the whites begin to hold their shape, bump up the mixer to medium-high speed until they hold firm peaks.
Step 4. Fill the piping bag with meringue. Gently squeeze the piping bag to push out any air pockets before getting started. Pipe meringue kisses.
Step 5. Depending on the size of your meringue, bake for 60-80 minutes, or until the outside is crisp and the inside is dry yet chewy. Turn the oven off, crack the door open, and let the meringues cool completely in the oven.
Step 6. Place a wooden stick in each meringue. Using a soft brush, apply some edible glue on top of the meringues, then dip into the glitter.